We all know that LinkedIn is the #1 tool to find B2B sales leads. And with an impressive 810 million users, search filters, and many features such as business insights, how could it not be? However, finding leads who would be immensely interested in what you sell is not an easy task, even on LinkedIn.
So, here is the question: As your sales quota depends on the perfect targeting, would you lean on LinkedIn as your only lead source? Would you decide not to do extra targeting work and risk getting the wrong sales leads or wasting time building campaigns that won't convert?
Fear not. There is a way you can take your prospecting up a notch. How – by searching the sales leads all over the internet and discovering the ones that will match your ICP or buyer persona perfectly.
That is why, in this article, we will go over a couple of places outside of LinkedIn where you can find sales leads and improve your prospecting efforts.
So let's put our detective cap on, and jump to it.
What You Need To Do Before Searching For The Leads Online
Unveiling the bigger picture
If you plan to find sales leads and do cold outreach, you should go all in and be prepared.
Cold outreach, aka outbound, is a powerful way to build relationships and close more deals if done right. However, one should not forget that cold outreach is just a portion of the bigger picture. In other words, there are a lot of things that should be working in the background.
So before you start to find leads online, here are the 3 main things you should prepare first.
1. Build Your Inbound Strategy
Imagine a scenario where you outreached the lead, and they visited the website to learn more about the product. Perhaps they wanted to see or download templates and documents or chat with support.
However, the website they land on has no blogs, educational content, lead generation forms, nor the possibility to book a demo, and the chat is just the thought of the future. I can go on, but you get the gist. Your cold outreach, in this case, won't be successful as the lead will perceive you as unprofessional or not credible. Consequently, you will waste your lead.
Whether we would like to admit it or not, inbound and outbound are mutually beneficial. One affects the other, and you should have both prepared for the maximum results.
2. Define Your ICP And Buyer Persona
Both Ideal Customer Profile and Buyer Persona are the documents that dictate what type of company or a person you are going to outreach. Thus, defining both should be your first step before finding sales leads.
To clarify, the Ideal Customer Profile describes the company that would benefit the most from your product or service. These companies should have the fastest conversion cycle, highest LTV, highest customer retention, and are willing to refer your product or service to others.
On the other hand, a Buyer Persona describes your perfect decision-maker. In other words, a Buyer Persona is a collection of a person's data such as age, location, likes, dislikes, goals, wishes, challenges, and motivations.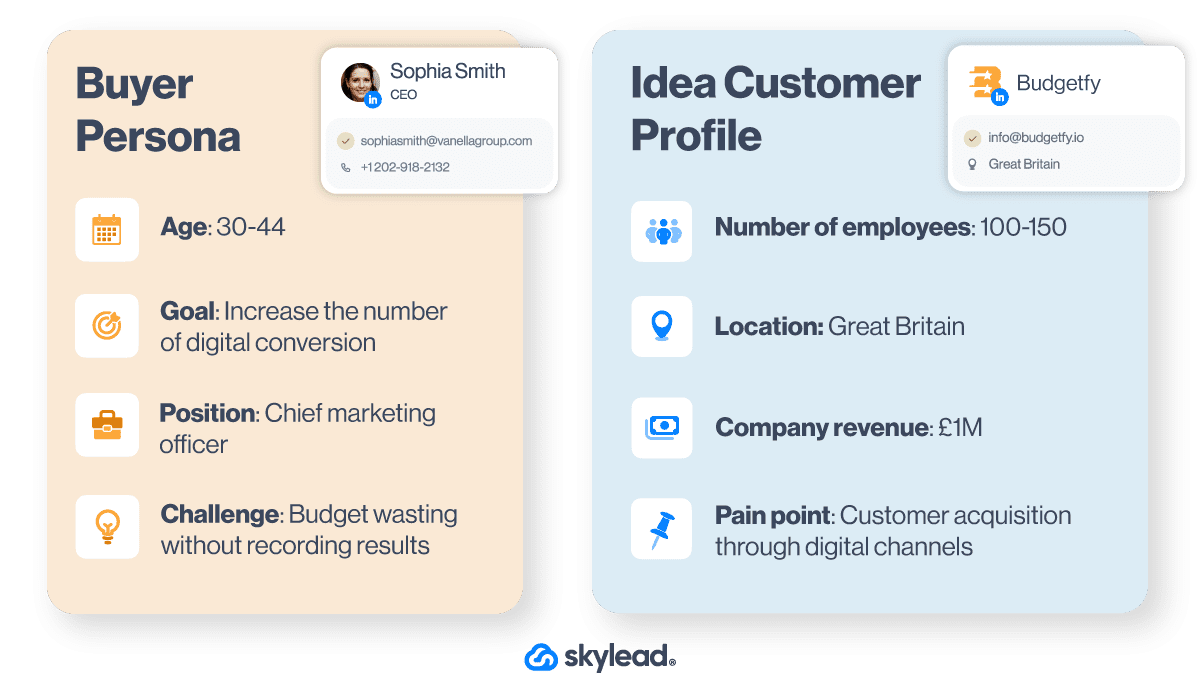 Ideally, both Buyer Persona and ICP should be based on existing customers and the data, as it will help you define these documents more precisely.
Education alert! We prepared step-by-step guides on how to create your ICP and a Buyer Persona, as well as free templates to get you started, so be sure to check them out.
3. Create The Sales Leads Personalization Document
Social Selling is about building relationships and helping your sales leads reach their goals with your product.
However, before doing so, you need to catch their attention and find the means to start the conversation genuinely. So, the big part of your research is finding the sales leads' details to help you personalize your cold outreach.
To personalize your outreach at scale, you would need to get crafty. In other words, while finding the perfect sales leads, you would need to research what they do, the content they published, or get more personal by finding their hobby.
This is where you will feel like a true detective. Start by creating an Excel file with the columns such as:
First name;
Last name;
LinkedIn profile URL;
Company.
Then, continue by inserting information, such as:
The topic of the content they published;
What stood out for you the most from the particular post;
School they went to;
Field of study;
Jobs they posted;
Company growth information;
Personalized message intro (the message you can create based on above mentioned);
In other words, create a column for everything you can come across while researching. The reason for this document is every piece of this document becomes actionable in your outreach. So, read on to see how you can use this document and benefit from it.
Hint: Before you start your outreach be sure you have your LinkedIn prepared to sell for you.
Why Should You Use Other Ways To Find Sales Leads?
LinkedIn is still our #1 platform to generate leads. However, by taking different approaches to find sales leads outside of LinkedIn, you will gain even deeper insights into your potential ICP or Buyer Persona, which will help you maximize your sales efforts and results.
In addition, we will still show how to use these approaches in combination with LinkedIn and even outreach on autopilot to save 11 hours a week so you can focus on closing the deals.
26 Ways To Find Sales Leads Outside LinkedIn
We are all about practical education. Thus, the approaches we will mention below have their purpose and certain information they can give away, which you can use in your outreach.
The information can be the company changes or giving away certain buying impulses you can use as your upper hand. Let's get to it.
1. Find Sales Leads Via The Job Search Websites
When a company is hiring, it usually means one of these 3 things:
They gained a bigger budget for the department;
Something is not right in the current process;
Or a person from the team is leaving for some reason.
Nonetheless, job postings are the result of the department change, and you should seize that opportunity. This is where recruiters usually spill the beans, so keep a lookout on the department and industry of interest.
For example, let's say you are selling team management software for remote teams. You can go to any job search website like Indeed and filter the jobs by industry, job type, and by remote work.
This is a great place to find your ICP and go from there. In addition, if you have a LinkedIn Premium account, you can check out the company's growth insight on LinkedIn and move on to find your decision-maker.
You can, of course, do this process on LinkedIn, as well. However, keep in mind that if your ICP are small companies, you might not be able to see their job posts unless you are their 1st-degree connection or they promote these posts on LinkedIn.
2. Sales Leads From The Companies That Got Fundings
Another great way to find your ICP is to research what companies recently gained some sort of funding. Since they have got money to invest, be sure that these companies' priority is growth. So this is something to keep in mind for your outreach.
So, to find these companies, you can choose one of two ways. Firstly, you can use company data websites, such as Fundz, TechCrunch, or Crunchbase. Crunchbase is easier to find the information as you can filter the companies using the free Funding Rounds feature.
Secondly, you can google the companies using Boolean search operators.
Whatever approach you choose, making the connection with the person from the company that just got the funding and building the relationship can result in a long-lasting partnership.
3. Facebook – Where All Sales Leads Are Secretly Active
Bet you didn't see this coming, eh? 🙂 All jokes aside, Facebook is a perfect place to find your Buyer Persona. However, you just need to dig a little deeper to find them, and join a couple of groups here and there.
The first thing you need to do is to research and find the Facebook groups your sales leads follow. Then, join these groups and wait for approval.
From there you can find your sales leads by posts they published. The only thing you need to do is search the group by the keyword.
To clarify, you can search sales leads by, for example, the exact pain point they experience, or goal they wish to achieve.
From there you can respond directly in the comments, go to the profile and check for the email, or simply find them on LinkedIn and prepare their profile for the outreach campaign.
4. Finding Sales Leads On Twitter
A simple search on Twitter can go a long way. However, you would first need to write down keywords and hashtags you need to search to laser-target your sales leads. In addition, make a note of the various topics prospects tweet about.
Once you find them, you can either engage with them by retweeting the post, writing a comment, or finding them on LinkedIn and preparing them for the outreach campaign.
The other thing you can try is to find a relevant post and see who reacted to it, as you would, for example, find people who reacted to certain LinkedIn posts.
You could also search posts by competitors' mentions and reach out to people who are not satisfied with them.
5. Search YouTube Comments To Find Sales Leads
Let's continue with the Social Media trend. Apart from Facebook and Twitter, you can find sales leads in the YouTube comments section too.
All you need to do is find the videos your sales leads might be watching and look down in the comments. In other words, try to find someone with the full name and a profile picture, take a screenshot, and find them on LinkedIn to prepare them for your outreach. It is a simple yet effective strategy as this way, you will laser-target your sales leads who like to chat online and share their thoughts.
Let's say your sales leads are SaaS founders. Consequently, you would find a video in relation to SaaS, such as this one.
Next, scroll down, check the comment section, and try to find a couple of profiles with the real picture and a name.
Lastly, take a screenshot, and try to find them on LinkedIn.
6. Review Websites
Speaking of people who are not pleased with your competitors, you can find them on listing websites too.
If, for example, your competitor is a software tool, you can use any SaaS review website, including:
Simply go to the review website of choice, find your competitor, and then search for people who posted negative reviews. Here is an example of a person who is not satisfied with calendar software.
Simply go to the review website of choice, find your competitor, and then search for people who posted negative reviews. Here is an example of a person who is not satisfied with calendar software.
7. Sales Leads In Website Community
Website communities such as GrowthHackers or SalesHackers are another place where you can find sales leads. With plenty of topics to search from, you will be pleased with how many discussions and users you will come across.
For example, the nice thing about the GrowthHackers community is that you can find the user, see their publications, and topics they follow, and choose to follow them or contact them directly.
So, hit the internet and find the website community from your target industry.
8. Slack Communities That Sales Leads Are A Part Of
Now, this is what sales dreams are made of. If you thought those website communities were interesting, you would be ecstatic with the Slack channels! What's interesting is that you can contact each member privately via chat.
There are different communities all over Slack, and you can explore and find the ones your buyer persona joined. For example, a B2B content director must be following the content trends, so you will most likely find them in the Superpath slack community under content-b2b channel.
What's best is that Slack channels like RevGenius or Trenches are very educational, supportive, and welcoming. Thus, apart from finding sales leads, you can enjoy your stay and learn something along the way.
9. Discord – Unexpected Place Where You Can Find Sales Leads
Speaking of app communities, have you ever thought about Discord? It is a place where people can communicate with each other via either text or voice chat. Unlike Slack, Discord was initially created as an informal place to hang out with your friends or even play massive multiplayer online games.
However, Discord grew to be so much more. Now, it is a new hotspot where people all around the world gather to share their experiences and thoughts on various topics. Thus many so-called Servers, aka groups, emerged, and you will be able to find one to which your sales leads belong.
For example, here is what the Salesforce discord channel looks like.
10. Discovering Startups
If your ICP are mostly startups, look no further than the websites such as ProductHunt, BetaList, AngelList or Crunchbase. BetaList is the place for recently launched internet startups. It cleverly segments startups by industries, so there is no way you won't find the one you need.
Another advantage is that you can contact the founder directly by finding their social media account on the profile listed beneath the company description.
11. Researching The Niche Platforms To Find Perfect Sales Leads
Not all companies are alike, and there are a lot of niche businesses whose Buyer Personas have unique jobs. So it is important never to stop researching and visiting platforms where the target audience has their profile.
For example, if your target group is videographers or graphic designers, you would most likely visit Behance or Vimeo. On the other hand, if your sales leads are music artists, then SoundCloud is the place for you. Looking for developers? Give Github a try.
If, for example, you are selling an invoice management tool and need to reach out to freelancers, go to Upwork. The more information you have on your sales leads, the easier it would be to start the conversation, such as:
Hey, 
I have seen the ratings on your Upwork profile, they are amazing. 
I bet you get a lot of work as a freelancer. I was just wondering what tool for the invoice you use?
The possibilities are pretty much endless here.
12. Medium
Many people of all occupations share their stories and thoughts on Medium, and your sales leads could be one of them. To clarify, Medium is a blogging platform with over 100 million readers and 175,000 authors who are thought-leaders, journalists, and experts, so you have a deep pool of sales leads to search from.
Moreover, Medium is pretty easy to use. You just need to type the topic of interest in the search bar and browse through articles.
Once you find an interesting post, go to the author's profile. You will usually see their LinkedIn profile or other Social Media URL in the About section, so it is easy to qualify sales leads right away.
In addition, you can also see the comments and the profile of the person who posted that comment. Thus your sales leads could be one of them.
13. Generate Sales Leads From Your Customers
One of the most powerful ways to find sales leads is by asking your clients. In other words, you can reach out to your best existing customers and ask them if any of their business contacts would be interested in your product or service.
To clarify, we say this is the best option as once they give you a contact, you can mention this mutual connection and gain higher credibility and trust from the start. This is the oldest "trick" in the book and never fails to show results.
However, never forget the person who gave you the contact. To show gratitude, you could offer some sort of discount or similar incentives.
Outreach The Sales Leads By Streamlining The Process
Remember when we mentioned the personalization document with actionable data? Well, this is where you are going to use it.
To streamline your process and outreach the sales leads you found, you can create a new CSV file out of the information you gathered or use the existing ones. The only condition here is to insert a person's LinkedIn profile and email address. If, however, you cannot find the person's email address, you can use one of these ways to find emails yourself or let Skylead take care of that.
Skylead already offers the following native variables for the message personalization based on the sales leads' LinkedIn profiles:
First name
Last name
Current company
Years in current company
Total career positions count
Total years of experience
College name
Occupation
Nonetheless, you can insert other information divided into columns, and Skylead will recognize them as custom variables. To clarify, here is what our Ivana has to say on Custom Variables:
So, your end CSV file can look something like this:
Creating The CSV Campaign In Skylead
Once you create your CSV file, it's time to launch the campaign and reach out to the sales leads you found.
To do so, first, go to your Skylead dashboard and click the Create New Campaign button.
From there, choose the Import type campaign and upload your CSV file. Then, name your campaign and click Next.
Next, set up your additional settings, such as date or email tracking metrics, and proceed.
Now you need to create a coherent action path that Skylead will follow – aka Smart Sequence.
Simply drag and drop actions and use different conditions based on their behavior to maximize getting in touch with your leads.
Discover numerous templates and step-by-step multichannel outreach strategies that helped us grow Skylead from 2500 to 10 000+ users in just months. Download our Free eBook now.
Finally, do not forget to create personalized messages for the actions, such as an invite to connect, LinkedIn InMail, LinkedIn message, or Email message. Here is where you can use native and custom variables you created previously, making your message look something like this:
And this is just one way you can use to outreach your sales leads in Skylead!
In Conclusion
The sales industry is ever-changing, and we always keep discovering new ways to improve our outreach efforts.
However, one thing is constant – you need to care for your sales leads and wish to help them. Only then will you be able to make something meaningful and close the deals.
So, what's better than finding the perfect sales leads and gaining immediate insight so you can have something to kickstart the conversation and continue to build a relationship.
Finding your sales leads is one of the most important steps, as it can make or break your outreach. Thus, you should go the extra mile to find the right company or a person for your business.
To do so, here are a couple of things you need to do before finding the sales leads:
Build your inbound strategy
Define your ICP and Buyer Persona
Create Sales Leads personalization document
When you prepare these three things, only then will you be able to proceed to find your sales leads. And to get creative, use the following websites, databases and communities to find your perfect leads and more information about them.

And once you find the best sales leads, Skylead will always be here to help you streamline the most time-consuming part of the sales process and personalize your outreach at scale for maximum results.
Wish to see Skylead in action? Start your 7-day Free Trial!
26 Places To Find Sales Leads Outside LinkedIn