6 ways to get LinkedIn Premium free [+ How to get a discount]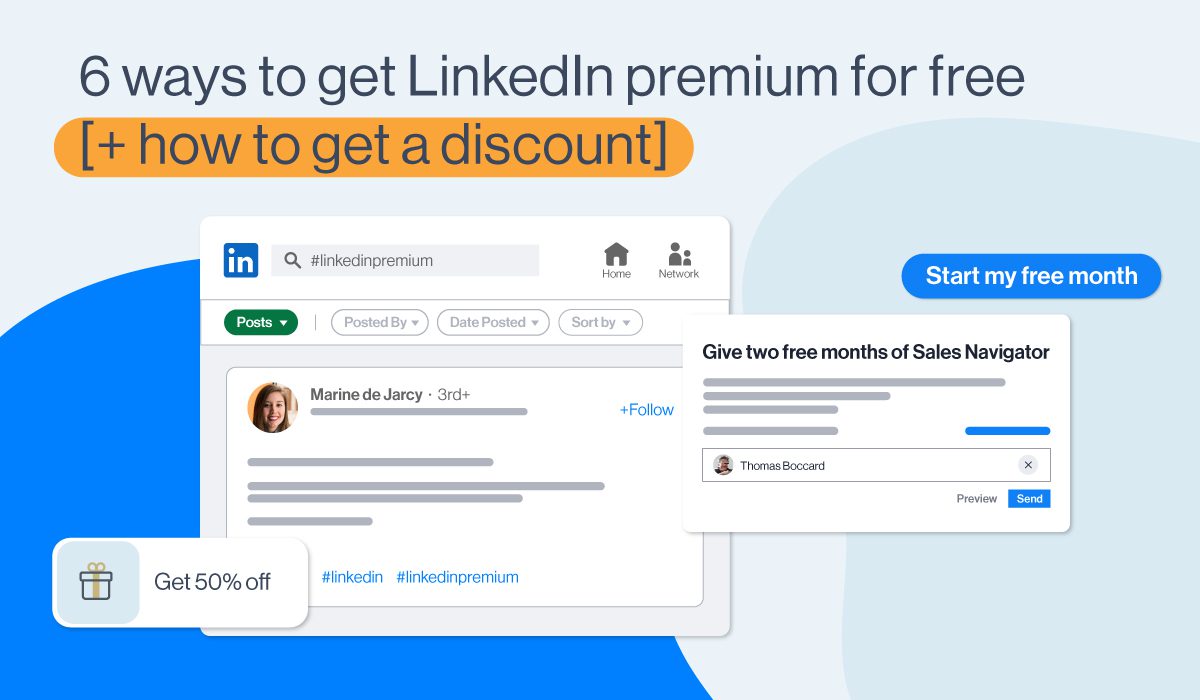 LinkedIn is the largest professional network, and it is no stranger to many subscription options. Naturally, every LinkedIn Premium subscription plan is a monthly-based service. However, have you ever thought about how wonderful it would be to try LinkedIn Premium free of charge?
Luckily, you can. Here are six different ways to get LinkedIn Premium free. As a bonus surprise, we've even thrown in a way you can even get a LinkedIn Premium discount. But surprises do not end there…
LinkedIn Premium subscriptions explained
The words "LinkedIn Premium" became synonymous with Premium Business plan. However, LinkedIn Premium is a true name for all LinkedIn subscriptions plans. So, to avoid confusion, we will make a note of what type of LinkedIn Premium subscription you can get for free with the methods described below.
First, let's see what every LinkedIn subscription plan has to offer.
Premium Career plan allows you to find jobs easier, access salary information, and job-seeking communities. In addition you can be a featured applicant, and learn from the LinkedIn Learning platform.
LinkedIn Premium Business plan has many features. Sone of them include 15 InMail, premium search filters, company insights, and access to LinkedIn Learning courses.
Recruiter, aka LinkedIn Premium for big company recruiters is a real booster. It contains 150 InMails, advanced filters, saved searches, alerts, reference searches, and much more.
LinkedIn Premium for small company Recruiters, aka Recruiter Lite is the more affordable version of Recruiter. It contains less features than Recruiter, but it has better features VS price ratio.
Sales Navigator is also know as LinkedIn Premium for Sales Professionals. Among other benefits, it includes the possibility to create lead lists and a large number of advanced search filters for LinkedIn prospecting done right.
Did you know that we have detailed comparisons of every LinkedIn subscription plan? Be sure to check them out:
How to get LinkedIn Premium free?
LinkedIn really tries to give back to the community. And giving away LinkedIn Premium free for use is one way they do it. However, it is worth noting that, even though each of the ways described below will allow you to use LinkedIn Premium free, it won't be forever.
Nevertheless, there is plenty of time to test out and decide if you wish to use this subscription package to jump-start your career or for LinkedIn lead generation. Let's jump to the ways you can try LinkedIn Premium free.
LinkedIn Premium free trial
If you wish to test out the features, you can always opt-in for the LinkedIn Premium Free Trial. This way, you can explore every subscription plan and find which one suits you best.
The free trial lasts for 1 month, and everyone can initiate it. In addition, you would need to insert your credit card details at the beginning of the trial.
After the free trial ends, your subscription will start automatically. Consequently, your credit card will be charged. Thus, if you decide not to pay for the subscription plan, you need to cancel the LinkedIn Premium free trial before it ends. You can also cancel the free trial at the beginning of the trial period, as you will get the entire month for free either way.
Furthermore, if you start a LinkedIn Premium free trial, you won't be able to have another one for at least the next 12 months.
Starting LinkedIn Premium free trial - Steps
Here's how you can start your LinkedIn Premium Free Trial.
Firstly, click the profile icon at the top of the homepage. Then, select the Settings & Privacy option.
Secondly, click the Account preferences. Then, navigate to Subscriptions & payments and click the Change button next to Upgrade for free option.
Next, the new page will open up. LinkedIn will ask you what you would like to achieve with an upgrade so it can suggest the plan for you. Thus, you can choose the subscription from the recommended section. Or you can check out all the plans and select one from there.
Here is where you can read more about the Premium plans. So, choose one that best suits your needs. Since Premium Business is versatile and many job hunters, recruiters, and sales managers use it, we will use it as an example.
Lastly, click on the Start my free month button, enter the credit card details and complete the upgrade.
In addition, please note that the price displayed below the button doesn't include the tax or VAT. So you need to be aware of that if you wish to continue to a paid subscription afterward.
Getting LinkedIn Premium free from employees
One of the perks of working for LinkedIn is that almost every employee gets the LinkedIn Premium free subscription for 6 months. In this case, most of the employees give away these coupons to give back to the community.
However, many have certain conditions you need to fulfill to receive a LinkedIn Premium free coupon. Nonetheless, this is a great way to help those that need it the most.
To find an employee that is giving away LinkedIn Premium free coupons, first go to your LinkedIn search bar. Then, type either #linkedinpremium or #PlusOnePledge and hit enter. Click on Posts, and either sort them by latest or those posted in the last week.
Then, you can reach out to that person and ask them to provide you with that coupon. Simple as that.
The best-case practice is being honest and providing detailed information on why you need LinkedIn Premium free. In addition, describe your life circumstances and how you will use that to develop your career.
Linkedin Premium free for military veterans
LinkedIn joined forces with SheerID, an identity verification platform, for a special occasion. They wanted to offer 12-month access to LinkedIn Premium free of charge for all U.S. military veterans. In addition, all those granted to use LinkedIn Premium free will also have access to more than 16,000 courses.
The reason behind this initiative is that LinkedIn understands how difficult it is to move from military to civilian life. Thus LinkedIn took steps to help U.S. military veterans as much as possible. In addition, LinkedIn offers LinkedIn Premium free use for military spouses, as well.
Here are the benefits that military individuals can expect using the special LinkedIn Premium free membership:
Access to Premium Career subscription for free during the 12 months;
Getting noticed by recruiters;
Building a network;
Find and apply for jobs easier;
Learn new skills;
Support in the military to student life transition;
Veteran-focused learning content;
Additional resources to help you on your new career path.
So, how to apply for the LinkedIn Premium free program for veterans? All you need to do is to go to their Veterans subscription page and fill in the required form.
Tip: Be sure you reference that you are a veteran or have military experience on your LinkedIn profile before applying. 

Lastly, please note that if for any reason, you already started a LinkedIn Premium free trial or subscription, you would need to cancel it first before applying to the LinkedIn Premium free veterans program.
Students and graduates can use LinkedIn Premium free too
Sometimes LinkedIn forms partnerships with different educational institutions as a part of their student program. The result of this partnership is that students and graduates can use LinkedIn Premium free for a 12-month period.
To check if your school partnered up with LinkedIn, go and ask if they have access to these subscriptions. If your university says they do not have access or partnership, ask them to reach out to LinkedIn. This way, they can check if they can become a part of the program and offer students LinkedIn Premium for free.
Keep in mind that you need to have an email from the school's domain to be granted free LinkedIn Premium subscription.
If, however, this doesn't work for you, you can always check for other active LinkedIn Premium free programs for students.
For example, LinkedIn partnered up with Amazon to allow students to use subscriptions for free. So, if your Amazon account is Prime Student, then you are eligible to get a LinkedIn Premium free subscription for 6 months.
All you need to do is sign in to your Prime Student and LinkedIn account and redeem your Premium Subscription.
Yet, keep in mind that if you have an active Premium subscription plan, then you won't be eligible for this offer.
Visual Studio users get LinkedIn Premium free of charge
Visual Studio Dev Essentials is a developer program created by Microsoft. Among the benefits, they provide various tools and training courses, and the LinkedIn Learning center is one of them. In other words, LinkedIn offers a Premium Career plan free for all Visual Studio Dev Essentials users.
This way, you get access to the LinkedIn Learning courses, acquire certificates and develop your skills. This offer lasts for 1 month, and you don't need a credit card to start the subscription for free.
To use this LinkedIn Premium free offer, firstly, you need to have a Microsoft account. Once you create it, go to Visual Studio Dev Essentials and click the Join or access now button. Once there, navigate to the Benefits page. Then, find the LinkedIn Learning offer and click the Activate button.
After you've done it, you will go to the LinkedIn page, where you can activate the subscription.
Quarterly-based LinkedIn Premium free subscription for journalists
If you are a journalist who strives to perfect the craft, and join the journalist community, then, LinkedIn has a nifty solution for you. They offer access to journalist network, insights, and webinar. In addition, you get LinkedIn Premium free. LinkedIn offers this promotion each quarter.
However, only qualified health journalists can apply for the webinar and receive a free one-year subscription to LinkedIn Premium Business. In other words, qualifications include but are not limited to the following conditions:
Firstly, to attend the webinar, you need to be a member of the LinkedIn for Journalists group;
Secondly, your profile must demonstrate your journalism career path.
To apply for the webinar, you need to pay close attention to the application window for each quarter. You can do so by visiting the LinkedIn LinkedIn For Journalists page.
Bonus: Getting Sales Navigator for free
Here is the surprise for all you Sales Navigator lovers. Apart from starting the 1-month Sales Navigator free trial, you can also get Sales Navigator 2-month free use. This is only possible if your connections refer you through the Sales Navigator Referral program.
Here is how someone can provide you with a Sales Navigator referral or vice versa in 2 easy steps. First, go to your Sales Navigator platform, and click the Referrals button.
Next, type the person's name you wish to refer to try this LinkedIn Premium free subscription. The only thing left to do is to hit the Send button. Each Sales Navigator user gets to send 10 referrals.
And, that's it. Your connection will receive the confirmation email with the joining link that will lead to the activation page.
However, there are certain conditions you need to fulfill to receive a 2-month free Sales Navigator subscription:
You are the 1st-degree connection to the referrer;
not currently using any LinkedIn Premium subscription;
Haven't used a LinkedIn Premium free trial in the past 12 months.

How to get LinkedIn Premium discount?
As you can see, there are many ways to try LinkedIn Premium free. However, LinkedIn limits every account to only one such promotion per year. Nonetheless, if you are unsure if you would like to pay the full price, you can always get a discount.
Here is how you can do it.
First, go to your Settings & Privacy page. Next, under Subscriptions & payments click the Cancel Subscription button.
Next, the new window will open up. Continue the cancellation process.
Lastly, LinkedIn will ask you for the reason you wish to cancel. Respond with It's too expensive.
Once you do, LinkedIn will give you a 50% discount for 2 months. This will be more than enough to decide whether you wish to pay the price or not.
Conclusion
LinkedIn really tries to give back to the community, and various LinkedIn Premium free promotions are the proof of that.
However, please be aware that LinkedIn keeps track of if and when somebody uses one of these promotions. If, for example, you used a 1-month free trial, LinkedIn won't allow you to repeat it or get any other promotion from our list. Not for 12 months at least.
Furthermore, LinkedIn is not big on giving refunds. So, be careful to cancel the promotion in time. Otherwise, you will be charged after the free period ends. If, for any reason, you think that LinkedIn Premium is not for you, keep track of the date or set a reminder alert.
Lastly, keep in mind that if you are already a Premium user, you'll need to cancel your Premium subscription. Only after you wait for the billing cycle to end will you be able to activate LinkedIn Premium free promotions.
That said, enjoy your LinkedIn Premium free promotions!
Are you a recruiter or a sales manager who wishes to outreach your candidates or prospects on autopilot and close more deals? Welcome! We are Skylead. Let's chat and see how we can help you with your outreach. Contact us via chat or test out Skylead for free directly!
And don't worry. Whatever LinkedIn subscription you are using, be it Sales Navigator, Recruiter, Recruiter Lite or Premium Business, you can use it with Skylead.