8 easy ways to find someone's email address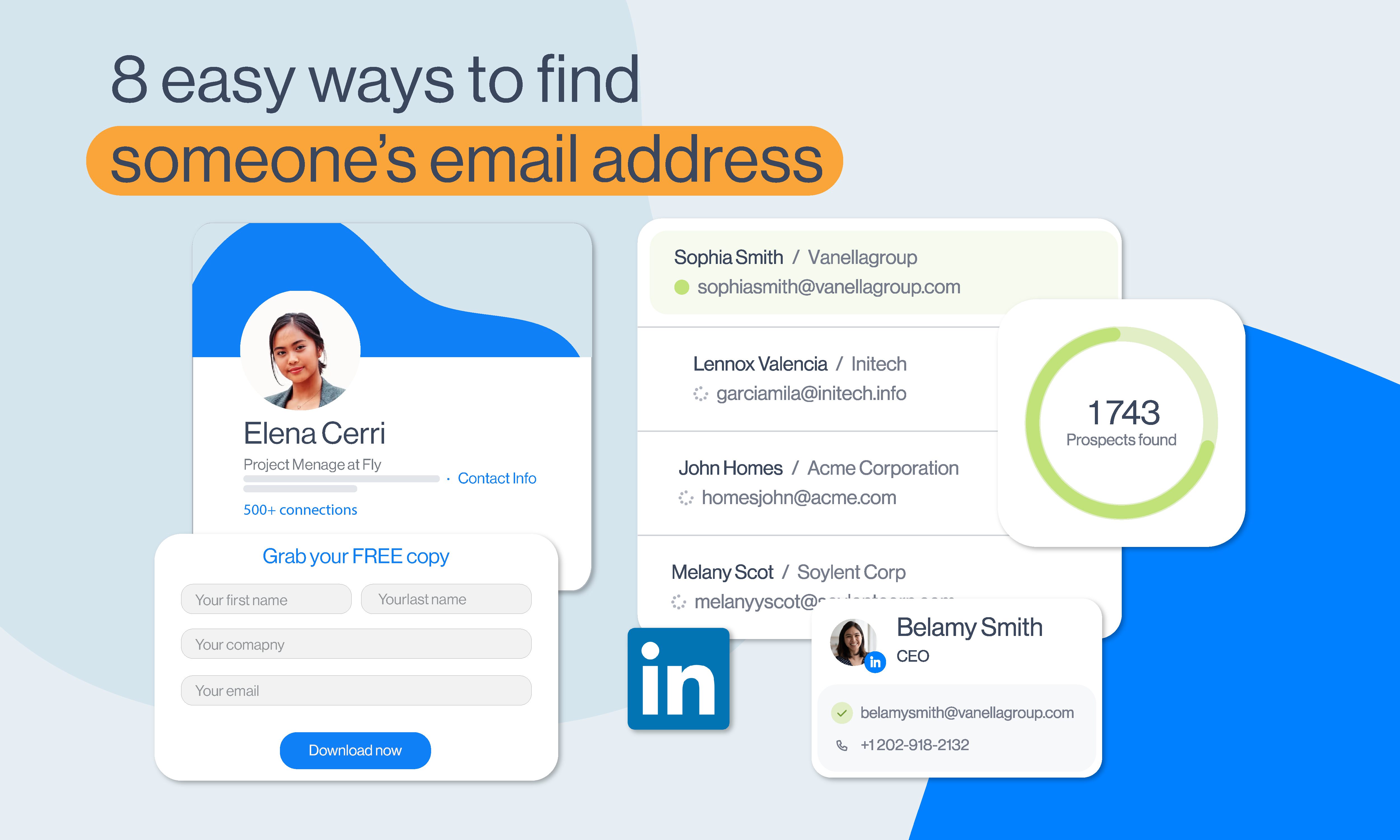 Over the years, cold email marketing turned out to be the right choice to unleash the full potential of outreach as a Lead Generation strategy - apart from LinkedIn lead generation, that is.
With its minimal cost and extensive reach, it is clear that cold emailing has probably the highest ROI compared to other marketing approaches.
In the present day, modern email marketing drifted away from the one-size-fits-all model. It is now based on consent, segmentation, and personalization. Consequently, the response rates went up and so did its value.
However, the minimum requirement for cold email marketing is to have your leads', preferable business, emails. If you run into their private ones, it is only up to you to use them for outreach purposes.
Here are 8 easy ways to find your leads' business emails that work.
Ask them for it
There are different ways of asking for your lead's email.
Make an online form for people who visit your website and would love to be updated on a regular basis through your newsletter.
Or, insert a pop-up asking your visitors to subscribe to your newsletter first to access your website's content. This one can be a bit annoying, as many people might give up unless whatever you have to offer is absolutely worthy of sharing their information.
If you don't have a newsletter or it is not aimed towards your leads, try giving your website visitors a free gift in the form of a pdf or audio file that will bring value to their business in exchange for their email address.
Lastly, you can do a LinkedIn prospecting of your own and reach out to people who would be interested in subscribing to your newsletter.
Subscribe to your lead's newsletter
Yes, that's correct. If your lead doesn't want to subscribe to your newsletter, you can always do vice-versa. You will eventually get an email from them that you can use to reach out.
Check their website
Each brand most likely has a website. If not, there is for sure some kind of an online presence in the form of a LinkedIn, Facebook, and/or Instagram account (see below).
When you visit your lead's website, search the "Contact", "About Us", and/or "Team" pages.
These are the places where their general email or a message form is located. It might not be the contact of the person you would like to speak to. However, by reaching out to them, explaining who you are, and asking for a specific person's email address, you might actually get it.
Check their social media
As mentioned above, if not a website, there is for sure some kind of a social media presence.
LinkedIn
Start with LinkedIn, the biggest professional network out there. If a lead has a publicly available email, it will most likely be on their LinkedIn profile. If not, try finding their company's LinkedIn page, search for the generic email, and ask for the target lead's direct contact.
Anyways, there are two ways of scraping a publicly available email from LinkedIn - manually and with Skylead.
Depending on the number of leads and your company's outreach policy you can decide what works best for you.
Scraping emails manually
There are three places you should look up for an email address on LinkedIn.
1. Click on the "Contact Info" section.
2. Check out their LinkedIn cover picture, especially if a corporate one.
3. Read the Profile Summary.
Sometimes users leave their business email at the end or in the middle of their LinkedIn bio section to make it seem as a call to action. Make sure you read it to the end.
Using Skylead to scrape emails
Collecting publicly available information of your 1st, 2nd, and 3rd-degree connections tends to be quick and effective with Skylead.
Check out how it works.
Turn on the "Collect Contact Info" option.
What Skylead does is visit each of your lead's LinkedIn profiles and collect their publicly available data.
Once the magic has been done, use the "Export Data" on the "Campaign Tracking Page" to export emails and other information in a CSV file.
Have in mind that the "Collect Contact Info" can be just one of the steps of your automated outreach. Skylead's Smart Sequences allow you to combine different actions based on your leads' behavior while serving your business goals and creating a valuable database that you can export and reuse at any moment. Therefore, building a campaign with Skylead can serve multiple purposes.

Or you can decide to make a campaign with the sole intention of collecting your leads publicly available emails and other valuable data.
Facebook
Go to the company or individual's page on Facebook and check out the "About section".
Step #1
Step #2
Instagram
There are two options for finding somebody's email address when it comes to instagram.
The first one is only available and visible in the app.
Click on the "Contact" option.
This action will take you to see the following information.
The second option is available in both desktop and app versions.
Just check the "Info" section of the targeted profile.
Try following the pattern
There are two ways to "guess" your lead's business email.
The first way starts with knowing the name of your lead's company. Try composing a generic email such as info@domain.com or contact@domain.com. Reach out and ask for the direct contact of a person you would like to talk to.
The second way is knowing the company's business emails pattern. If one of the employee's emails goes like john.smith@domain.com, there is a great chance that your desired lead's email is also composed of name, dot, last name, at sign, domain.
Then, try inserting it in your email provider and see if it will be recognized or if the picture will show up. However, have in mind that not having a picture doesn't necessarily mean it's not the correct one.
Use Email Permutator
Using an Email Permutator is one of the options.
Go to the main page and type in your lead's name, surname, and domain.
The Email Permutator produces all the possible email combinations based on the inserted data.
How will you know which one is the right one? Insert all of them in the recipient's field of your email and see which one will be recognized by your provider. If there is one with a profile picture, it is most likely to be the right one.
Search on Google
There are several ways through which Google can help you find someone's email address.
Here are three.
Search "james.johnson@amazon.com"
By using quotation marks in your query, you're telling Google to search for results that contain that exact keyword. If your lead's business email ever showed up anywhere publicly, it will be displayed.
Type site:amazon.com James Johnson email address in Google search
By using site: domain Google will give you results only from that domain.
Search [James Johnson] + email
Google will find your lead's email address if ever published somewhere on the web.
Use Skylead
Use Skylead's Email Discovery & Verification feature to find your prospects' business emails even without being connected on LinkedIn.
With a Smart Sequence as simple as this one, Skylead will provide you with verified business emails, implying the lowest possible bounce rates.
After the sequence was executed, you can go ahead and export all the collected data in a CSV file.
In case you didn't know, Skylead is an automation tool, email finder, and scraping tool, all in one platform.
Sure, you can use it to find and verify emails and scrape publicly available data. But you can also opt for LinkedIn, Email, or combined outreach (LinkedIn + Email) that will serve your business goal best while bringing down the manual work to the minimum.
This is just one of the numerous options you have with Skylead. Check out our templates to get the idea of Smart Sequences and to get inspired for unleashing the full potential of your outreach.
Summary
Finding somebody's email address doesn't necessarily have to be difficult, but it can be time consuming.
The best approach will depend on the number of leads you want to reach and your company's outreach policy.
However, with nowadays software development, have in mind that automating the process of finding somebody's business email and getting through to that person can be a quick and painless process.
Think about it.
Or schedule a demo call with our team member and hear out all the possibilities you can have with Skylead.