Attention is the real capital in this day and age. Being noticed in a sea of information in a distracted world is considered to be a privilege. To stand out, you must take what you have to the next level. The same rules apply to your LinkedIn headline.
A LinkedIn headline is the text below your name in the introduction section of your LinkedIn profile. It is displayed in the search result and represents the number one clickbait along with your name and your profile picture. It makes your prospect scroll down to read your LinkedIn summary and want to know more from your perfectly optimized LinkedIn profile (you do know how to make your LinkedIn profile sell for you, don't you?).
The number one rule is not to make your LinkedIn headline misleading. Rule number two is that there is no rule number two. As long as your LinkedIn headline is informative, relevant, and catchy, you are on the right track. Yes, creativity is highly appreciated even on LinkedIn. Stay within the professional frames and you can still play with your LinkedIn headline as much as you want.
However, taking into consideration that not everyone is silver-tongued we decided to write a full guide on the LinkedIn headlines and provide some directions on how to make it more marketable.
By the end of this blog, you'll learn:
Technicalities regarding the LinkedIn headline.
Rules to follow to create an impactful LinkedIn headline.
Real-life examples of excellent LinkedIn headlines.
How to use other people's LinkedIn headlines for lead generation (with templates).
LinkedIn Headline For Dummies
As mentioned above, LinkedIn Headline is located right under your name on your LinkedIn profile.
You can edit it as many times as you want, although it is recommended to keep some consistency and not to change it too often. You can do it by clicking on the pen icon right here.
This is how it looks.
The character limit for your LinkedIn headline is 220.
If you see LinkedIn profiles containing hashtags right under the headline, know that these users have turned on the creator mode and have a separate option of adding up to 5 LinkedIn hashtags to introduce the main topics they speak about. These don't sum up in the headline character limit. Once you activate the creator mode, which is by the way aimed at the LinkedIn content creators who want to showcase their work, other LinkedIn users will have the option to follow you on LinkedIn or to connect.
To turn on the creator mode and to add hashtags to your LinkedIn profile, scroll down and click here.
You instantly get the preview of your profile in the creator mode.
What Should My LinkedIn Headline Say?
Long story short, your LinkedIn headline should summarize your skills, ambitions, and experiences within the 220 character limit. As this is not as simple as it sounds, the majority of LinkedIn members decide to leave their current job title and forget about it. However, it is exactly your LinkedIn headline that sets you apart in the "sea of same". It is the first thing your prospects read when they visit your LinkedIn profile and it is one of the things that keeps them scrolling to get a deeper insight into your professional achievements.
When someone asks me to help them write their LinkedIn Headline, I usually mention two "techniques". The first one is to imagine I know nothing about their industry and, with that in mind, to explain, in one simple sentence, what they do. The second one is to imagine they have to create a billboard advertising them and to think of a catchy slogan that would sell them the best.
If this doesn't help you come up with an appealing LinkedIn headline, try using one of the following formulas where
X represents your ideal prospect;
Y represents your ideal outcome;
Z represents the service you offer.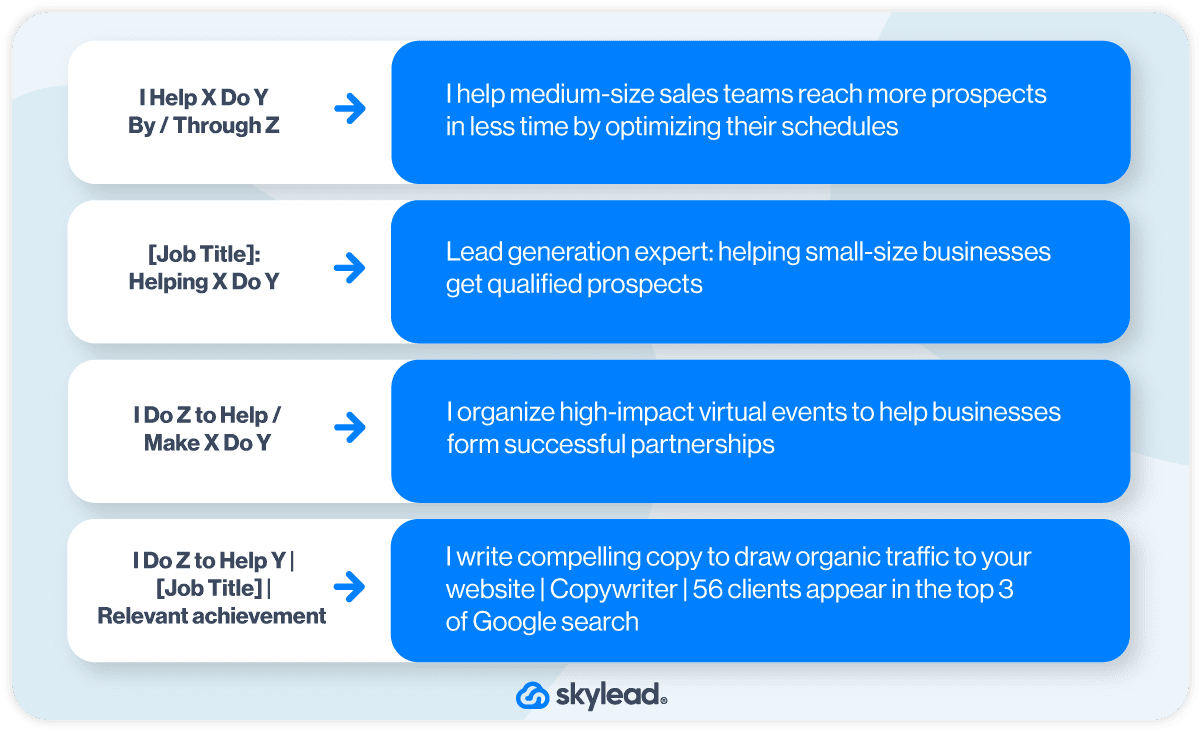 Common Mistakes in LinkedIn Headlines
Using codes or professional jargon that only people from your industry know such as "BDR", "SDR", "AE", etc.
Showing off by using words such as "expert", "top-performing", "superior", "best" or mentioning any success without offering valid arguments that support it.
Not using keywords that are relevant to your potential prospects. When writing your LinkedIn headline keep in mind that the most commonly used filter on LinkedIn is the "keyword" one. Make sure you show up in your prospect or recruiter's search result.
Writing a headline that reflects your former professional engagements that are not relevant to your current or future professional aspirations.
Not including your unique selling point. Without it, you are just one more professional in a sea of others.
Make your LinkedIn headline about how you can help others instead of how "awesome" you are.
Top 13 LinkedIn Headlines For Sales Growth [And Why They Work]
After all, there is no explicit rule for what you should put in your LinkedIn headline. The examples below show what works in practice. We've included the "why it works" section to inspire you to create your own.
Example #1
Why it works
Searchable keywords for LinkedIn SEO;
The above keywords describe the value that this individual brings to the table in a warm and unique way.
Example #2
Why it works
It communicates authority and strength of a personal brand;
Searchable keywords for LinkedIn SEO;
Transparency of what this individual offers, what his expertise is, and the results he has made in the past;
It highlights suitable topics for starting a conversation on LinkedIn after connecting.
Example #3
Why it works
A clear insight into the individual's current and past career highlights;
A detailed description of what the individual's company does and how it does it;
Searchable keywords for LinkedIn SEO;
It highlights suitable topics for starting a conversation on LinkedIn after connecting.
Example #4
Why it works
The use of humor is always a good choice if you make it industry-related;
It shows a certain level of creativity necessary for the individual's career path;
Searchable keywords for LinkedIn SEO.
Example #5
Why it works
Searchable keywords for LinkedIn SEO;
It highlights the individual's niche of expertise;
It clearly states what kind of format he does copywriting for.
Example #6
Why it works
It shows credibility and authority when mentioning achievements;
It contains keywords for LinkedIn SEO;
Lots of topics to open up a conversation after connecting;
This headline is an excellent hook to make someone scroll down and want to know more about this individual.
Example #7
Why it works
The explicit and clear value – she turns overworked executives into successful business owners;
Achievements in a clear way – mentor to millionaires;
A call-to-action (two, to be precise – Dm me to learn more/Follow for daily content) which is always smart to include, if possible;
The use of humor is always recommended as long as it's professional and relevant.
Example #8
Why it works
It's crammed with keywords, therefore, more likely to appear in the LinkedIn search results;
The clarity of what this individual does, what skills she has, and what her job description is;
The number of topics you can start a conversion once you connect with this individual.
Example #9
Why it works
Clear benefits of the service that this individual offers;
The clarity of the means that this individual uses to provide the service.
Example #10
Why it works
It is stuffed with keywords. This individual can be found via her current occupation and company, titles and occupations that she additionally holds, university, etc.
It has a strong personal note in the end.
Example #11
Why it works
It is clear that this individual is looking for her first opportunity and is ready to work her way up;
It clearly states what types of roles she's qualified for;
Searchable keywords for LinkedIn SEO.
Example #12
Why it works
It clearly highlights the individual's business result;
It is inspirational and it calls you to connect and know how she does it;
There's a call to action.
Example #13
Why it works
It clearly states the individual's occupation/title;
Searchable keywords for LinkedIn SEO;
It explains what "Hybrid Experience" means for those who are not sure.
Use LinkedIn Headlines For Lead Generation
Using a LinkedIn headline for personalizing your Connection Request, LinkedIn Messages, or InMail messages is always a good choice. 
Referring to something from the individual's headline can be extremely powerful because people like to talk about themselves and their achievements. Furthermore, if you compliment them or show interest in something they truly care about (and most likely they do since it's there highlighted), they will be more open to starting a conversation.
We'll show you how you can use a LinkedIn headline to personalize your Connection Request message or Messages.
Example #1: Use Current Position To Personalize Your Approach
Hello Thamina,
It's nice to meet someone who's working on creating growth opportunities for businesses on LinkedIn! I love this platform, it helped scale up my business in a matter of months.

I would love to add you to my network.
Example #2 Use an Interest/Career-related Activity to Personalize Your Approach
Hello Thamina,
I checked out Femme Hive Podcast! Helping female professionals feel less overwhelmed in their 20s is outstanding. I wish I had someone to encourage me back then. It sure was a bumpy ride.
I would love to have you in my network!
Example #3 Use Industry/Background To Personalize Your Approach
Hello Thamina,
I am searching to connect with professionals that have a finance background, and I loved yours very much!

Let's connect!
Example #4 Use Something that a Person Advocates For to Personalize Your Approach
Hey,
I love to meet professionals who advocate for women's rights and make them feel more confident on their career paths!
I would love to have a person like you in my network, Thamina!
Example #5 Use University To Personalize Your Approach
Hello fellow-alumna!
I also graduated from Duke University! It was such a great experience, wasn't it?
Let's get in touch and exchange experiences!
Example #6 Use the Part of the Headline That Caught Your Attention
Hello Thamina,
Sharp headline! Love the last sentence!
Would love to have such a go-getter in my network. Let's connect!
Summary
Hopefully, by now, you have a clear picture of what makes a good LinkedIn headline. Yes, you can use different LinkedIn headline generators, but no platform beats human creativity and wittiness so far! Follow the simple instructions above and you might just brainstorm your perfect LinkedIn headline in far less time than you've imagined.
Make sure you check out:
What your LinkedIn headline should say;
Common mistakes when writing LinkedIn headline;
13 LinkedIn headlines for improving your LinkedIn lead generation, and increasing sales.
And if you wish to take your lead generation to the next level, automate your LinkedIn prospecting and outreach make sure you check out Skylead and how its solutions could speed up achieving your business goals.
13 LinkedIn Headline Examples with Templates For Lead Generation