3 things you should automate on LinkedIn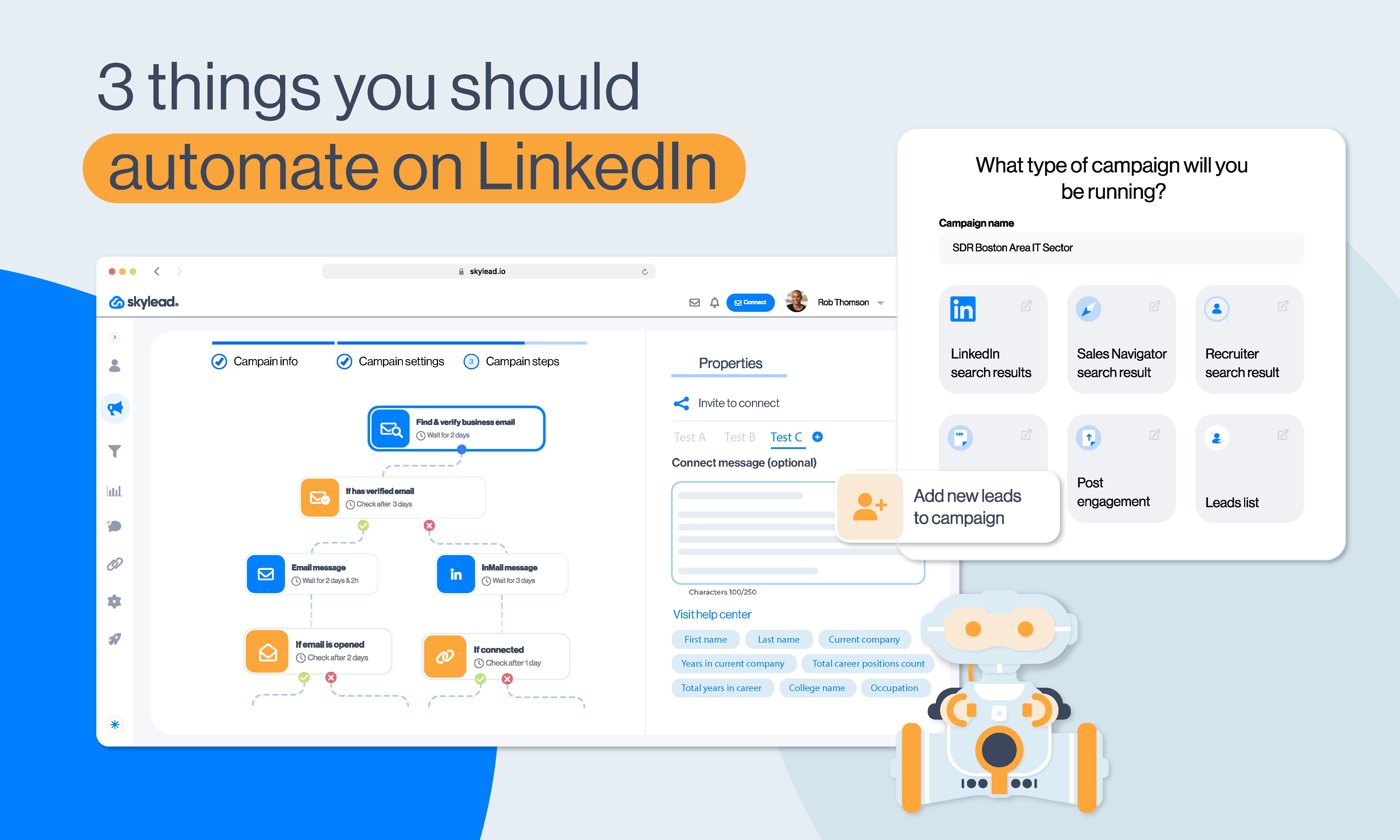 Whether you want to network, find your perfect client, do cold outreach, showcase your expertise, or educate other users about your product, LinkedIn is a place to be.
The platform offers so many possibilities not only when it comes to reaching pretty much anyone on the planet (crazy, isn't it?) but also in terms of different communication channels - from direct messages to InMails, posts, polls, emails, etc.

Get on LinkedIn, and the (business) world is your oyster.
But what about the time? Yes, there are only so many hours at our disposal and so many things that need to be done. Luckily, the development of automation and AI-powered solutions took some strain off us and helped us focus on more "important" things. 

Take AI lead generation tools, for example. Sales reps that use them to automate lead generation and prospecting on LinkedIn have more time to focus on building meaningful relationships and closing deals, instead of getting stuck in certain repetitive actions.
The same goes for LinkedIn itself. If you automate these 3 things, you'll reach more customers in less time and increase your company's value.
Sales Navigator
Sales Navigator is LinkedIn's paid sales solution. It is designed to help its users do their outreach more effectively and land better deals.

Not only.
Sales Navigator gives you some advanced options that can improve the quality of both your targeting and outreach efforts.
Access to out-of-network connections
One of the biggest benefits of LinkedIn Sales Navigator, especially nowadays with the newest LinkedIn restrictions and limits, is the opportunity to extend your sales reach outside your network.
Namely, you can only view a limited number of profiles outside your network. Sales Navigator lets you "unlock" that information for up to 25 profiles a month. This way you can better understand your leads and make more meaningful connections.
Furthermore, the LinkedIn Sales Navigator account gives you 20 InMails each month. This way you can reach out to your 3rd-degree connections and establish significant business relationships. Additionally, InMails are credit-based. That is, if the user replies to your LinkedIn InMail, the one you sent first will not be counted towards your monthly limit.
More targeted search
Sales Navigator gives you the chance of ultimate targeting!

With 24 filters only for "Lead Search" at your disposal, you can narrow down your audience until you achieve the very best results. Imagine how well you can refine your search and pick quality leads that will almost for sure be interested in what you have to offer.
However, before you go ahead and start searching for that perfect customer of yours, learn how to use Sales Navigator filters. 
It would be a shame not to take it to your full advantage just because you haven't done your research.
Lead recommendation
The "Lead Recommendations" feature suggests relevant leads based on your sales preferences, search history, profile views, and past saved leads. AI-powered techniques make this happen due to the pre-collected and labeled data.
The more you use Sales Navigator, the more it will use the data to do the valuable targeting for you.
Therefore, it saves you a step in the sales process.
Powerful sales insights
As you search for prospects, save leads, and make connections, Sales Navigator will keep you posted on updates in your network such as:
Job changes;
Company updates;
Relevant connections and warm leads.
This way you will always stay up with the latest industry tendencies.
CRM integration
CRM stands for Customer Relationship Management Software.
A CRM gathers customer data and interactions across all channels in one place. Managing centralized data helps businesses improve customer experience, satisfaction, retention, and service.
Briefly, a CRM will help you understand your leads' needs, segment your audience, and therefore, know how to target them better.
That being said, Sales Navigator integrates with the following major Customer Relationship Management Software:
Salesforce;
Hubspot;
SugarCRM;
SAP;
Pega;
Oracle;
Microsoft Dynamics.
Hootsuite
Hootsuite is a social media management platform where you can do everything from creating quality content and scheduling posts to managing team members and measuring ROI.
It gives you the option of:
Creating and scheduling posts;
Managing all of your social media channels;
Planing upcoming campaigns;
Staying on top of incoming messages on social media;
Measuring your performance and analyze results;
Extending your social reach;
Staying on top of the trends;
Optimizing your advertising budget;
And much more.
Social media presence is crucial for any type of business. Nowadays, when companies and their employees have multiple accounts on multiple social media platforms, it is getting harder to post quality content and to plan a good strategy without using an automation tool.
At the end of the day, trying Hootsuite out doesn't cost you anything.
Literally.

It is the only social media management platform that allows you a 30-day free trial.
Check it out!
Skylead
Surprisingly, cold emailing and/or reaching out on LinkedIn turned out to be some of the most effective ways of generating leads on LinkedIn.
However, this works only if you have targeted your audience well, if you came up with a highly elaborated strategy, and have strong copies of the messages you will be sending.
This is where Skylead comes into the picture. It is an Automation Tool, Scraping Tool, and an Email Finder, all in one software.
Check out Skylead's solution for an all-embracing outreach.
LinkedIn outreach
To perform LinkedIn outreach, you connect with your leads and message them.
Or you can use paid or free InMail options depending on whether you have a LinkedIn basic or paid account.
As you may see, Skylead gives you the option of hyper-personalizing Invites to Connect, LinkedIn messages, and InMails, and fully automating this process.
It supports both LinkedIn Basic and Premium Accounts, but it is better to upgrade it to the extent of your possibilities.
LinkedIn Premium Account, in comparison to LinkedIn Basic Account, can perform more in terms of features, such as having the option of an Unlimited Profile Search and sending a certain number of LinkedIn InMails. You can also view and engage with a much greater number of profiles with a Premium account.
Sales Navigator is more advanced as far as filters are concerned in comparison to a LinkedIn profile.
Email outreach
Skylead personalizes Email Outreach and combines it with LinkedIn features.

Email Outreach implies personal emails, emails imported through a CSV file, and business emails discovered and verified through Skylead's Email Discovery & Verification Feature.

Here is an example of a campaign that combines LinkedIn outreach with business emails.
As you may see from the picture, Skylead uses multiple channels to reach out to your leads.
Email discovery & verification feature
Thanks to its Email Discovery & Verification feature (see above), Skylead manages to collect the data, "compose" all the possible business email options, and verify them even without you being connected with the lead on LinkedIn.
This is how your leads list will look like on Skylead.
Image & GIF hyper-personalization tool
With Skylead's Image & GIF Hyper-personalization tool, you can offer products and services in a less conventional way, make fun job opportunity announcements, wish your clients happy holidays, or schedule a casual meeting.
This option is available for LinkedIn Messages, Emails, and InMails.
As you may see, there are options to:

Add me: import your LinkedIn profile picture;
Add lead: import your lead's LinkedIn profile picture;
Choose custom logo: import a logo from your computer;
Add lead's logo: import your lead's current company's LinkedIn profile picture;
Add text: text is perfectly personalized by using all Skylead's available tags. Additionally, in case you import your leads through a CSV file, each column of your CSV file becomes a tag as well.
Smart sequences
Skylead is the only Sales Engagement Tool that offers multichannel outreach through Smart Sequences. That is, it combines LinkedIn messages, Emails, and InMails, with other LinkedIn features such as Invite to Connect, View, Follow, thanks to the "if/then (condition)" step.
The "if/then (condition)" step allows multiple scenarios in your outreach. Briefly, it ensures that you will reach out to your leads one way or another - whether by connecting on LinkedIn, sending an email, or simply following them on LinkedIn as a subtle reminder of you trying to connect.
For example, let's say you make the flow in the following manner: Invite to Connect - LinkedIn Message - (follow-up) LinkedIn Message.
In case the prospect doesn't accept your Connection Request, the rest of the sequence goes down the drain.
With Smart Sequences, the same flow would be put in the following manner - "If Connection Request Accepted" then "Send Message", "If Connection Request Not Accepted" then - a whole bunch of other options, such as "View Profile" - "Email Discovery & Verification" - "If has verified email" then "Send Email", etc.
As you may see, your Smart Sequence will not just stop but will proceed with other available/possible paths to your lead.
Integrated inbox
Whether your leads' responses come from LinkedIn, Sales Navigator, or Emails, Skylead has an Integrated Inbox. Its role is to put all of these together in a neat and organized way. You know where your prospects answered from at any moment thanks to the chat's well-defined icons. It's your choice where you want to continue the communication – in the Integrated or directly in the channel's Inbox.
Summary
Automation is there to help you scale your business while ensuring consistency in customer experience and opportunity costs.
That is to say that with the right automation tool you will be saving and making money while watching your company grow.
To learn more about how Skylead can help you make the most of your LinkedIn experience, schedule a demo call with our team representative.
We look forward to opening a world of outreach possibilities for you!