Smart sequences: The future of lead generation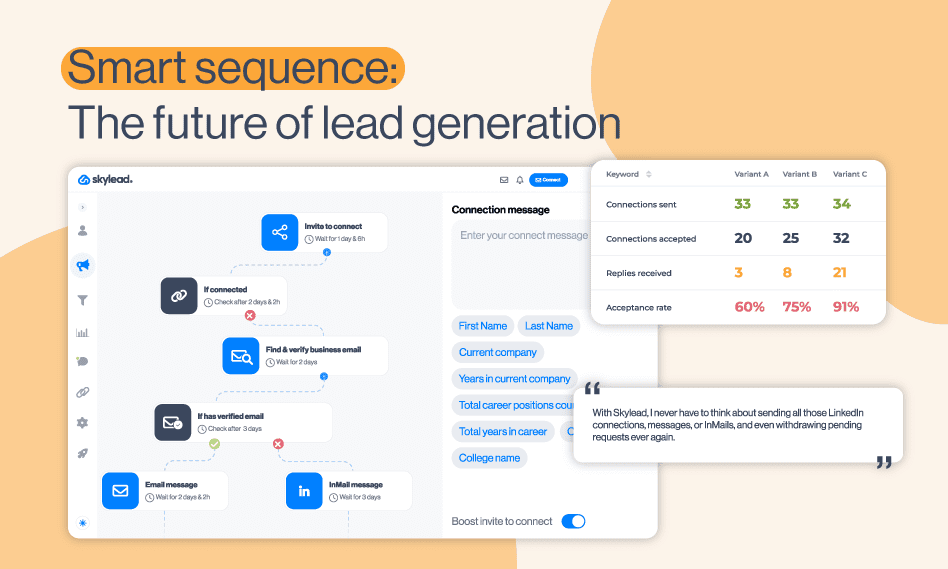 Skylead's Smart Sequences are groundbreaking algorithms that allow you to use multichannel outreach and personalization to its maximum potential.
Following the trends of LinkedIn's newest restrictions and changes in their policy and with Lead Generation moving to other channels (such as Email for example), Skylead's Smart Sequences are undoubtedly the most innovative and exhaustive path to reaching your Prospects and increasing conversion rate.
Not only.
Due to the previously mentioned LinkedIn restrictions, Smart Sequences are actually the only effective way of generating and nurturing Leads. They combine LinkedIn features (LinkedIn InMails, Connection Requests, Messages, Follow) with Emails (found and verified by Skylead) and create the highest possible number of personalized touchpoints with your Prospects. 
As you may see, Smart Sequences bring the Lead Engagement Process to a whole new level.
Possibilities. Yes. So many possibilities!
Before introducing Smart Sequences, your options were, more or less, limited to predefined threads.
Now you have the possibility to combine the same features and operations you had before (and some new ones) in an unimaginable number of ways. That means using the potential of every channel to its maximum, within the safe limit range.
While the old predefined threads are still available, now you have the option of making an entire branch of steps and operations the way you think it will work best for your business goals.
Consequently, just when you thought your communication cannot get any more humanized, Smart Sequences give you a Super-duper-hyper-personalized outreach!
Let's see how it all looks in practice.
Smart Sequence N1 (The Simple One)
As you may see from the algorithm's diagram, after the Email Verification step, this Smart Sequence is set up for several options.
In case Skylead discovers and verifies the Prospect's Email, we can continue our communication through the email channel. If not, the sequence will proceed with the Connection Request. If the Prospect accepts it, the LinkedIn branch of communication will send a Message, and if not, there is always the option of Following the Lead just as a subtle reminder to our attempt to connect.
Email Verification Step
Skylead will try to find and verify Business Emails from your list of Prospects BEFORE connecting with them. The success rate varies between 20 to 40% which is 500 to 1000 valid Business Emails from one Sales Navigator Search that generated around 2500 prospects.
Smart Sequence N2 (The Post Engagement Campaign)
NOTE: It has been proven that Post Engagement Campaigns have been extremely successful when it comes to acceptance and response rate (ranging between 75-90%). They are an excellent ice-breaker, as you start your conversation with Prospects with a topic, interest, or connection that you have in common.
As you may see from the algorithm's diagram, after the Connection Request, this Smart Sequence is set up for several options.
The thread will check if the Prospect's profile is open to Free InMails. If yes, the right branch of our Smart Sequence will proceed in that direction and send InMail #1, and then InMail #2 (a follow-up).
If not, the Smart Sequence will change its direction and try to discover and verify the Lead's Email. In case the Prospect's Email is available, the thread will reach out through this channel. If not, it will just Follow the Lead as a "final" reminder of our attempt to connect.
Smart Sequence N3 (The Complex Sequence)
This Sequence is interesting as it diminishes the need for Connection Requests by using other personalizable channels.

First, the sequence will check if the lead's account is open to InMails (leads you found by prospecting on LinkedIn). If yes, it will continue with this option. Have in mind that with Skylead, you can send up to 800 Free InMails a month.
Secondly, if the Prospect's account is not open to InMails, the sequence will proceed with discovering and verifying Emails. Skylead can generate thousands of emails a month just by using information available on Linkedin, which permits so many additional personalized touchpoints with your Leads.
In case neither Email nor InMail is available, the sequence will proceed with a Connection Request.
Wanna see how easy it is to make a Smart Sequence?
All you need to do is choose between elements (InMail, Email, Message, etc.) and conditions (If Email Verified, If Open to InMails, etc.) on your right and drag them to your left to create the flow.
For each element that requires text, you have the option of inserting it immediately and use all of the available tags. You also get to decide how much time you want it to pass between sending that particular InMail, Email, Message and the step before. The same option applies to conditions.
As simple as this. Take a look.
Image and GIF Hyper-Personalization Tool
Image and GIF Hyper-personalization tool is a flexible and unique feature that Skylead puts at your disposal. It is perfectly compatible with LinkedIn messages, InMails, and Emails used for building Smart Sequences.
Image and GIF Hyper-personalization tool works outstandingly when it comes to distinguishing yourself from the competition and creating a surprise factor thanks to its unconventional way of communicating what you have to say.
Due to its hyper-personalized copy and the visual effect, it is hard that it will leave any of your Leads indifferent.
Check out more about it here.
Why Multichannel Outreach?
Because a Multichannel Outreach increases the response rate by least 17%!

Is that reason not good enough for you or what?!?
Also, not only does it offer a plethora of features such as LinkedIn Messages, LinkedIn InMails, and Emails, but now it gives you the freedom to combine channels, operations, and build your threads. In other words, you are not limited to generating leads on LinkedIn only. So, go wild!
And don't be afraid of LinkedIn jail and restriction or that your Emails will finish in your Prospects' Spam folder. Skylead has your back. We always monitor your campaigns and make sure that they stay within safe limits.
That's right! You are safely hyper-humanizing communication with your Leads while being fully protected.