LinkedIn Sales Navigator VS Premium for lead generation [comparison]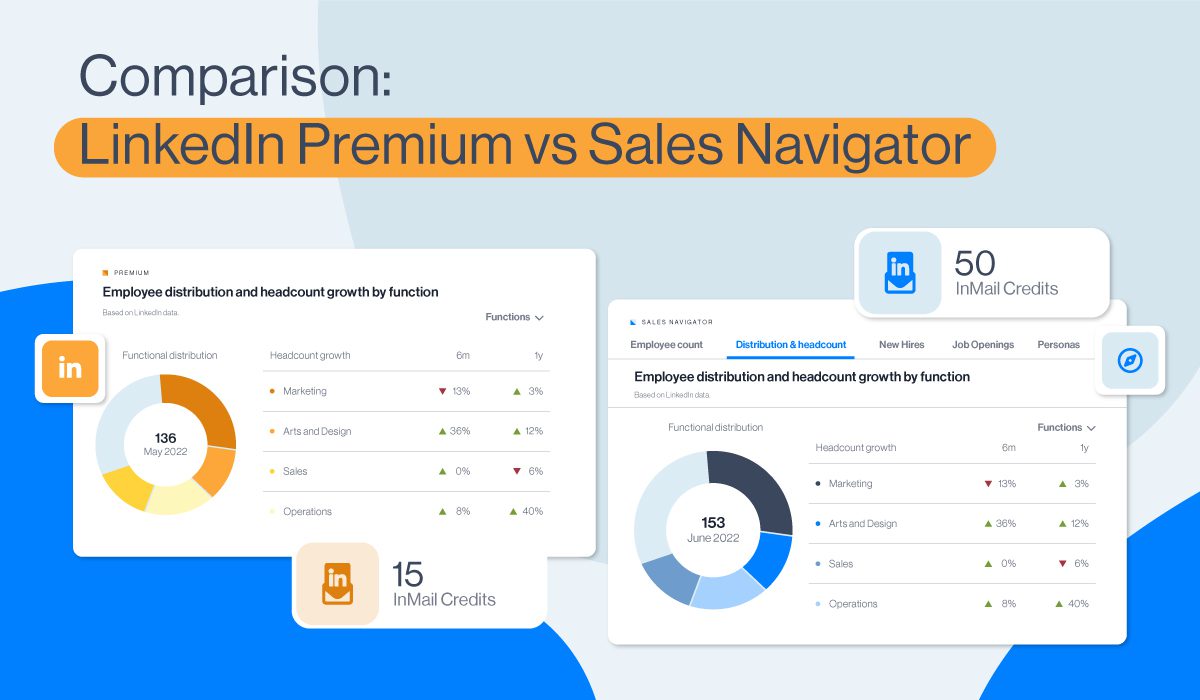 Whether a complete beginner in LinkedIn prospecting or an experienced sales rep in search of a fresh approach, this LinkedIn Sales Navigator vs Premium comparison is aimed at giving insight into the valuable features of each plan, so you can make informed decisions on which subscription suits your LinkedIn lead generation best.
The majority of sales reps would probably tell you to use LinkedIn Sales Navigator right off the bat. This LinkedIn subscription was, indeed, originally created to help you find qualified prospects for your business through its advanced filtering options, placing prospects into lead and account lists for a more personalized approach, creating alerts so you know what your target users are up to, and many more that will be listed and thoroughly explained down below. 
However, this doesn't mean that LinkedIn Sales Navigator always wins in the LinkedIn Sales Navigator vs Premium "battle" or that merely investing in it will bring you the desired results. The majority of outcomes will depend on your social selling skills and certain market factors. Ours is to make a LinkedIn Sales Navigator vs Premium comparison. Yours is to pick which one makes sense for YOUR lead generation.
The one thing we know for sure is that you must give up your LinkedIn basic account. The free plan doesn't support a higher number of searches, let alone anything more than that. If you wish to just be there on LinkedIn and wait to be discovered, sure, go ahead. Stick to your free plan. For anything more than that, you will need to upgrade to pretty much any other LinkedIn subscription.
Now, let's see which one suits your business needs the most.
LinkedIn Premium: Best features for lead generation
LinkedIn Premium consists of two sub-plans, LinkedIn Premium Careers and LinkedIn Premium Business. The first one is created to help you get hired. The second one to build a strong LinkedIn network and advance your business. That's why we will be focusing on LinkedIn Premium Business.
Both the LinkedIn plan price and the VAT depend on the country in which your account has been registered.
Our Team which is based in Serbia is approximately paying the following amount for each LinkedIn Premium Business.
monthly cost - around $60 per month + VAT as specified by our country.
annual cost - around $570 + VAT yearly as specified by our country.
Let's go through LinkedIn Premium Business features that are useful for lead generation.
Monthly InMail credit
LinkedIn Premium gives you 15 paid InMail credits per month that can be accumulated to up to 45 credits in 3 months. Any LinkedIn member can receive a paid InMail, but only LinkedIn Premium, Sales Navigator, and Recruiter plans can send them. Each time you get a reply, you get that InMail credit back.
Each Premium user gets 800 free InMails that can be sent only to members whose profiles are set to "open". If you wish to be able to receive an InMail from any member on LinkedIn, set up your profile for it. 
The number of Paid InMails varies depending on the plan. This is where Sales Navigator for sure wins the LinkedIn Sales Navigator vs Premium "battle" (more on this below). Since each LinkedIn member can receive a paid InMail, we advise our users to use it as the last resource. Therefore, Linkedin InMails are usually as one of the very last steps/conditions in our Smart Sequences. InMails also turned out to be a clever move if you want to get in touch with members, usually, decision-makers who are hard to be reached out to. Check out our InMail templates for sales to get inspired.
The "Who Viewed Your Profile" feature
If you are a Premium Business subscriber, you'll have a detailed insight into LinkedIn members who viewed your profile. Maybe you appeared in their feed, their search results, maybe you came as recommended by someone, they were checking out your company's website, or your profile was shown in the "People also viewed" or "People you may know" feature. Either way, they showed some kind of interest in you. Reaching out to them turned out to be a LinkedIn prospecting practice that brings results. This is where you can see Who Viewed Your Profile on LinkedIn. 
Unlimited search
LinkedIn Premium offers unlimited search unlike LinkedIn basic that limits you to 10 searches per month. If you are a LinkedIn free plan user, you'll need to wait until you can continue browsing other LinkedIn profiles.
Company insights
All LinkedIn Premium members can go to any LinkedIn company page and check out the company's insights here. Companies that hire, grow, and receive funding are generally more likely to consider innovative solutions, hire counselors, and automate certain processes. That's why, taking into account specific company insights can be valuable for your next business move.
This can be useful for lead generation because you can see data such as:
Total employee count
Total employee growth in the last 6 months, 1 year, and 2 years
Employee distribution and head growth by function
And other data that could be significant for your lead generation.
LinkedIn learning
LinkedIn Learning is LinkedIn's free online learning platform. It provides video courses taught by industry experts available to LinkedIn Premium users. Their main goal is to provide different skill sets necessary for scaling up your business and for advancing your career.
This is what your LinkedIn learning platform dashboard looks like.
You can see the skills you choose to improve, you can add new skills on your right, while in the top right corner you will find the preset weekly goal. The weekly goal is not something that LinkedIn asks you to commit to, it is more of a personal goal you set for yourself.
Click on Learning history. Then, click on Show recommended courses. LinkedIn will suggest specific courses based on your professional path and the previously set preferences.
This is what LinkedIn's top picks for me look like.
LinkedIn Sales Navigator: Best features for lead generation
In this LinkedIn Sales Navigator vs Premium comparison, we must highlight right away that LinkedIn Sales Navigator for sure has more lead-generation-oriented features since it's been created specifically for it.
So, yes, to answer your question, LinkedIn Sales Navigator is for sure the most suitable for lead generation and sales in general by all parameters.
However, we decided to write this LinkedIn Sales Navigator vs Premium comparison so you can make informed decisions about whether to invest in something as advanced as Sales Navigator or stick to LinkedIn Premium features for lead generation. Why is that?
The truth is, that a great number of Sales Navigator subscribers don't use the platform to its full potential. Some of them are not familiar with it enough. The others actually don't need all super-advanced Sales Navigator features for their lead generation. And the Sales Navigator is pretty pricey…
When you upgrade to Sales Navigator from your existing plan, you will NOT be paying for both plans. This can be quite confusing for the first-timers since Sales Navigator seems like a completely different platform. However, you will have at your disposal all the above LinkedIn Premium features in addition to the following perks offered by Sales Navigator only.
Our Team which is based in Serbia is approximately paying the following amount for Sales Navigator Core.
monthly cost - around $79 per month + VAT as specified by our country.
annual cost - around $877 + VAT yearly as specified by our country.

Advanced filtering
The first benefit of Sales Navigator is its 29 Lead Filters and 15 Account Filters, out of which 27 total are Sales Navigator only. If your niche requires pretty specific lead profiles, Sales Navigator is the right subscription for you. 
Saved search
The Saved Search option allows you to save specific criteria that get you as close as possible to your ICP and then send leads and accounts that match those criteria to one place. You can name your Saved Search in a way to help you distinguish between other saved searches you have. Every time you enter the Saved Searches dashboard, you will see the number of leads that were added since the last time you opened that specific saved search. You can also see when you last accessed that particular list.
Lead lists and account lists
Something similar to the previous feature is the Lead List and Account List options. Keep specific leads or accounts that match your lead generation criteria in one place and under one name.
Monthly InMail credit
The concept of free and paid InMail credits is the same as explained above. The only difference is that Sales Navigator offers 50 paid InMails credits that can be accumulated to up to 150 in 3 months. LinkedIn gives you back InMail credits each time a user answers. Additionally, each Sales Navigator subscriber gets 800 free InMail credits that can be sent only to users with open profiles. Therefore, LinkedIn Sales Navigator number of InMail credits for sure wins the LinkedIn Sales Navigator vs Premium battle.
Connect your CRM
Among the three plans, Sales Navigator Core, Sales Navigator Advanced, and Sales Navigator Advanced Plus, only the last two support the option of connecting your CRM. Once you've connected your database, Sales Navigator will match the list of leads with their LinkedIn profiles and enable you to perform any action you would normally be able to through a regular Sales Navigator. Sales Navigator supports the majority of CRMs. If you don't have one or are not sure which one to consider, we've listed the top 10 CRMs on the market with all their advantages and disadvantages to help you out with this choice. 
Set alerts for leads & accounts
Set alerts for leads and accounts of your choice, and Sales Navigator will make sure to regularly update you on every activity the platform finds relevant. It could be anything from job changes, post shares, growth insights for companies, etc. Save your leads into a lead or account list, bookmark them, leave a note, or reach out, directly from your feed. It is an excellent way to know what your leads of interest are up to and wait for the right moment to approach them.
View similar
The View Similar option is available for accounts only. It is the right choice once you've defined your ICP down to the smallest detail. Let's say you found that ideal company that you would like to replicate if you could. In a way, you can. Click on the three dots next to the company name in the Sales Navigator search results. Choose View Similar. Sales Navigator will list other companies whose attributes match as close as possible the ones of the original one.
Leave notes
Sales Navigator gives you an option to leave notes next to the leads and accounts of your choice. This way, you know at any moment what stop they're at on their buyer's journey.
Set up your sales preferences
Sales Navigator offers the opportunity to set up your sales preferences and choose the types of leads and accounts you wish to see more of on your feed. This option will give you significant insight into people and companies from your target industries, without you having search them manually. Sales Navigator will automatically push up to 100 leads that match your Sales Preferences into a list named Recommended Leads. The system generates this list and automatically refreshes every week.
Blacklist specific leads and accounts
Blacklisting specific leads, accounts, or Lead or Account lists can be an excellent way to avoid certain leads. These can be people you already spoke to, your competitors, partners, existing customers, etc. Sales Navigator doesn't have the Blacklist feature per se. However, you can create one by taking advantage of the possibility to exclude certain parameters or entire lists from your search.
Smart links
A Smart Link is a link to a document (PDF, Word, PowerPoint, or image file) or a downloadable (a video, zip file, CSV, etc.) that you can insert in a LinkedIn InMail message.
Only Sales Navigator Advance and Advance Plus support Smart Links.
The main advantage of the smart link is the option of tracking link clicks, the amount of time the recipient spent viewing the content, the date and the time that the recipient accessed the content, etc.
Also, if the user that clicked on your content logged into their LinkedIn account first, you will be able to see basic info from their profile such as name, title, company, and public profile picture. Additionally, you'll have the option of sending a free InMail, if they have an open profile, or a paid one.
If they didn't log into their LinkedIn accounts, they must insert their full name and email address before accessing your content.
This is an awesome way for sales and marketing teams to collect significant insights into people that are showing interest in their product.
LinkedIn Sales Navigator vs Premium: Downloadable comparison table
Summary
At the end of this LinkedIn Sales Navigator vs Premium comparison, we must emphasize that the choice of your LinkedIn Account will highly depend on your intentions on LinkedIn. Not all Sales Navigator users know these hacks nor are they taking full advantage of the platform itself.
Whether you opt for LinkedIn Premium or Sales Navigator after reading this LinkedIn Sales Navigator vs Premium comparison, or maybe even Recruiter, if you are searching for the best talent for your business, know that Skylead supports all three plans and can make your outreach faster and easier.
Skylead is an AI-inspired Sales Engagement Platform that takes over all boring and time-consuming sales tasks and allows you to focus on closing the deal.
Do you wish to know more about how to use Skylead? Are you curious how Skylead can get you faster to your sales goals? Check out our website or schedule a FREE demo appointment with our Sales Reps. 
We're waiting for you!