5 tips to master your B2B sales outreach in 2024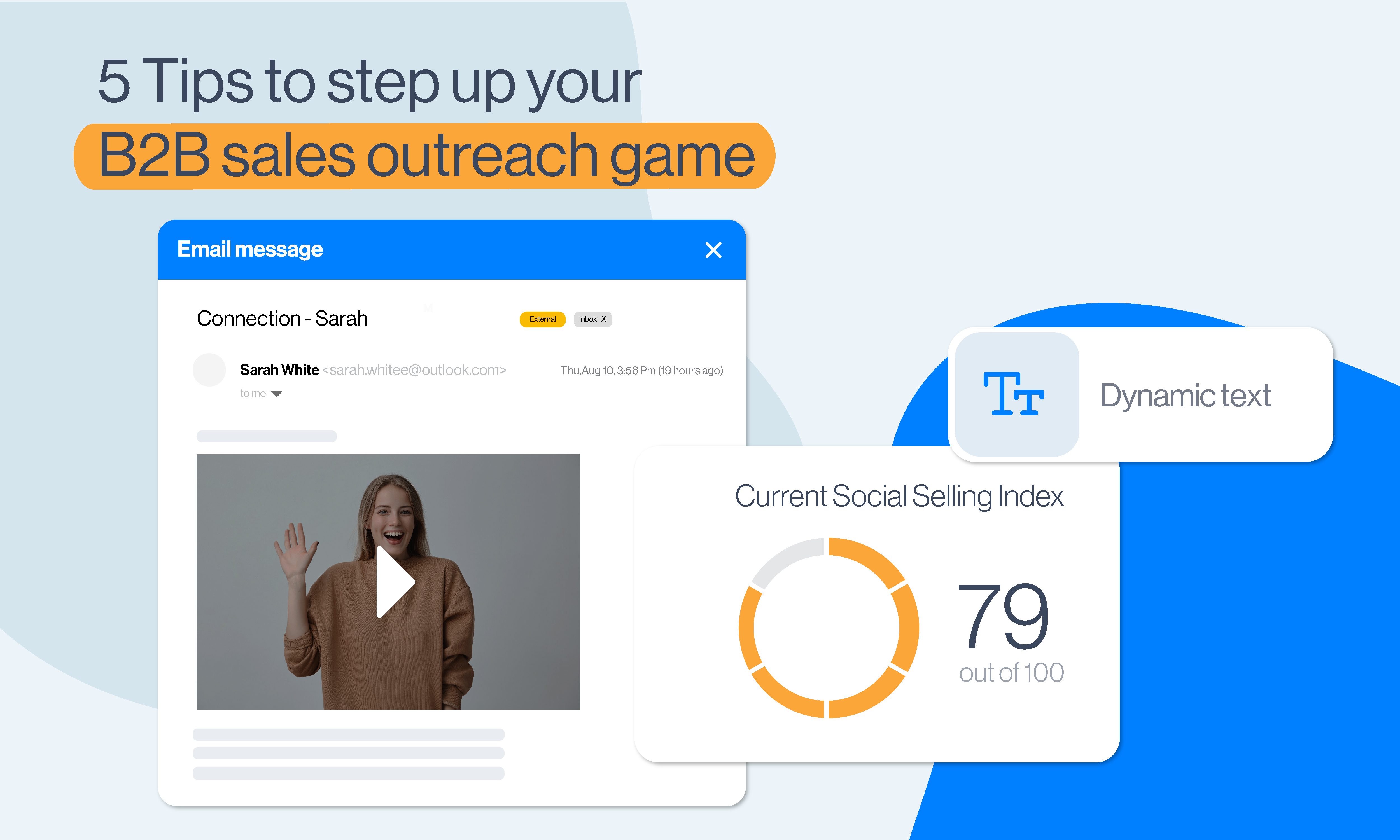 2020 and 2021 were the years that baffled all of us. It was like playing a B2B sales outreach card game.
You are sitting in the darkroom, at the round green table. Across from it, there is your competitor, sweating just as much, trying to keep a straight face. Prize? Leads. A handful of them. Card after card, it appears you have rotten luck. As your coin pile gets smaller, you wonder how you can make a fortune smile at you.
If you missed your opportunity to keep up with the market changes in 2021, here comes another chance. Let's go through the key tips that can be your aces in a sleeve to stay on top of your B2B Sales outreach game.
How has B2B sales changed over time?
In the past, the B2B sales process was pretty simple. A company would recognize the need, identify a solution through Word of Mouth, and contact one or more providers. After a couple of meetings, the deal would be made.
But in recent years and globalization dramatically entering through the big door and competition getting wider, the providers were left riddled about which approach to use to get a bigger piece of the market cake. A vast number of opportunities opened up: the importance of the company's content, review websites, social media, or paid ads all flooded the world, which made jobs harder not only for the providers but for clients, as well.
Overwhelmed, clients were getting more suspicious of services' credibility that they decided to do the research themselves. This ultimately decreased SDR's opportunity to influence the client's decision.
According to TrustRadius, 78% of B2B buyers are spending equal or more time researching the product or service by themselves.
Outcome and changes
Consequently, the idea of sales and marketing merging and working together became a priority task for the companies and ultimate sales strategy.
Another considerable change that globalization and 2020 events brought to the table is the importance of remote communication itself, thus online meeting software usage, such as Zoom or Google Meet skyrocketed. This made it easier for clients to meet with providers without wasting time.
On the other hand, providers finally got the chance to improve their conversion tracking, but the sales team had the new challenge at hand: improving presentation skills for online time-limited meetings to listen to pain points, showcase personalized benefits and install confidence and expertise in prospects.
So with the new 2022 just getting started, we have yet to see the new B2B sales trends develop. Alas, due to recent changes, some ways to master your sales outreach are here to stay, so let's get through all of them.
#1 Social selling in B2B sales outreach: The new normal
Assertive selling methods are long out of the picture, thanks to Social Selling. As a new way of the sales strategy, social selling requires narrowing down the niche prospects and developing relationships first, before leading them further down the sales funnel. Developing the relationship will allow you to place the idea into your prospects' heads and nurture it throughout the buying experience steps.
Today Social selling often takes place via social media channels such as LinkedIn. For example, LinkedIn established a Social Selling Index in which users with higher SSI are better positioned to make new lead connections, and therefore more likely to succeed in closing the deal. Consequently, many SDRs' main mission was to improve their Social Selling Index (LinkedIn SSI score).
Social selling is a delicate business, and it took sales teams a while to wrap their heads around it. As time passed by, it proved to be effective, so in 2022 social selling is a must for your sales strategy to stay on top.
#2 Understand where your leads came from
It's 2022, and it is high time to step up your lead organization game. This is where CRM comes in handy. By inserting all the lead information in one place, you will be able to categorize them later on, depending on where they came from. Why? Because the way you engage with them should be different based on where they originated from to personalize their buying experience.
There are no one-size-fits-all categorizations, but the ones that we found useful are:
1. Hand raisers
Hand Raisers are the leads that have reached out to support or schedule a demo via the website. They already know who you are and are halfway to the conversion, which makes your sales approach easier.
2. Custom leads list
Custom leads were found and added to the system manually by an SDR. These leads can be sourced from personal connections on LinkedIn, Sales Navigator Search, or scraped elsewhere online. With this categorization, you can narrow it further by industry, pain point, and so on to further personalize your cold outreach.
3. Educatees
Educatees are the prospects who downloaded some sort of educational material from your website or signed up for a webinar and left contact information for it. Extra attention is needed here as not all of them are your niche leads, so you need to segment them carefully.
4. Lead warmth
One of the simplest ways to categorize your leads is by warmth. Some may be further down the sales funnel than others, and some might not have that much interest as others.
Cold Lead - Prospects that are right at the beginning of the sales funnel or have little to no interest in engaging with SDRs.
Warm Lead - Warm leads have expressed some interest in speaking to or needing your company by perhaps contacting customer support via chat or contacting you via Social Media channels. Alas they are not ready for a conversation with an SDR. This lead will typically need a nurturing campaign or direct assistance to move further down the funnel.
Hot Lead - These leads explicitly said they're ready to speak to your company or are asking a lot of questions to support this claim.
The good thing about categorization is that you can use one system or combine them to further personalize your approach. All in all, with lead categorization and labeling, you'll be able to track your KPIs better, understand your LinkedIn lead generation activities, what leads to lead conversion and know what works best and where you should change your approach.
#3 Use video format
As what feels like an everlasting trend, video format continues to amaze with its effectiveness in 2021, not only in marketing but also as a sales strategy. So in 2022, leverage video and step away from long texts to demonstrate the value of your product or service.
According to Wyzowl's research, 84% of people say they've been convinced to buy a product or service by watching a brand's video.
A brief video can show prospects how the product is used, showcase benefits, short reviews, and set the tone for your sales pitch better than a text format. Incorporating videos into your B2B sales will increase engagement and lead to more sales.
Current trends show that animated explainer videos are a perfect way to demonstrate your product or service, features, and benefits. What's great about the video format is that it can be used at all stages of the sales funnel.
In addition, videos help the B2B prospect to organically conclude that your product suits them best on their own. It builds trust, especially in cold leads, and fosters further education.
#4 Build trust through education
The world has changed. As we mentioned, it's important that you nurture relationships and build trust with your leads, and one of the great ways to do that is through education.
Think about the content the marketing team produces. Mark them for the sales strategy, and use blogs, webinars, whitepapers, or videos to help educate your prospect on what your organization offers.
Remember when we talked about Social Selling? This is one way to do it. If you help to educate them first, guide them towards your solution, and enable them to make their own decisions, they will begin to trust you. Once you gain the trust, you will nurture a relationship to conversion with more ease.
To get the most out of your educational outreach, personalize it further. Instead of sending an entire blog or webinar by itself, take a quote from them, and send them a linked snippet. Trust us, they will be grateful, and the percentage of objections will be by far decreased.

#5 Update the B2B sales outreach process
In recent years, one of the most popular business mantras you could find was to work smarter, not harder. This meant finding alternative ways to simplify the process while getting the best of it and easily scaling it up. This formula was to be applied to the B2B sales process, as well.
But how were people able to do it? What is their Sales strategy? They implemented sales engagement tools.
With the rise of LinkedIn as the most effective way to find B2B leads, along came various tools to help your LinkedIn outreach out, so you can invest the time in more important matters, such as nurturing your leads to conversion. It allows your sales creativity to bloom, delegates and routine tasks to the software itself.
How to master your sales outreach with it?
1. Multichannel approach:
Some sales engagement tools allow you to use a multichannel approach. This means that several channels are working in synchronicity to maximize sales efficiency. Therefore, you can reach your prospects via multiple channels, such as LinkedIn and email. After all, the multichannel approach does bring the best results to the table.
2. Sequences:
If the Multichannel approach is a strategy, then sequences can be the means by which you achieve it. Smart sequences are the future of lead generation, as you can combine different actions in one campaign, define the time delay between them, and send it out to the prospect. The tool will follow the steps and send out outreach you've prepared, so you need not worry if some steps slipped between the cracks.

3. Personalization at scale:
Another trend in the B2B sales process became personalization. You need to get as personal as you can with your leads, mentioning their name, interest or company to develop a relationship, show that you care for them, and wish to solve their issue. Naturally, sales engagement tools became a smarter and easier choice to personalize your cold outreach at scale.
To quote Daft Punk with the twist:
"Work it smarter, make it better, do it faster, make it stronger."
In conclusion
B2B sales outreach is ever-changing, and it always will be. That is why you need to stay on top of trends and best practices to stay in the game.
There are still many paths to follow to master your B2B sales outreach, but the core ones are:
Update The Sales Process
Improve Social Selling
Understand Where Your Leads Came From
Use Video Format
Build Trust Through Education
You don't have to implement every tip that we mentioned. Choose the one, A/B test it, and then apply which one works best for you. Own it, win it!
Let's win 2022 together! Check out Skylead, a LinkedIn Automation & Cold Email Software that thinks for you and try it out for free.