How to automate lead generation [Step-by-step guide]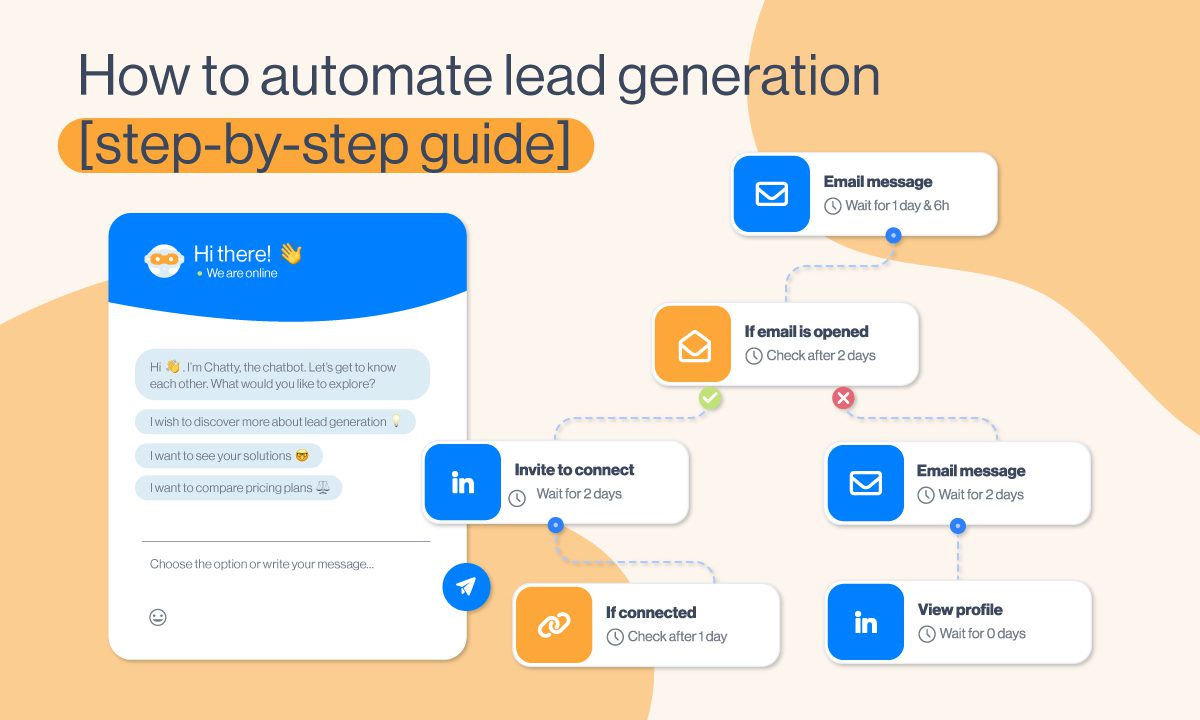 If you've ever wondered if there is a way to speed up lead-generation activities, we have a proposition - try automated lead generation.
Yes, that's right. Automation has been around for a while, especially for lead generation and management. And no wonder it's so effective since this way, you can find the most qualified leads and scale up your business. But, more importantly, you can generate your leads daily.
That said if you wish to use lead generation automation properly but need to figure out how - fear not. We will guide you on how to automate every sales and marketing lead generation task.
What is automated lead generation?
Automated lead generation is a process of using technology to perform time-consuming sales and marketing lead generation tasks on your behalf. To do this, you have different kinds of automation tools at your disposal. For example, you can use software to automate sending emails or LinkedIn connection requests.
Automated lead generation offers benefits such as:
Reducing human error and thus improving your workflow;
Saving time by performing manual tasks and decreasing workload;
Providing insights into the performance of lead generation activities so you can use optimization and improve;
Consistency in the workflow so you can generate leads daily;
Leaving room so you can focus on building relationships and lead nurturing.
That said, there are plenty of automation tools on the market to choose from. However, let's first distinguish the types of sales and marketing lead generation activities to discover what tool you should use accordingly.
Types of automatic lead generation
There are 2 types of automatic lead generation, but they best work when used in synergy.
Inbound lead generation automation
Inbound lead generation is a marketing strategy for attracting leads to your company. For example, a marketing team can create content valuable to the best leads for your business. The purpose of the content is to compel a lead to first take specific actions that will eventually lead to sales.
In addition, since leads nowadays focus on researching independently, inbound lead gen focuses on helping rather than selling. In other words, it shows the way toward your brand content pieces such as blogs, ebooks, and guides.
That said, inbound lead gen automation means streamlining the said tasks using automation tools. For example, you can use the following types of tools to automate your inbound tasks:
Chatbot - to provide answers to questions;
Pop-ups & forms - to offer personalized content, lead magnet or surveys on the website.
Outbound lead generation automation
Outbound lead generation is about finding and reaching out to your ideal leads directly without waiting for them to reach out to you. To clarify, rather than waiting for leads to find your website and reach out like inbound lead gen, you are the one who makes the first move.
That said, to automate your outbound lead generation tasks, you can use the following types of tools:
Email marketing and outreach tools - for outbound marketing and sales to automate sending emails, newsletters, or themed email sequences;
Prospecting tools - for marketing and sales to find outbound leads and contact information;
Social media automation tools - for sales to automate outreach on social media;
Advertising tools - for marketers to automate buying digital advertising space.
B2B lead generation automation VS B2C lead generation automation
Business-to-Business (B2B) lead generation automation is a process of using software to generate potential leads who work in a company to offer them your services.
On the other hand, Business-to-Consumer (B2C) lead generation automation uses software to streamline and generate leads who are individual customers.
Even though they have different potential customers, both B2B and B2C companies use the same lead generation automation for a similar purpose. Here is how different companies use types of automation tools for their purpose.
How to automate lead generation [Step-by-step guides]
Automated outbound lead generation guide
1. Define your ICP and buyer persona
Your outbound lead generation needs a good basis to get quality leads that convert. That's why sales teams start off their lead generation process by creating Ideal Customer Profile and Buyer Persona. This way, you can generate the best leads and guide them through the sales funnel. Not to mention, these documents will help you with the lead scoring.
The best practice for the creation of both of these documents is to analyze your current customer data and gather users who:
Have the shortest buying cycle;
Have a high retention rate;
And who would advocate for your product or service.
2. Find contact data
Once you establish your ICP and Buyer Persona, it's time for prospecting.
Almost all sales teams use LinkedIn prospecting to find the best leads for their sales funnel. Moreover, there are a lot of proven LinkedIn lead generation strategies out there to find quality leads. However, when it comes to gathering the leads' contact information, it's best to automate the process and find tools that will help you do just that.
3. Craft a compelling message
Whether you wish to use LinkedIn outreach or any other medium, consider your messaging carefully. Cold outreach is hard when you know nothing about the person. That said, it's important to include research into the lead generation process and figure out what your leads are all about.
In other words, comb through their LinkedIn profile, and find the About section, posts they published, or what they shared. This way, you can personalize your communication and be more genuine in showing an interest in solving their problems.
Another tip for successful messaging is to mention your unique selling point tailored to their exact pain point.
That said, if you need help crafting such a message, you can always use Chat GPT for sales messages.
4. Send cold emails
It's easy to let the cold email mistakes slither into your outreach. However, you reduce the chances of some of these mistakes by using automated lead generation tools to send cold emails.
Only keep in mind that 70% of salespeople stop at one cold email. However, incorporating follow-up messages into your sequence increases your chances of hearing back by 25%. So be sure to send follow up emails as well.
5. Automated LinkedIn lead generation
LinkedIn and email outreach have been part of the sales funnels for years. And with hundreds of leads we reach every week via LinkedIn, it's time-consuming and nearly impossible to get desired results - unless you use different automated lead generation tools.
That's why various LinkedIn automation tools are there to help you streamline different outreach actions on LinkedIn. For example, our very own Skylead can automate sending connection requests, messages, and free & paid InMails. In addition, you can combine these actions and create scenarios based on your leads' behavior; but we'll talk more about that later on.

6. Lead automation: Nurture the leads
Once you start conversing with your leads, you need to keep track of them. This is where CRM, like Hubspot or Pipedrive, comes into play. To clarify, Customer Relationship Management is a software that helps you automate gathering all the information about your sales leads in one place, such as:
Notes about the sales leads,
Lead scoring,
Information about the company,
Deal value,
Position in the sales funnel,
Next task to perform,
Conversation link, and so on.
This way, you can check where your leads are in the funnel and what level of nurturing they need.
Automated inbound lead generation guide
1. Set up your lead generation website
The first step towards automated lead generation is creating a website to connect all your automated lead generation tools. We can write an entire blog on creating a website, but we'll mention 3 most important things.
Firstly, good practice here is to create a website that will provide the best user experience with UX/UI design that converts.
Secondly, your content marketing team must prepare visuals and texts for the website. The text needs to provide information about your product or service but in a way that describes how it solves the problem and removes pain points your high-quality leads have.
Lastly, it would be best to create an SEO plan to rank your website better.
2. Create a lead magnet
The second step is for your content marketing team to create a lead magnet.
A lead magnet is a guide, eBook, or mini-course you publish on your website for leads to download. In exchange, you ask your leads to leave their information, such as name, surname, and email address.
This is one of the lead generation strategies, so you can gather the emails and send your leads newsletters. Or you can let your sales team reach them out.
However, keep in mind that you cannot ask for leads' emails just for anything. The lead magnet you create needs to offer valuable information and practical knowledge tailored to your leads' needs.
Once you create a lead magnet, you can automate the process by connecting your forms to Hubspot or Monday CRM. This way, you can automatically create a deal. Moreover, if your CRM and outreach tool are connected, you can push the leads to your campaign.
3. Set up your landing page
To generate high-quality leads organically or via ads, you need a landing page that provides the best user experience. In other words, it needs to contain concise information tailored to your high-quality leads. So the best practice here is to have dedicated feature pages and what problems they solve.
The information you provide needs to have a converting design and info so your visitors wish to take action. In addition, your landing pages need to be as SEO prepared as possible.
Lastly, speaking of action, your landing page should contain a contact form or any lead magnet you wish to promote to gather quality leads.
4. Capture leads with a chatbot
Another way to generate leads via your website is to use a chatbot. It allows you to turn your website visitors into leads and qualify them for future sales or marketing activities.
For example, you can set your chatbot to pose a list of questions before leads can contact the support team. This is a perfect automation system for lead scoring and qualifying.
For example, with some chatbots, you can set up to automatically gather information, such as email addresses, company sizes, or other information relevant to collecting qualified leads. Once it does, like with lead magnets, you can automate creating a deal in your CRM and pushing the leads to your outreach campaign.
5. Get traffic to your page
Once you've done everything we've mentioned above, you need to get leads to your website to generate them. There are two ways you can get traffic:
Paid - you can launch paid campaigns via Google ads, Bing ads, or social media such as Facebook or LinkedIn. You can target new leads or retarget your previous visitors.
Organic - Creating blogs or videos that follow SEO standards so they can rank better organically and get you as many visitors as possible.
6. Lead management automation: Nurture the leads
When you start getting leads to your website, you need to nurture them to some sort of conversion. Therefore, look no further than using pop-up forms or chatbot conversations personalized to their web behavior.
You can personalize your automated messages and offer relevant content by, for example:
Pages they are visiting,
If they are returning customers, or
Exit intent.
7. Use marketing automation for lead generation
Once you gather your leads' emails, it's time to use marketing automation and outreach them. You can create email campaigns to offer personalized content on a mass scale based on your leads' behavior.
For example, you can send certain messages depending on whether they opened an email. In other words, you can create an entire sequence with different scenarios to offer tailored content that will lead to conversion.
The good practice here is to start with valuable educational content, then offer a solution to the particular problem, and then present your product or service. In other words, never start the first message with your pitch.
Best lead generation automation tools
We will name a few best lead generation automation software and their Capterra scores. However, feel free to research other tools and check review websites should you feel the need to do so.
1. Skylead
Yup. As we previously mentioned, that's us. 🙂
Skylead is a LinkedIn automation and cold email software that streamlines the most time-consuming marketing, recruiting and sales outreach tasks. In other words, these tasks include sending:
LinkedIn connection requests
Messages,
InMails,
And emails
to all your leads you imported into Skylead via LinkedIn, Sales Navigator, Recruiter, your CRM (using API) or CSV file.
Moreover, this software as a service allows you to also:
What makes Skylead special are Smart Sequences and their if/else conditions. To clarify, Smart Sequences are action paths you create using the activities mentioned above and combining them with if/else conditions. This way, you can create countless scenarios that Skylead uses to outreach your leads according to their situational behavior.
That said, here is an example of one Smart Sequence.
Moreover, you can connect Skylead with any tool, such as CRM using webhooks or API and push or send data.
Use cases
You can use Skylead for various reasons. However, we will mention a few depending on the team you might belong to.
Pricing
Skylead has an all-in-one pricing plan of $100 per user/month.
Capterra score: ⭐ 4,8 / 5

2. OptinMonster
br]
This is another lead generation tool considered one of the best marketing strategies you can use on your website. Marketing teams use it for ecommerce lead capture. However, B2B marketers frequently use it for their lead generation efforts as well.
OptinMonster is a software that offers automated lead generation forms presented as pop-ups, slide-in windows, and gamified spin-to-win wheels. Moreover, you can place these pop-ups or forms on any landing page.
That said, these automated forms help you gather contact information to build an email list for your email campaigns, display personalized content, and nurture your visitors through their customer journey.
Features
OptinMonster's main advantage is that it turns your website visitors into paying customers, webinar attendees, or newsletter subscribers. That said, many B2B marketing teams use these forms to increase any conversion rate, thanks to:
Page-level targeting
You can display pop-ups, forms, and notifications based on the user's interaction with different landing pages.
Exit-intent technology
OptinMonster monitors visitors' movements and detects when they plan to exit from the page without leaving their contact information or purchase. This way, you can increase conversion rates. Or, as a part of your content marketing strategy, gain additional newsletter subscribers, webinar attendees for future email campaigns.
Lightbox pop-up
This pop-up or notification appears thanks to triggers, and once it does, your visitors need to make a decision. What's best is that there are no distractions, as your other website content can be faded in the background.
Onsite retargeting
You can show returning visitors something new every time they return to your website. Simply create pop-ups to show new promotions or offers based on their previous interactions on your website.
List segmentation
You can reduce website abandonment and churn by providing personalized content for your leads from the email list and website. What's more, you can integrate OptinMonster with any CRM app, such as Hubspot or email automation software, to further adjust your messaging.
Pro tip: Create a synergy between your marketing and sales teams. Once you generate leads through OptinMonster, you can push them automatically to your Skylead sales or marketing campaign through API. 
Pricing
OptinMonster has 4 pricing plans:
Basic - $16 per month
Plus - $32 per month
Pro - $49 per month
Growth - $82 per month
In addition, they offer around 40% off per month if you opt-in for an annual subscription.
Capterra score: ⭐ 4,3 / 5
3. Moosend.com
In general, Moosend is an email automation tool that helps you create and send personalized newsletters to your leads. It's most suitable for small businesses specializing in e-commerce. However, this automation tool can be used for B2B email campaigns as well.
Features
One of the best things about Moosend is that you can create newsletters or pop-up banners with a simple drag-and-drop.
In addition, they leverage AI to analyze the data from your website, such as your subscriber behavior. This way, you can send more personalized messages or email notifications and maximize customer experience and retention.
That said, similar to Skylead, you can use this marketing automation tool to create a sequence with if/else conditions such as "if the purchase was made" and so on. This way, you can check for your subscriber's actions and send suitable follow-up messages.
Moosend offers a vast library of templates to create newsletters or landing pages for email marketing campaigns. Whichever you choose, you'd be glad to hear that every template comes with device optimization functionalities.
Next, you can group leads from your email list and send separate messages. You can divide the leads based on keywords, if they clicked on the link in the previous email, etc.
Like OptinMonster, Moosend can help you gather new leads and increase your lead generation efforts. In other words, it offers customizable forms like pop-ups to promote your lead magnets, like webinars, and create email lists.
Lastly, you can integrate Moosend with your CRM, such as Hubspot, or other apps to streamline your related tasks.
Pricing
Moosend has 2 pricing systems:
Pro - This plan is suitable for small businesses because it goes from as low as $9 per month for up to 500 subscribers. On the other hand, this plan goes as high as $5840 a month for up to 1M subscribers.
Enterprise - The second plan is for agencies, and you need to contact Moosend directly to get a custom quote.
Capterra score: ⭐ 4,6 / 5

4. Mailchimp
Another email automation software on our list is Mailchimp. This marketing automation tool started off as software for marketers to help them create newsletters in the e-commerce environment. However, it developed to be much more - a well-rounded automated lead generation tool.
Features
Email marketing
Firstly, Mailchimp offers an email automation tool for sending newsletters or other messaging material to your subscribers. You can create your own message design or use the template.
Regarding targeting, you can segment your leads based on their behavior, such as:
Campaign activity,
Location,
If the last email opened,
App activity, etc.
Lead gen
Mailchimp offers a couple of features that are perfect for B2B lead generation.
Firstly, they have their own website builder to create beautifully-designed landing pages for your new leads. In addition, you can make it from scratch or from the numerous templates they offer.
Secondly, they offer sign-up and pop-up forms for your website to generate potential customers. Moreover, you can also integrate their free appointment scheduling tool so potential leads can book calls with your sales team.
Lastly, Mailchimp offers a campaign manager that combines social media platforms, Facebook, Instagram, and Google Ads, into one dashboard. This way, you can target potential leads with similar interests as your current contacts. Or you can retarget visitors while they are browsing through the web or their social media.
Automated customer journeys
Last but not least, Mailchimp has a function to enhance user experience with Customer Journey Builder. In other words, you can automate activities, such as emails and follow-ups, according to your leads' behavior and nurture them to conversion.
Moreover, you can integrate Mailchimp with any app, including your CRM of choice or LinkedIn outreach solution for omnichannel presence.
Pricing
Mailchimp offers 4 plans with the following highlighted features:
A free plan is for up to 1K emails sent. It includes forms, landing pages, and pre-built email templates.
The Essentials plan starts at $13 a month. This plan includes up to 5K emails sent, 3 audiences, and simple automated customer journeys.
The Standard plan starts at $20 a month. It includes up to 6K emails sent, 5 audiences, enhanced customer journeys, newsletter templates, predictive analytics tool, and campaign manager.
The Premium plan costs $350 per month. It includes everything from other plans plus 150K emails sent, and advanced segmentation and targeting.
Capterra score: ⭐ 4,5 / 5
5. Tidio
As mentioned before, one of the best lead capturing ways is using a live chat or chatbot. And Tidio is one of many on the market.
In other words, it can automatically collect and qualify leads based on their website behavior. For example, they can visit a pricing page, and if you offer a custom quote, a chatbot can ask if a person is interested in it, and they can leave the information.
Moreover, you can set Tidio to answer FaQs, offer news, or upsell your users. This way, you're leaving time for your support team to focus on burning problems while improving your customer experience.
Pricing
Tidio offers a couple of pricing plans, respectively:
Free
Communicator: $19 per user/month (Includes live chat with an unlimited number of conversations and up to 5 operators);
Chatbots: $19 per user/month (Includes from 1K to 40K triggers);
Tidio+: $329 a month (Including both live chat and chatbot).
Capterra score: ⭐ 4,8 / 5
Automated lead generation examples
Here are examples of lead generation automation you can apply in your business right away.
1. Lead capture framework
a. Create a lead magnet
Craft valuable content like ebooks, masterclasses, templates, and webinars. In addition, remember that the content you create needs to resonate with your leads so they are willing to leave you their contact information. For example, you can offer a sales book with templates and cold outreach strategies.
Once you create your work, you can gather the info with automated lead generation forms. Moreover, you can link the forms to CRM for the sales to take over, or an email outreach tool so your leads can go straight to your email outreach list.
Lastly, to promote your lead magnet, you can publish ads to generate a large pool of leads. Or use pop-ups to promote the content throughout the website depending on users' behavior.
b. Set up chatbots
Use chatbots to automate qualifying leads and gather their contact information.
You can set chatbot scenarios to offer the lead magnets or some free service depending on users' website behavior. Or, if a person wants to contact your customer support, develop a list of qualifying questions. This way, the chatbot can send them to a database such as your email list or CRM. Moreover, your support team will get context about the leads.
2. Framework for finding leads
You can automate finding outbound leads by using prospecting tools such as:
LinkedIn Premium or Sales Navigator to scrape publicly available info and profile URLs;
Tools to identify your website visitors, such as Lead Forensics;
Scraping tools for Facebook group members;
This way, you can build your lead list, send them to your CRM and prepare for email or LinkedIn outreach.

3. Outreach framework
a. Inbound outreach
Once you've got your inbound leads' info, reach out. You can prepare a special cold outreach campaign using Skylead. In other words, create your sequence and craft your messages so they slowly turn the leads into paying customers.
For example, you can use Skylead to reach out to your leads via email. In other words, import your leads via CSV file or using LinkedIn, Sales Navigator, or Recruiter. Moreover, once you start your campaign, you can push leads from your email list or CRM using API.
If you found your leads using LinkedIn but wish to send them emails, you can use Email Discovery & Verification feature as a step. This way, Skylead finds and verifies leads' email addresses. So, you don't have to use a separate tool to scrape email addresses. Instead, you have it all here in Skylead.
Then, create your Smart Sequence depending on their behavior (e.g., whether they opened an email or clicked the link). For example, your Smart Sequence can look something like this:
Lastly, write your sequence messages, and personalize them. Moreover, you can write up to 5 subject lines and the body variants to test and see what messaging drives the most results.
b. Outbound outreach
You can use Skylead to reach your outbound leads as well. To do this, repeat the steps above:
Import leads;
Create a Smart sequence;
Personalize your Emails, LinkedIn connection requests, messages, and InMails.
However, remember that you will get the best results if you opt-in for multichannel outreach. That said, feel free to use LinkedIn steps such as Invite to connect, Follow, View, Message and InMail.
4. Customer and lead nurturing framework
You can automate lead nurturing by integrating your CRM with the outreach tool and exchanging the data between the two. This way, you can label leads, or send them to outreach campaigns.
In addition, you can use Skylead for your customer-nurturing program. That said, you can send automated outreach campaigns for:
Churn customers if you have any special upgrade or to offer a discount;
Current customers to send them personalize content, upsell, or offer help as their dedicated account manager;
Skyrocket your leads and conversions with automation
80% of marketing automation users experience an increase in the number of leads, and even 77% an increase in conversion. That is no small number to ignore.
That said, we hope this article helped you understand how you can automate your lead generation activities.
However, before you do, create a good-quality basis for the automation, such as your website, content strategy, and LinkedIn profile. Only then will you be able to pave your way for successful lead generation automation.
After all, once you go automation, you will start looking at your other tasks and ask yourself:
Automate your outreach! Sign up for Skylead's 7-day free trial.