6 reasons to white label a product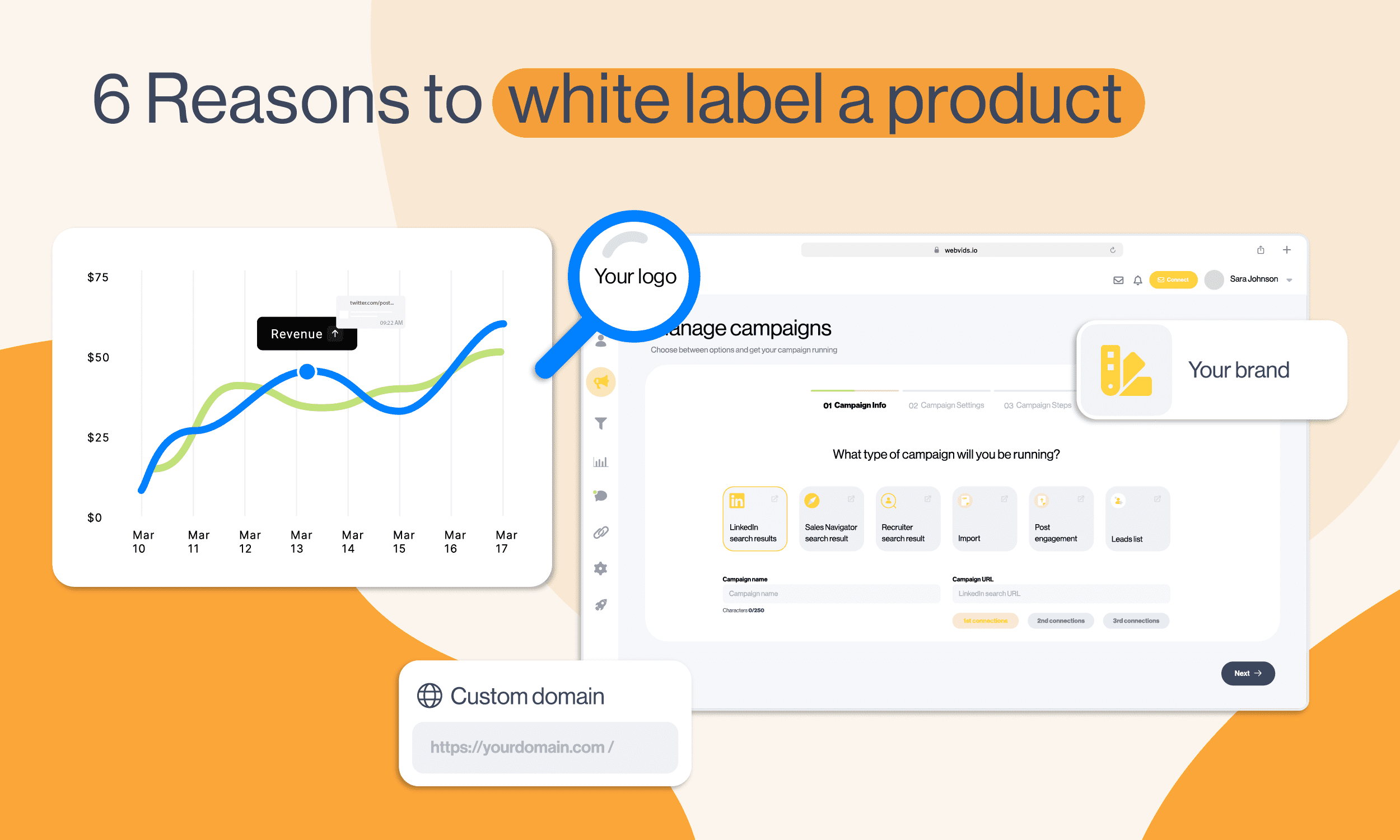 White Label refers to fully supported products or services made by one company but sold by another.
The seller then customizes it with their brand, logo, and identity. This way, it makes the customers associate the product with the seller instead of with the company that originally made it.
It is a win-win situation for both parties. Companies from which the product originates earn quite a sum from their white label partners, whereas the sellers offer the same products for more money with fewer expenses of production and maintenance.
Already by hearing this, it is clear that white labeling a product has more pros than cons for both sides.
However, let's go ahead and go in-depth about the advantages for those who choose to white label.
You Get The Luxury of Choice
Whatever the product or service you want to white label, there are for sure plenty of options out there. Yours is only to do the thorough research and decide which one will suit your and your client's needs best, and therefore sell well. Instead of wasting time creating a single product that, at the end of the day, might not even be as developed and successful as some of the ones on the market, just pick the one that has all the right features for you.
However, choose smart. You want the third-party product to make your brand look even better. If something is not working, your clients will associate poor service with you, not with the company of origin.
It Saves You Time & Money
Anyone who has ever developed something from scratch knows how much effort is required to create a quality, functional product. It takes time, investment, knowledge, and later on the constant support and improvement to keep the product at a certain level. Of course, on the condition that it works! You have no guarantee of ROI.
If you white label a product, all of these are already taken care of. And as the product develops, so does your version.
This directly implies our third benefit.
White Labeling Allows You To Take Advantage of Expert Work
It might sound awful, but it's true. You will not be the one paying high-end developers who need to envision it, realize it, and then fix all the bugs. Yes, in a way you will be contributing through the price you agreed upon with the company of origin, but for sure you will not be having as many headaches as they do. They are the ones who need to take care of all the aspects that make one product unique and fully functional. Not only. It is on them to make the product go through beta tests, revisions, troubleshooting, and other fine-tuning processes.
You just need to sit back and enjoy their quality work under your name.
It Takes The Pressure Off
If something goes wrong, in the majority of cases, the third-party tool owners will most likely be the ones solving the problem. Not only do they usually offer the service of Customer Support even for the white labeled version, but are fixing actual bugs and malfunctions in the product itself. Your job is only to handle the clients.
However, when mistakes do happen, take into account that there is always room for a genuine human error. It is easier to blame someone else when something similar could have happened to you too, if you were the company of origin. Don't let it become a bad partnership.
White Labeling Increases The Customer Loyalty
Introducing a new service that is already well-developed (by someone else, even better!) and functioning will offer your existing customers something to become even more attached to you. You will now be most likely handling several aspects of their business.
Yours it's only to make sure that the product you white label is reliable.
It Attracts New Customers
Once you start offering a new product or service, it will for sure attract new customers. It actually might not even be a bad idea to provide the service to clients who are interested only in that product, just to test it out without risking losing any of the existing clients due to poor satisfaction. In a way, it's a win-win situation. If they like it, the new clients might expand their demand to other aspects of your business. If not, you will still have your old customers and know how to do things better for them.
White Labeling Skylead
If you've ever thought of incorporating outreach into your Lead Generation Agency, or you are doing lead generation on LinkedIn we might have the right tool for you.
Skylead is an all-in-one LinkedIn Automation & Cold Email Software that provides you with everything you need without having to involve any third-party tools.
What does that mean?
To begin with, Skylead does LinkedIn automation from a LinkedIn, Sales Navigator and Recruiter search, by importing leads through a CSV file, or it can target leads who reacted to a certain LinkedIn post ("Post-Engagement Campaign"). In other words, Skylead automates LinkedIn prospecting.
Furthermore, Skylead has an Email Discovery & Verification feature that finds your leads' business emails even without being connected on LinkedIn. This allows you to do a cold email campaign or to combine an Email with a LinkedIn Outreach.
The third option at your disposal is reaching out to your leads' via their publicly available emails on LinkedIn, collected by Skylead.
As you may see, Skylead is at the same time an Automation Tool, Email Finder, and Scraping Tool for as low as $100 per month per account.
This is not all.
Currently, Skylead is the only tool on the market that has Smart Sequences, groundbreaking algorithms that allow you to use multichannel outreach and personalization to their maximum potential.
You can create scenarios based on your leads' behavior and combine LinkedIn Messages, LinkedIn InMails, and Emails, with other LinkedIn features such as View, Follow, Invite to Connect, and in this way create the highest number of paths to your prospects.
Whatcha waiting for?
Find out more about all the benefits of white labeling Skylead by scheduling a demo call with our specialist.
We look forward to explaining all the perks you'll get by partnering up with us!