Why you should incorporate outreach into your lead generation agency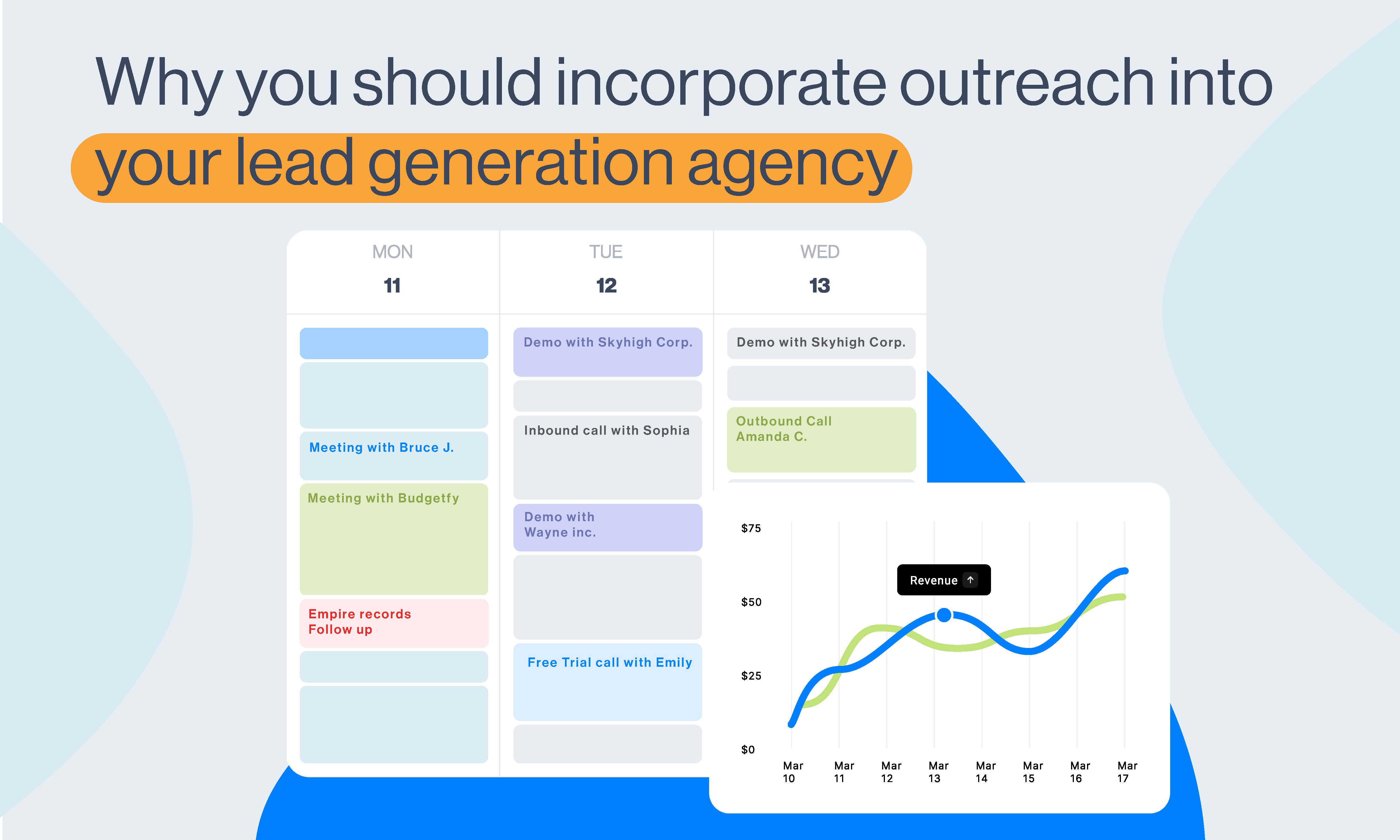 You already have your marketing agency and a few prosperous clients. Lately, you've been thinking of expanding your service list and offering more. What is it that would fit your clients' needs best and still be in line with your industry? It's outreach. Here's why.
If you already offer social media management, content writing, copywriting, SEO, web development, or similar, it is high time to start thinking one step ahead of your competitors. By adding outreach, you will undoubtedly keep up with the times and give your customers a valuable reason to stick around longer.
Not only.
There are a series of reasons why incorporating outreach into your Lead Generation Agency would be the right call. Here are a few.
Customer loyalty
By adding the service of identifying and nurturing potential customers for your client's products or services, you will be covering probably the most important segment of their prospecting. If they confide in the way you do their outreach, the chances of them staying loyal to your Lead Generation Agency increase, as you are controlling an additional sales channel of their business.
Furthermore, incorporating outreach in your marketing business will give your clients a well-rounded experience of generating leads on LinkedIn or via other methods.
Outreach as a new marketing segment
Adding outreach to your service list can also be a great way to attract new customers. Initially, newbies might only be interested in you identifying and nurturing their potential clients. However, if satisfied with your way of doing business, they might extend their request to other services that your Lead Generation Agency offers.
Additional revenue growth
By introducing a new marketing segment, you are raising your revenue stream.
Simply, adding an extra service means company growth. It also implies greater economic security, as your Lead Generation Agency doesn't depend only on one or a few services.
Stand out in the lead generation industry
By incorporating outreach into your Lead Generation Agency, you might be making one step ahead of your competitors.
In case they thought of it first, draw attention to yourself by offering an impeccable, high-quality service. Better service attracts and retains better clients.
Also, think about your and your competitors' Value Proposition. What is it that makes your outreach service stand out in comparison to your competition's?
Outreach is easy to incorporate
You are probably already doing outreach to get more clients for your Lead Generation Agency. Therefore, you are familiar with the entire process of attracting new prospects and nurturing the old ones. All you need to do is expand your expertise to your clients. The more you develop this service for yourself, the better it will become for your customers as well. By growing your Lead Generation Agency, you will be growing an entire service within. Also, the better you become at doing outreach, you will most likely attract more clients for your Marketing Agency as well.
Minimal cost
The only things that you need for outreach are a laptop and internet connection.

Create your client's ICP (Ideal customer profile) and a cold outreach template with several follow-ups, and you can already start.

However, if you want to make this process far easier, you will need an Automation Tool, Scraping Tool, and an Email Finder.
Luckily for you, there is a Sales Engagement Software that has all of these incorporated for as low as $100 per month. Long story short, it will save you both time and money.

Namely, Skylead combines LinkedIn Messages, LinkedIn InMails, and Emails scrapes publicly available emails of your 1st-degree connections, has an "Email Discovery & Verification" feature for discovering and verifying your leads' business emails, as well as "Image and GIF hyper-personalization" tool in case you want to do a bit of an unconventional outreach.
Therefore, Skylead contains an Automation Tool, Scraping Tool, an Email Finder, and more.

If you would like to know more about Skylead, feel free to schedule a demo call with our team specialist.
White-labeling a solution
Think about white-labeling the Sales Engagement Tool that you are using.
A white-label product is a product or service produced by one company that other companies rebrand to make it appear as if they had made it.
By white-labeling the Sales Engagement Tool of your choice, you will:
Boost your brand's visibility;
Enhance your customers' loyalty;
Eliminate the need for a development team of your own;
Save time and money on your outreach;
Upgrade your service;
Scale your business;
Strengthen your revenue stream.
That being said, know that you can white-label Skylead. To know more about this option, schedule a demo call with our team specialist.
How to start implementing your outreach?
Start with offering your service to the most loyal customers first
The advantage of offering your new service to the already existing and most loyal customers first is that you are very familiar with their business. That is, by handling other marketing segments for their companies, you have already gained a major insight into their business goals, targets, and preferences. This allows you to do prospecting on LinkedIn and outreach leads with major precision and manage their outreach with more efficiency.

Furthermore, your already-established business relationship and cooperation will most likely reinforce. Upgrading your customers' service package increases the possibility of enhancing their loyalty to your marketing agency. Additionally, you will be giving them a well-rounded Lead Generation experience.
Attract your new customers by offering outreach first
In case you don't want to introduce a new service before "testing it out", try attracting new customers by using outreach as a bait. This way you don't risk losing loyal customers in case something doesn't go as planned. Additionally, you have space to learn, grow, and perfect your service before you offer it to your long-time clients.
Summary
In conclusion, incorporating outreach into your Lead Generation Agency has more upsides than downsides for sure.
By deciding to go for it you will:
Enhance your customer loyalty;
Attract new clients;
Strengthen your revenue flow for introducing a new marketing segment;
Stand out in the Lead Generation Industry.
Additionally, you have the option of making your life easier by going for a Sales Engagement Tool that has all the necessary features for a top-notch outreach.
Why Skylead?
For as low as $100 per month, with Skylead you can have an Automation Tool, Scraping Tool, and an Email Finder, all in one software.
Furthermore, thanks to the implementation of Smart sequences, Skylead allows you to create the highest number of personalizable touchpoints with your prospects.
Five times more in comparison to other tools, to be precise.
It gives you the chance to combine LinkedIn Messages, InMails, and Emails with other LinkedIn features such as View, Follow, and Invite to Connect. Additionally, it has an Email Discovery & Verification feature. Therefore, no need for a separate Email Finder or Scraping software.
Actually, white-label it and make it your secret weapon!

To know more about the advantage of Skylead over other Sales Engagement Tools and to get to know its features, schedule a demo call with a specialist from our team.

If already our customer, feel free to reach us out on the Support Chat or schedule a success call with our Customer Support and Success Manager. Improve your service by knowing Skylead better.