There is a process between the point of getting a new lead and the point where they convert into your new client. The space between the two is called lead acquisition.
Constantly generating new leads is one of the best ways to get a bunch of new clients whether using LinkedIn or other channels.
However, this is easier said than done, right?
Don't worry. You're not the only one. We were in your shoes, and we needed to learn it the hard way.
Luckily for you, we've got you covered.
In this article, we'll get through what lead acquisition is and how it differs from lead generation. We will also show you some highly effective tactics that you can use to get more clients in the future.
What Is Lead Acquisition?
There is a difference between lead generation and lead acquisition. However, not everyone is sure about the meaning of these terms, probably because they are related.
Both of them are phases of the customer acquisition process. But they are different processes, necessary for the long-term growth of your business.
The lead generation is the process of connecting with your potential customers and getting their contact information. The lead acquisition is the process that comes after a lead is generated.
It's the process of gaining, filtering, and later getting your leads to become a part of your sales systems.
Check out what the customer acquisition process looks like.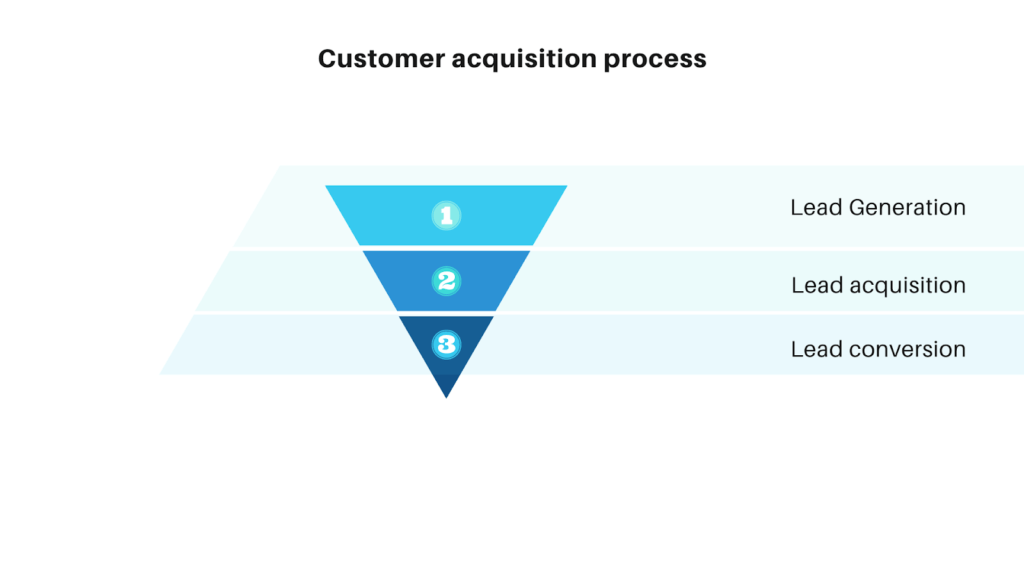 The lead acquisition also includes purchasing qualified leads from different lead vendors.
Namely, it usually starts with previously qualified and filtered leads. There is no need to start from scratch and create lead magnets to generate leads.
You can simply buy prepared leads that match your target criteria. This makes it easier to connect with them and later do sales, without wasting time on lead generation.
When it comes to purchasing leads you need to put your best leads into the appropriate conversion processes and remove those that are not qualified.
We'll go through some procedures that you should do to get the most relevant target group for your customer acquisition process and convert those leads successfully.
5 Strategies to Make Lead Acquisition Right
The source from which you're getting leads in the lead acquisition process is of huge importance for your future actions.
Usually, it's the website or landing page where you get new leads. But, as we said, you can purchase them from a lead vendor too.
When you buy leads from vendors, you usually get a huge target audience for quite a low price. It is a lot cheaper than generating leads by yourself.
But just because it's cheaper, it doesn't mean that those leads are warmed-up to your product or service.
Generating leads by yourself costs $5-$10, and purchasing them costs about $1 per lead.
To increase your lead acquisition effectiveness, take a look at the advice below. They could help you find prospects and prepare them for your offer.
Find the Right Vendor
When choosing the right vendor for your business purposes, find out about them as much as you can.
You don't want to buy leads from someone unknown. Let alone find out that the leads are not qualified or not in your target group.
After you get data from the vendor, make sure that all the emails they've sent are legit. If there are any fake or incorrect email addresses, remove them.
Sort Your Leads for Better Results
First classify the leads into those that you've generated through your website, LinkedIn account, another channel, and those that you've bought from vendors.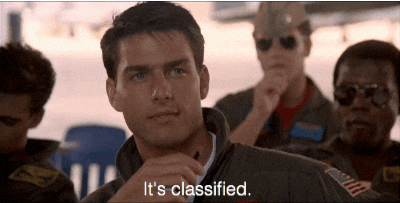 Those categories differ in their level of interest for your product. Therefore, it's best to separate them by lead source and traffic source.
When it comes to LinkedIn, using tools for LinkedIn lead generation and outreach can simplify the process of managing your leads.
Also, you will need to warm up the ones from the purchased list later.
Collect Information About Your Leads
In the lead acquisition process, your leads are the ones that make up your target audience. However, it's up to you to convert them. Not all the leads will be interested in purchasing your product. At least, not right away.
What you can do to increase your conversion rates is to find out more about them and their problems.
The strategy we're going to show you can simplify your prospecting on LinkedIn. You won't have to contact everyone on LinkedIn separately to find out more about your leads.
Once you create your account on Skylead, go to the "Create new campaign" option.

Click on "Import" to upload the list of the leads you'd like to contact.

Enter the name of the campaign, upload your leads in a CSV file, and then hit "Next".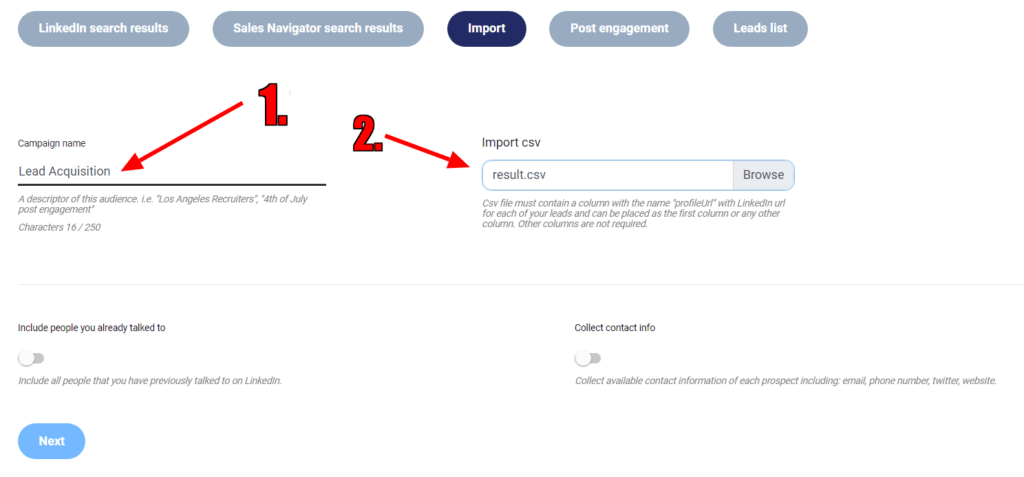 In case you're not connected with some of your leads on LinkedIn, that can be solved in a second.
Just click "Invite to connect", type your personalized message, let your lead know if you know each other, and then hit "add additional step".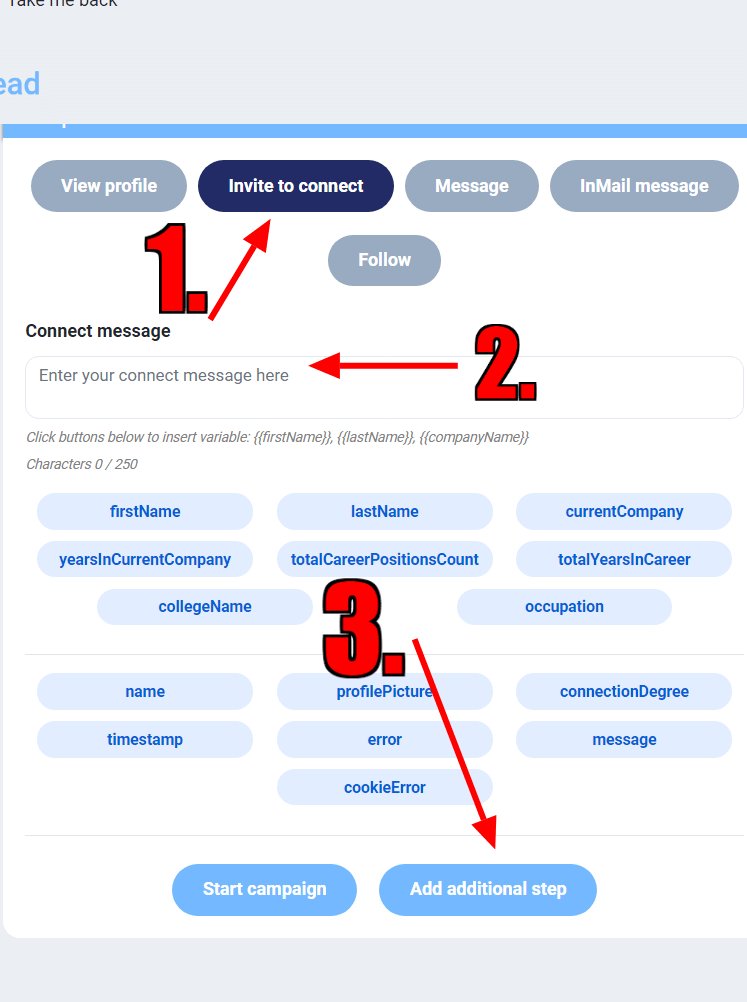 After we connected with the new leads, we should find out more about them.
To do that in an additional step, click on "Message".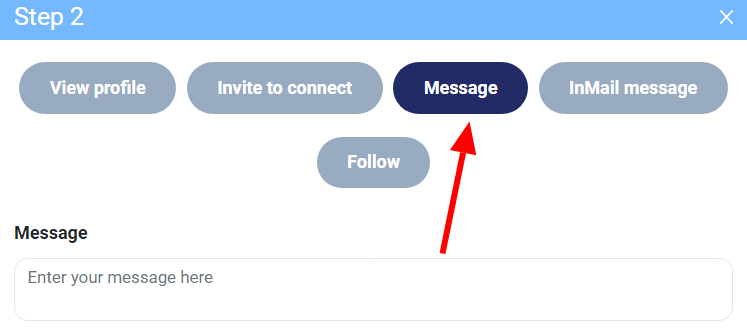 Here you can find more about your leads. Ask them what they're working on, what they're struggling with, and maybe how you can help them overcome some issues they're having.
With all that information, you'll be able to create a more personalized offer to solve their issues in order to sell your product or service.
The following action in Skylead will save you a lot of time when it comes to contacting your leads and meeting their needs.
Choose your CRM wisely so that it fits your needs and helps you build an effective campaign.
Warm-up Your Leads and Bring Them Value
The leads that you buy are cooler. They will have to get to know you better . On the other hand, you will have to earn their trust if you want them to become your client.
You can't be too salesly in the beginning. With the first message saying something like "Let's schedule a call", they will decline you.
Your focus should be on creating a strong relationship with your leads. Bring them value so that they would be willing to get more of it later when you call them to action.
Also, if you give them a piece of cake for free, they will be more likely to get a cake from you for a price. So, be generous to leads – it will pay off.
Create an Irresistible Personalized Offer
When you acquire leads on your own, you can filter them out and choose any demographic you want in order to create a personalized offer.
After you find valuable leads and create a strong relationship with them it's important to make your offer irresistible.
For example, you can give them a valuable portion of your service or product while promising that it is only a part of the value that they will get if they decide to become your customer.
Also, make sure that your offer is simple and with a clear call-to-action.
Don't make your offer about you. Let it be about your leads and the benefits they will get if they accept your offer.
Summary
If you want to increase your marketing efforts and get new leads, performing lead acquisition in the right way is crucial.
Also, it's important to understand what makes it different from lead generation.
Successful lead acquisition is the one that is scalable, produces more clients, and functions in a way that helps you test and track your campaigns.
All the customer acquisition data, whether from a lead vendor or from your own lead generation database, will be immensely useful in your way of producing quality leads and increasing your sales in the future.
If you are hoping for positive results, you should invest more effort into making that process right.
What Is Lead Acquisition and 5 Strategies To Do It Right