How to avoid LinkedIn jail or have LinkedIn account restricted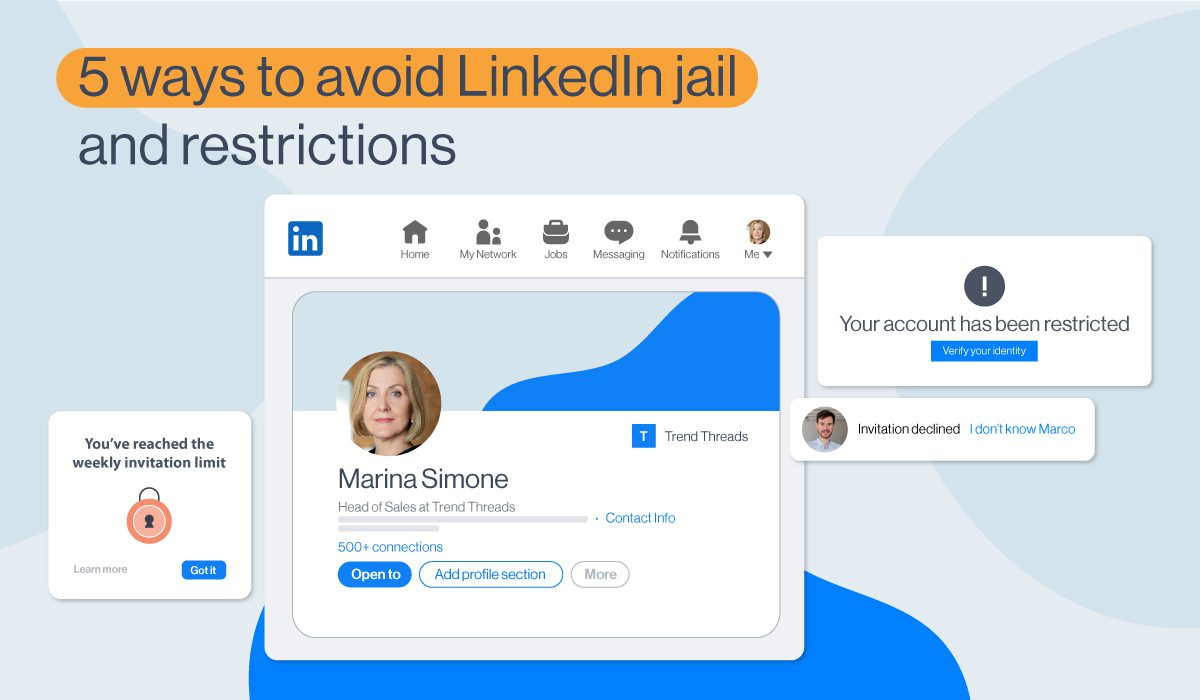 So, you heard of dreadful LinkedIn Jail, and you wish to know how to avoid it? Or perhaps you got your LinkedIn account restricted, and now you don't know what to do? Fear not - you are in the right place. Have a seat.
We all know the stories about the big bad wolf - LinkedIn Jail. Stories of how you can get your LinkedIn account restricted or permanently banned if you are not being careful about your activity.
It all started circa 2018, but it escalated with the fact that LinkedIn had taken down over 21 million fake accounts between January and June in 2019. What's more, in 2021 LinkedIn reported 11.6 million+ false account restrictions. LinkedIn restricted these accounts at the registration stage or after other members reported it. To provide a satisfying user experience and keep their users safe, LinkedIn has defined strict rules that everyone must follow.

But wait - What about sales reps who use LinkedIn as their main channel for prospecting and outreach? Well, for all the businesses using LinkedIn, sometimes there is a risk of restriction, or even getting into a LinkedIn jail. This can happen if they're not fully aware of their activities intensity and the tools they're using. And yes, that applies to those who are manually managing their accounts, as well as tools and software.
Luckily, you have a friend in Skylead to assist you in managing your account and setting your campaigns the safest way.
By the end of this article, you'll have a better understanding of:
What is the difference between having your account restricted and ending up in so-called jail;
How to keep your LinkedIn account safe;
How to never have your LinkedIn account restricted;
And what to do if this indeed happens.
What is LinkedIn account restriction?
Getting your LinkedIn account restricted means that you knowingly or unknowingly performed action against Terms of Service or User Agreement. This caused LinkedIn to limit your ability to perform further actions using your account.
You will know your LinkedIn account is restricted, as the similar notification will appear when you log in.
In some cases, the restriction/suspension is temporary or will have the note with the restriction end date. Under more serious circumstances, you will have to contact LinkedIn support.
Fear not - at this point, you can still get your LinkedIn account back. For example, you can contact LinkedIn support (but we will talk about this shortly).
What is LinkedIn jail?
LinkedIn Jail is a term used to describe a permanent account ban or an endless loop of review process after you got your LinkedIn account restricted many times.
In other words, there are two scenarios under which you can end up in LinkedIn jail permanently:
If you get the feedback from LinkedIn support, after submitting ID or other legal documents, saying that your account restriction is final due to repeated Terms of Service violation; (Permanent)
Or if you don't hear from them for weeks-on-end after you got restriction multiple times. (Not permanent but the process can take longer)
Let's say your account is temporarily restricted due to, for example, overuse of connection requests. LinkedIn will automatically re-enable it at the time specified on the notification. Yet, if you get your LinkedIn account restricted repeatedly, it may result in permanent restriction - aka LinkedIn jail.
Ending up in permanent LinkedIn jail happens in extreme situations only. Hence, if you are a sales representative, you don't need to worry. However, you need to be cautious and aware of your LinkedIn lead generation activity. In addition, make sure to stay out of the LinkedIn jail as a part of your daily or weekly routine.
How do I know if I am in LinkedIn jail or got my LinkedIn account restricted?
In most cases, every action that LinkedIn considers excessive is a cause for the restriction. You will know that your account is restricted as, for example, you won't be able to send connection requests to your second or third connections. Furthermore, you will have a notification such as:
"Your account has been restricted" and stating the reason behind the restriction.
Or
"It appears you are sending a high number of connection requests."
It is essential to read and immediately address this issue. Also, make sure not to repeat the action that got your LinkedIn account restricted in the first place.
Why is my LinkedIn account restricted?
LinkedIn jail and restriction exist because of two reasons. Firstly to keep the platform safe. Secondly, to make a Linkedin organic and beneficial place as much as possible.
To achieve this, LinkedIn sets rules to show what is acceptable, what actions are suspicious, and what content is inappropriate.
Are you asking yourself what you did wrong to break the rules and get your LinkedIn account restricted? There are a couple of reasons. So let's check them out.
The reasons for getting your LinkedIn account restricted or landing into LinkedIn jail may vary from excessive use of features, hacking or posting prohibited content. In most cases, the main causes for restriction are:
1. Creating an account with a name that isn't your own or violates user agreement
People sometimes create their profile using the name of a company, some other business or entity, which is against the LinkedIn Terms and Conditions. In case you use the platform to represent your company, the better decision would be to create a company page for it.

In addition, creating an account with a false name, and if detected, can be a subject of immediate restriction or a ban, according to LinkedIn User Agreement.
2. Creating multiple profiles from the same device
LinkedIn's User Agreement states that you cannot have more than one real profile created from a single device or a proxy, especially if one of the accounts is restricted. In case you intend to create multiple profiles, be prepared for getting all the LinkedIn accounts restricted.
3. Exceeding the number of connection requests per day
If you send a load of connection requests daily without ANY supervision, then take a step back. The number of connection requests and messages sent daily should not exceed the limit. Consequently, if you overstep your boundaries many times, it can get your LinkedIn account restricted.
The limit itself depends on many factors. In other words, it can vary based on whether you are just starting out, the number of current connections you have, or the connection acceptance rate. In addition, the invitation limit for some people may vary depending on their account's health.
At this moment in time, in 2022, the last year's limit of 100 invitations per week was extended (in December 2021). Now, the number of invitations you can send is between 100 and 200 per week. The catch-22 here is that the LinkedIn limit algorithm often changes.
However, there is a remedy to this. Close to the end of this article, we will uncover how you can bypass this poor number of weekly limits and connect with more people per week completely safe and restriction-free 😉
4. Adding unknown people at scale
In case you're sending a bunch of requests to 3rd-degree connections without a connection message included, chances are your Acceptance Rate will be low. In other words, you may be a subject of suspicious activity and risk getting your LinkedIn account restricted.
To clarify, there is a possibility that people will ignore your invite connections for some reason. If this number of people is high, you can have a restriction on your hands.
Why is that? Well, the thing is, it could make some users click on "I don't know this person" therefore, your account will be restricted in a blink of an eye. And we don't want that, right?
If you get your account restricted multiple times for sending too many connections, this can trigger LinkedIn from that point forward to require from you the person's email if you wish to connect with them. Needless to say, LinkedIn will start to monitor your account from now on.
5. Viewed too many profiles in a short period of time
Sometimes, you can get your LinkedIn account restricted if you view too many profiles in a day or view one person's profile at a large frequency. If you do so, you might get on LinkedIn's radar. Why? Because, if this action is not characteristic for your ordinary for your profile, LinkedIn might register it as a bot-like activity.
This situation is rare, but it does happen, so watch out for how many profiles you are viewing.
How to get out of LinkedIn jail or recover LinkedIn account from restrictions?
That could be a real trouble for your business. Your plan should be not end up there in the first place. After all, it is always easier to avoid LinkedIn jail and restrictions, right? However, if your account ends up in the LinkedIn jail, here is how you can try to solve that problem.
1. Understand why it happened
In most cases, when your LinkedIn account is restricted, you won't be able to log into your account for several days. Furthermore, it often happens that LinkedIn doesn't provide any explanation why they restricted your LinkedIn account.

So, to understand the reason for getting a LinkedIn account restricted, read the LinkedIn Terms and Conditions and even User Agreement. In addition, check if there is a mistake that you made before you move to step #2.
2. Contact LinkedIn customer support
As mentioned before, if you get your LinkedIn account restricted, it is usually temporary, and restrictions are lifted quickly. Or they will have an "expiration date". In other cases, such as LinkedIn jail, or vague restrictions, the best-case scenario is to reach out to the LinkedIn Customer Support directly. They are the ones to help you solve this problem and let you recover your account.
Here is how to get to them:
Writing them on Twitter – (keep in mind that this doesn't always work)
You can also look through the forum to find more info about it
Contacting them here, through the contact form.
Note: You're probably going to need some identification document to confirm your identity, so prepare it just in case.
You just need to take action immediately. Here is what you should include in the appeal:
Reasons why you need to get your account back;
Acknowledgment of the violation you did (it's best to be honest);
Assuring LinkedIn support that it won't happen again.
3. Follow the instructions on your account
If you believe that your account is mistakenly restricted, you should log into your LinkedIn account and follow the instructions from the notification that popped up.
After you do it, someone will review your account in 2-5 days and unlock it if there was a mistake. You'll also get an email when LinkedIn lifts the restriction from your account.
4. Ask for help
You can also ask around for help in your network. If your connections raise a query and show support for your account, it will help you gain access to your LinkedIn account faster.
Show the real power of your network!
Any of these tips above should help you unlock your account.
Cheers to all the freed accounts!
Now let's get to the part where we learn how NOT to get ourselves 'arrested' by LinkedIn.

How to avoid getting your LinkedIn account restricted
To use the maximum potential of the LinkedIn account and avoid restrictions, you must know how to use it properly.
Let's go through the best ways to play safe and stay out of LinkedIn jail.
1. Know your limits on LinkedIn
Even though LinkedIn wants you to use their platform, they want you to do it cleverly, as well. There are 5 types of direct interactions with users (if we exclude post likes and comments), and those are:
Profile visits
Following
Connection requests
Messages
InMails
Each of these actions has a daily limit that you need to follow if you don't want to risk your profile's safety.
Also, these limits are higher for the premium account users and the old ones with a larger network.
Here are the limits that turned out to be the safest if you are using LinkedIn for some time:
Profile visits: 80-120 per day
Follows: 80-120 per day
Connection requests: 40-60 per day
Sending messages: 60-100 per day
If you are not, scroll down to the next section for the extra advice 🙂

Additional tip: Withdraw your pending requests.
Keep your pending invitation request around 400 or 500. A higher number will get you on LinkedIn radar. So find ones that are 4 weeks old. Keep in mind that you won't be able to send an invitation to that person in the next 3 week.
In order to withdraw the invitations, you can use a manual method. However, what makes your life easier in situations like these is using a sales engagement tool. For example, Skylead will send out invitations for you, and to keep it clean and safe. It will also automatically withdraw older ones, so you wouldn't have to do it manually on your own.
2. LinkedIn account warm-up
Let's say your LinkedIn account is fairly new or you've already got the restriction. The best approach would be to start with a small number of connection invites, or visits, and build your way up to the maximum limit.
The thing is that if your LinkedIn account is new, and you start sending a large number of invites right away, LinkedIn will consider it as suspicious activity. This way you risk getting your LinkedIn account restricted. This applies to cases if you are doing this manually or using unreliable tools.
Here is what you can prevent this:
Send out as little as 10 connection invites or send 30 messages a day;
Slowly increase the activity numbers by 5-10 weekly;
Avoid sending invites on weekends;
Take a bit more time performing actions;
Ignore connecting with the 3rd connection in the beginning;
Remove all the pending connection requests if not accepted within a few days.
3. Always send friendly and personalized messages
It's all about the attitude and manner of approach. In other words, you need to be genuine, connect with the people you know, and always include a personal message. However, this doesn't mean that you shouldn't connect with people you don't know at all - just create a different approach.
For instance, send a personalized invitation including the reason why that person might wish to connect with you. This way, you'll avoid the label of an unknown person.
If you need inspiration for ways to connect with new users, we have a couple of LinkedIn connection message templates that might help you out. You can also throw in some delicious image or GIF personalization.
4. Don't sell right away
After you connect with the new users don't try to sell instantly. It can only push them away and make them ignore you.
It's important to build a relationship and provide value with updates, articles, and messages before you try to close a deal.

Speaking of building relationships with your prospects - have you heard about social selling? Check out our Ultimate Guide To Social Selling Part 1 and Part 2, where we cover metrics, tips, and how to create social selling strategy with Template.
5. Using the right LinkedIn automation or sales engagement tools
But where are the sales engagement tools, you wonder? Aren't they also impacting whether you end up with your LinkedIn account restricted? Or worse, in LinkedIn jail?
The answer - some of them, yes. However, the key of not getting the restriction while using a sales engagement tool is to use the right tool.
One of the common reasons people have ban on their hands, is that they use the wrong LinkedIn tools. Yes, LinkedIn automation tools are popular these days, and they can help you. Alas, that doesn't mean you should just use any tool you find on the internet.
To understand which one to choose, first, you need to understand what type of sales engagement tools exist.
Extensions
1. Firstly, there are browser-based LinkedIn tools, aka extensions. In other words, these tools are extensions in your browser, meaning you can't run this tool when your computer is off, and it also relies on browser caching, which makes it a lot easier to detect. Other downsides of these kinds of tools are:
- They do not offer dedicated IP,
- Your PC has to be on to be able to run,
- It automatically injects the code into LinkedIn, placing a big ''I am using automation tool'' target on your back.
Desktop apps
2. Secondly, some tools are basically desktop apps. They don't offer a dedicated IP address, the possibility of running Multiple Accounts, and they have to work in the background. Since it works through the web, it doesn't inject its code into the LinkedIn, making it a bit safer to use than browser-based ones/extensions.
Cloud-based tools
3. Lastly, there are cloud-based tools. Cloud-based software is managed and processed thanks to a dedicated IP address that shields your action on internet (proxy). All your data is not stored on local servers or your personal computer, but on the internet. The software can run even when your computer is off. What's more, only cloud-based software can have Multiple Accounts and Integrated Inboxes.

What tools should you use to keep your account safe?
Due to the above mentioned, our advice is to use cloud-based tools because they work online and are much safer than extension-based tools.
Also, with the cloud-based tools, you have more options and more useful features for your outreach efforts (such as the option for multiple accounts, connection withdrawal, advanced personalization, integrated inbox, working hours limits, etc.), making them better than the desktop apps, but you have to learn how to use them properly.
For example, the good thing about Skylead, as one of the cloud-based tools, is that it's completely safe to use because of its location-based IP addresses and a proprietary human mimicking system. This means Skylead possesses a human-like behavior (for example, clicking and scrolling as the human would do) making it undetectable and reliable to use.
That makes Skylead a FIVE STARS tool! Plus it has a lot more features to offer.
Moral of the story: Some of the tools are riskier than others, and it's not hard for LinkedIn to spot this kind of manipulation, and get your LinkedIn account restricted, so choose wisely.
How to connect with more people without getting LinkedIn account restricted?
We previously stated why Skylead is a perfect choice to outreach on autopilot, considering your account's safety and features.
However, there is something you can do to connect with more people every week, and Skylead can help you out with that.
In other words, you can use LinkedIn InMails and emails to multichannel your outreach and connect with more people this way. What's best about these methods is that you don't risk getting your LinkedIn account restricted. Moreover, LinkedIn will love you for it as you will use their InMails. You can also check out our 13 InMail examples for a better response rate
The key here is to find and verify business or other publicly available emails to be able to multichannel your outreach in the first place. Don't worry - Skylead can do it for you. Here's how.
Multichannel your outreach with Skylead
First, go to your campaign manager and choose the campaign type, enter the lead URL source or import the CSV file.
Then, fill in the details regarding your campaign setting and move on to the Smart sequence.
From here, you can select, for example, to Follow and Find and Verify Business Emails On LinkedIn. Next, go ahead, and choose the Invite to connect step. Don't forget to personalize your invite message, as it will boost the reply rate.
Next, you can check if Skylead found and verified your leads' emails. If it did, you can select an email message to multichannel your outreach and connect with people outside LinkedIn. If they do not respond, you can always go back to LinkedIn and send them a paid InMail.
However, if Skylead doesn't find their email address, you can choose to send an InMail message instead.
Et voila! Your sequence template should look something like this.
When you finish adding more steps to create a coherent outreach flow, hit Start Campaign, sit back and relax.

In conclusion
Every social media platform, including LinkedIn, uses policies and rules when monitoring suspicious behavior to protect its users.
Getting your LinkedIn account restricted or ending up in LinkedIn jail due to these restrictions is serious business. Especially for sales folks who use LinkedIn as their main LinkedIn prospecting and outreach tool.
But don't stress, even if you get restriction, it's not the end, and you can recover from it. As long as you stick to the advice listed above, your LinkedIn account will recover.
Surely, it's best avoiding these situations and use the best LinkedIn practices to keep your account safe.
Here is a shortlist of how to avoid LinkedIn restrictions or end up in LinkedIn jail:
1. Know your limits on LinkedIn
2. LinkedIn account warm-up
3. Always send friendly and personalized messages
4. Don't sell right away
5. Using the right LinkedIn or sales engagement tools
Prospecting and outreaching can be a time-consuming and tiring task. That is why there are many tools on the market to help you out. However, be careful of what tools you are using.
There are many excellent tools on the market, but the safest bet is to go with a cloud-based solutions. Why? Because they mimic human-like behavior and do not inject the code into LinkedIn itself, as extensions do, for example.
Oh, and if you get in LinkedIn "trouble" – you know there are friendly helpers on Skylead Customer Support chat to always help you out.