Recruiting 101: Difference among LinkedIn Recruiter Lite, Recruiter And Premium Business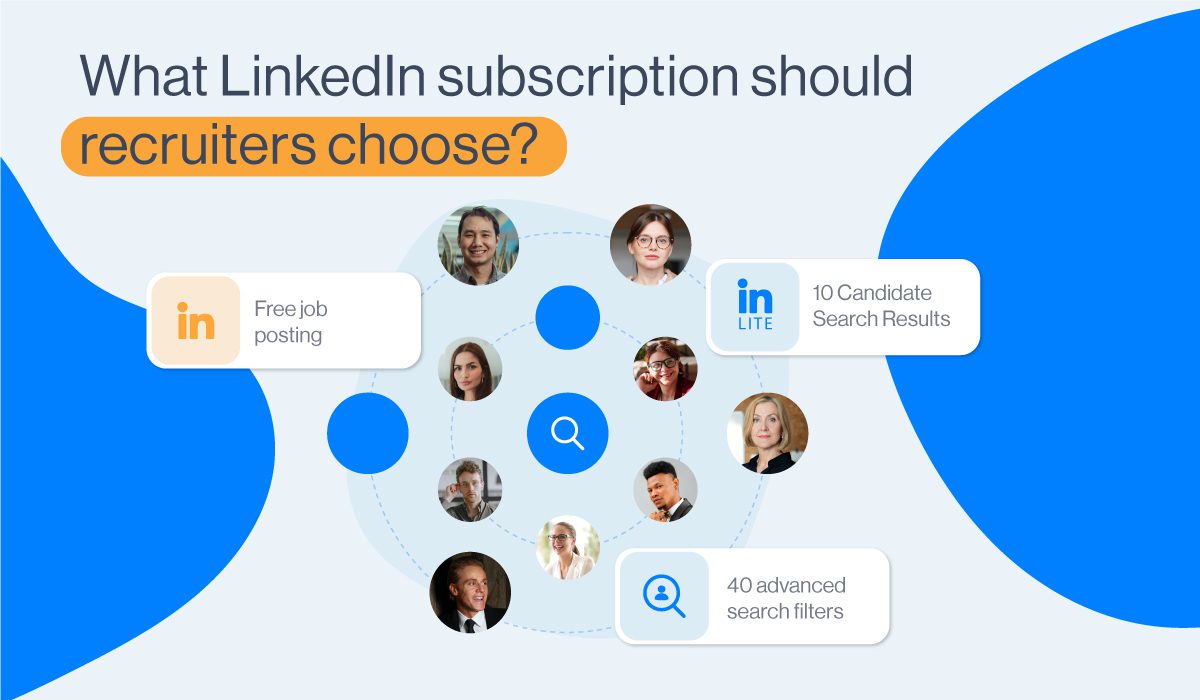 What is the real difference among LinkedIn Recruiter, Recruiter Lite and Premium Business?
Finding the right employee can be a tough job. More so, if you use a more traditional hiring method, such as job posting websites. We don't say that these methods don't work. However, they require a ton of effort and time to comb through applicants' skills and experience.
Besides, the time spent going through these applications can lead to the prolonged time needed for hiring. Undoubtedly, for businesses, this means an extended period without employees and work to be done, aka money loss.
That is where LinkedIn jumps in. Many HR professionals swear by this as the world's most popular professional network. More so than any other platform out there. Thus, LinkedIn created a separate platform for all the HR professionals where they can do their LinkedIn prospecting and outreaching - Recruiter.
However, is the LinkedIn Recruiter really the best LinkedIn subscription for HRs? Or can the same job be done with Premium or LinkedIn Recruiter Lite? Let's be the judge of that together, shall we?
Today, we are covering what LinkedIn Subscription options exist for hiring managers, their pros and cons, and what you should consider when choosing the right type of platform.
LinkedIn Premium Business subscription
This LinkedIn subscription is, first and foremost, created for individuals who wish to boost their skills, connect with like-minded people or companies, and extend their network. It offers many features that a free LinkedIn account does not. And it is a decent upgrade if you wish to step up your LinkedIn game in any way you can imagine - be it for sales, networking, or job-seeking efforts.
Who is it for?
Premium LinkedIn subscription is a good tool for any job seeker, business leader, or entry-level sales manager. Even though the LinkedIn Premium Business plan is not for hiring managers specifically, it can do a nice job with posting jobs and reaching out to your candidates. Here's how.
LinkedIn Premium pros
Unlimited people-browsing
If you have a basic LinkedIn account, you will notice that you can have up to 10 unlimited searches a month.
However, as a Premium Business subscriber, you will have unlimited searches for profiles up to the 3rd-degree connection type. This way, you can search and connect to the right candidates faster.
Free job posting
You can post a job free of charge using the LinkedIn Premium subscription. Apart from the job description, It gives you additional options to fill in, including screening questions and skills required.
The good thing about this process is that LinkedIn offers an option to reject candidates and send them a predefined message automatically, which saves you a lot of time. However, it lacks personalization.
After you publish a job post, LinkedIn will show it only to your network. Yet, if you want your job to be more visible, you need to pay to promote it. To clarify, you determine the budget you wish to invest, and LinkedIn only spends it when someone clicks on your job post.
If you decide to promote it, LinkedIn will publish your job ad on certain LinkedIn pages or via email and push notifications to find you the best candidates. Otherwise, LinkedIn will notify your connections that you're hiring. Consequently, your network can help increase posts' visibility by sharing. Thus you can reach qualified candidates easier.
InMail credits
If you are looking for a specific person that ends up being outside of your network, nor do you share a group with them, LinkedIn will provide you with an option to reach them out by using InMail. Check out our complete guide on how LinkedIn InMail works.
InMails, aka LinkedIn emails, can be useful when you want to reach out to potential employees you think are the best fit for the job. Also, they are good when you do not wish to risk getting your email in a spam folder or do not have the email address, to begin with.
Unlike LinkedIn basic accounts, Premium Business offers 15 InMail credits a month. It's not a lot, as other subscription plans provide much more. Still, it is more than enough for small to medium-size companies that do not have frequent hiring or headhunting needs.
Furthermore, LinkedIn will return you the InMail credits you spent if you receive a response. And if you need inspiration for your outreach, check out our InMail templates.
Finally, LinkedIn allows you to gather InMails. In other words, if you haven't used InMails over the course of 3 months, you can have up to 45 InMails in stock. However, that is the limit, and you cannot accumulate more than 45 InMails over a longer period.
"Who's Viewed Your Profile" feature
If you are a Premium Business subscriber, you will be able to see everyone who viewed your profile. You will be able to see information such as their job title and how they found you. If they have an open profile, that is. This feature is valuable for your HR persona as the potential best employees might find you first.
Company insights
Sometimes, the hiring competition is high, and job positions are undersaturated. Thus, you can use a Premium Business subscription to access competitive intelligence and an inside look at companies, their hiring trends, and current employees. In other words, you will be able to see:
Companies' growth rate over 2 years;
The number of employees and hiring trends in the last 2 years;
Employee retention.
Multi-language courses
As one of its main features, LinkedIn Premium business offers a wide range of courses that any professional can complete and master various skills - over 16.000, to be precise. Furthermore, these courses are led by different industry experts, and some of them provide completion certificates.
In addition, the completed courses are listed on each user profile. So, as a hiring manager, if you are interested in pumping up your skills, you can do so in a blink of an eye and see which candidate did the same.
LinkedIn Premium Business cons
If we talk only about recruiting needs, this LinkedIn subscription plan has some constraints that do not exist in other plans.
Firstly, if you decide to find and reach out to the candidates yourself, Premium Business doesn't have much to offer in terms of search filters. With only 11 filters available, you will be able to search candidates only by:
Type of connections;
Connection of the specific person in your network;
Location;
Current company;
Past company;
School;
Industry;
Profile language;
Open to option for pro bono consulting/volunteering and joining a non-profit board;
Service categories;
Keywords, such as name, title, and company.
In addition, this LinkedIn subscription plan does not support advanced search filters, like Years of experience or Skills filters. After all, such filters are crucial for recruiters. Moreover, you do not have the Smart suggestions or search options. Thus the Boolean search option becomes quite limited. In other words, you won't be able to search for the long Boolean strings, or the same strings won't work as they would in LinkedIn Recruiter.
Secondly, if you wish to check your candidate's status, you will not be able to, as Premium Business doesn't support candidates' pipelines or job projects. To explain - a project is a workspace that LinkedIn created for its Recruiter subscriptions. They are used to track candidates throughout the hiring process, making it a nifty feature for HRs.
Moreover, LinkedIn Premium Business has no candidates recommendation option, nor does it offer to save candidate search and alerts.
How much does Linkedin Premium cost?
LinkedIn Premium Business subscription costs $60.47 per month + VAT as specified by your country. If you wish to pay annually, you will have 20% off, making the total price $579.81 + VAT yearly.
Do not forget the additional budget cost if you wish to sponsor a job post to reach a wider audience.
Is Linkedin Premium worth it?
Overall this LinkedIn subscription is useful for any professional, including hiring managers who are just starting or have low-volume hiring needs.
You will undoubtedly get your money's worth with courses, company insight, InMails, and free job posts. However, if you require more filters, candidates pipeline, templates, and access to a wider audience, you might want to reconsider upgrading to the LinkedIn subscription plans below.
Did you know that you can use Premium plans for free? Check out our article to find out 6 ways to get LinkedIn Premium free of charge.

Recruiter Lite LinkedIn subscription
The LinkedIn Recruiter Lite subscription serves as a downgraded version of the LinkedIn Recruiter. However, downgraded doesn't mean bad. It is more than a decent tool for hiring managers who wish to connect with a more narrow candidate group and manage candidates' pipelines and job projects.
In addition, LinkedIn Recruiter Lite supports every feature found in Premium Business and more.
LinkedIn Recruiter Lite - Who is it for?
LinkedIn Recruiter Lite is best for any hiring manager with medium-size businesses and small-to-medium hiring needs.
Recruiter Lite pros
Managing projects
This LinkedIn subscription offers the option to manage your job posts and candidates into projects. In other words, projects are categorization tools that HRs use to organize candidate profiles into folders to review them, check their status and push them into the pipeline.
In addition, Recruiter Lite has a limit on the number of projects you wish to create, as it's a single-account dashboard. To clarify, you can create up to 100 projects at once.
Advanced search filters
Unlike the previous LinkedIn subscription, Recruiter Lite has a list of advanced filters which you can use to narrow down your candidates' search. So you can find the right talent by using 23 different Recruiter Lite search filters.
However, LinkedIn doesn't have that much-advanced filtering capability as opposed to Sales navigator or Recruiter itself.
Saved search alerts
Recruiter Lite has a nifty feature that allows you to be among the first recruiters to know when a certain candidate changes their job status.
In other words, search alerts included in this LinkedIn subscription will track changes in the candidates' profile, saved in your talent pool. If a candidate changes their profile status to Open To New Roles, LinkedIn will notify you, thus helping you to get ahead of your recruiter competitors.
In addition, Recruiter Lite subscribers can have a maximum of 10 saved search alerts.
Smart recruiting - Recommended matches
Recommended Matches is a Recruiter feature that suggests candidates tailored to your searches or job posts in your project.
If you are a Recruiter Lite subscriber, LinkedIn will recommend 25 candidates each day. You can then save those candidates to your project pipeline or reach them out via InMail.
More InMails in a recruiter's bowl
As an upgrade from the Premium Business Subscription, Recruiter Lite will provide you with 30 InMails per month. Moreover, if accumulated, you can have as many as 90 InMail credits to spend.
Saved templates
To make the outreach easier, LinkedIn Recruiter Lite introduced message templates that you can create and send out to your candidates. In other words, message templates serve to send bulk info to candidates without having to rewrite the same message over again.
These messages may not be as personalized as you'd like them to be, but they serve their purpose. However, stick around until the end of the text to find out how you can make them even more personalized.
Downsides of Recruiter Lite
If we compare LinkedIn Recruiter Lite with Premium Business, you can see the great advantages for recruiters. However, if compared to Recruiter, this LinkedIn subscription has a couple of downsides worth mentioning.
Firstly, Recruiter Lite is a one-user account only. It does not have the option to add multiple seats in one account.
Secondly, even though LinkedIn Recruiter Lite has the analytics feature, it is limited. In other words, you can only analyze LinkedIn InMails and job posts' performance.
Speaking of limits, some recruiters would argue that the advanced account filters available in Recruiter Lite are not enough to find ideal candidates. And in addition, more useful filters could be found in the Sales Navigator LinkedIn subscription.
Lastly, if you are using one of the applicant tracking systems on the market, unfortunately, you will not be able to integrate it with Recruiter Lite. However, this option is available for Recruiter subscribers.
LinkedIn Recruiter Lite cost
You can purchase a LinkedIn Recruiter Lite subscription for around $140 per month. However, we say "around" as the price varies depending on your location and country's VAT policy.
To buy or not to buy LinkedIn Recruiter Lite
It certainly is an upgrade for hiring managers to use Recruiter Lite if they previously used a Premium Business subscription. With wider access to the network, projects, more advanced filters, and InMails, as well as recommended matches, among other features, it justifies this LinkedIn subscription price.
However, is it enough for certain hiring managers to settle down with this LinkedIn subscription? If you are HR working in a small to medium-size company, we say, "Why not try?".
And if you are still indecisive, you should know that LinkedIn may offer a Free Trial for a month - you just need to contact their support and check for eligibility. Thus it is worth your time to try out Recruiter Lite for sure. Only then will you be sure if this subscription is best for you and whether you should upgrade/downgrade.
LinkedIn Recruiter
As LinkedIn's ultimate "power" tool for hiring managers, Recruiter is a much more advanced version of Recruiter Lite. Indeed, it supports everything mentioned in previous LinkedIn subscriptions and so much more. But, as it always has been, everything comes at a cost.
Furthermore, LinkedIn Recruiter has two variants - Professional and Corporate, which differ slightly.
Who is the LinkedIn Recruiter best for?
LinkedIn Recruiter can be useful for medium-sized companies with high-volume hiring needs. However, it is best suited for large enterprises, as their hiring needs are pretty high.
Advantages of LinkedIn Recruiter
Multiple accounts per seat
LinkedIn Recruiter Lite only permits one user per seat. However, LinkedIn Recruiter allows users to have multiple accounts per seat. Furthermore, the users under one seat can collaborate and exchange data used in these accounts, which is a great feature for companies with many multi-level hiring managers.
Unlimited recommended matches
Unlike the Lite version, which provides 25 recommended matches, LinkedIn Recruiter will show an unlimited amount of recommended candidates each day.
40+ advanced search filters
Undoubtedly, one of the best LinkedIn Recruiter features is advanced filters. With 40+ filters on the table, this subscription plan will save up your candidates' search time. In other words, you will have filters such as who is more likely to engage or notes filter so you can configure the search and find the perfect candidate.
In addition, LinkedIn will provide you with access to the entire network to research. So you will not have to struggle with your only 3rd-degree-connection-type in Recruiter Lite.
ATS integration
LinkedIn allows you to streamline your hiring process by integrating LinkedIn Recruiter with the applicants tracking systems. You can access the information you need within seconds without switching between the platforms. Furthermore, LinkedIn doesn't charge any fee for the integration. However, an additional fee may apply depending on the ATS provider.
In addition, customers who integrate LinkedIn Recruiter with an ATS system can also filter for candidates found in their ATS or exclude them from the search.
Advanced reports
With LinkedIn's advanced reporting system, you can analyze Jobs, InMails performance, pipeline, usage, and team's Recruiter utilization and performance, with tips and resources to improve performance.
Candidate reviews from other HRs
LinkedIn Recruiter allows you to share profiles for feedback with any LinkedIn user. This feature is allowed thanks to the Hiring Manager LinkedIn Recruiter role. With this role, you will be able to request feedback about the candidates from the hiring managers they worked with in the past. In addition, you can share profiles and Projects directly with other users who have a Hiring Manager role.
LinkedIn Recruiter disadvantages
With a robust LinkedIn subscription, like Recruiter, there have to be some concerns and disadvantages that hiring managers report regularly.
Firstly, LinkedIn recruiter pricing is pretty steep as opposed to other subscriptions. In addition, recruiters reported that it is not cost-effective unless you use it daily.
Secondly, LinkedIn Recruiter is a yearly contract thing. If, for example, you decide you do not wish to use it anymore during this period, you will not be able to get out of the contract. Also, speaking of the business side, some recruiters reported that they had customer support issues which is what you do not want to hear if you are investing that kind of money.
On a more technical side, if recruiters search for the same candidates, the search result would be the same. This happens because Recruiter's algorithm puts the same people at the top of the search.
Lastly, the number of InMails you get might seem high, and you can accumulate them. However, let us look at the other side of the coin. Since LinkedIn Recruiter is used by multiple accounts in enterprise companies, with, for example, 5+ hiring managers, the numbers of 100 and 150 InMails are not that high. Moreover, hardly anyone will have the chance to accumulate any number of InMails in that kind of working environment.
How much does LinkedIn Recruiter cost?
If you try to find the exact prices for LinkedIn Recruiter Professional And Corporate, you should give up. The reason is that, to find out the price, you need to contact their sales team.
Nevertheless, the talk of the town is that LinkedIn Recruiter cost ranges from $835 to $900 per month, depending on your hiring needs.
Is Linkedin Recruiter worth it?
If it is to believe "the word on the streets", LinkedIn Recruiter indeed is expensive. Not to mention that you will most likely be imprisoned with a yearly contract. So if, for example, you do not find some features worth the cost or change your mind, you won't be able to get out of the contract.
However, if you:
Work in a large company with the constant need for hiring;
Have multiple recruiters who need to share projects, notes, searches, InMails;
Possess ATS;
Wish to narrow down your search with more advanced filters;
Access to the entire network;
Then LinkedIn Recruiter will be worth it. Otherwise, you might want to think about going with lower LinkedIn subscription plans.
LinkedIn subscription summary
LinkedIn is indeed the best choice for your recruiting efforts (e.g. generating leads on LinkedIn, outreaching candidates...). Why? Since people tend to update their profiles more regularly, unlike their job boards or candidates' profiles in the company system. There is no doubt about that.
However, choosing the right LinkedIn subscription for recruiting can be tricky in the long run. Besides, it depends entirely on your and the company's needs. If, for example, your hiring needs are constant, and you have an entire team of HRs, you should think about choosing the true Recruiter subscription. On the other hand, if you are a stand-alone recruiter and have little to no hiring needs, then Premium Business will do just the work.
Lastly, if you have consistent hiring needs but are willing to sacrifice all those showstopper features, you can subscribe to Recruiter Lite. It truly has some constraints, but it is more than an upgrade from Premium Business.
And just a reminder: you can try out any LinkedIn subscription free for a month. This way, you can decide which option best suits your needs.
Nonetheless, if you are the hiring manager who wishes to use either Premium Business, Recruiter Lite, or Recruiter itself for your hiring process, then you should know one last thing. There is a way that you can use to improve your candidates' outreach experience and streamline your work, and it is called Skylead.

To clarify, it will help you outreach your target candidates on autopilot and let you focus more on your interviews. Be sure to check out how to create a Skylead campaign here.

If you wish to use Skylead to outreach your candidates and add personalization, come by and try out Skylead for free. We would be happy to see you 🙂