The initial step in generating new leads on LinkedIn is to create a LinkedIn profile that will show your expertise and bring potential clients.
When it comes to attracting new visitors and prospects, there are a few key elements that can make them stay on your LinkedIn profile and engage with you.
By following the given advice and optimizing your LinkedIn profile, you'll be more frequently shown in search results. This is great for increasing your sales.
Also, with a well-optimized profile, you're directly increasing your chances of connecting with prospects and reaching your goals.
A well-optimized LinkedIn profile should include:
A representative profile and cover photo;
A catchy headline with keywords;
An interesting, unique, and keyword-rich summary;
Your job position and work history.
After you complete the setup of the headline and the photos, the next thing that you should take care of is creating a compelling summary.
In this article, we'll get through:
What the LinkedIn summary is;
Some common mistakes in summary writing;
What makes a great summary;
5 best LinkedIn summary examples for sales growth.
What is the Purpose of LinkedIn Summaries?
The LinkedIn summary is one of the first things that visitors notice on your profile. Therefore, there is no doubt that it's the most important section. 
Unfortunately, it's usually the most underestimated section on users' profiles.
While the headline is there to attract somebody to visit your profile, the summary is a place that lets people learn more about you.
Namely, it's a place that you're able to introduce yourself. It gives visitors a clear message of who you are, what your career story and goals are, what drives you, and what value you can bring to them.
This section of 2000 characters is the only place where you can express your personality and connect with other users on a deeper level.
Plus, this is the place where you can trigger your visitors and call for them to take the kind of action you want them to.


Common Mistakes in LinkedIn Summaries
The biggest mistakes that users make when creating a summary is leaving it blank or just repeating their work history.
When you do that, other users won't perceive you as professional. Consequently, they will probably leave your profile quickly. 

We assume you don't want that to happen.
Another mistake is to write the whole summary in one long paragraph, which repels users. You have to break this section into smaller ones, so it is easier to read.
In order to maximize your engagement, leads, and sales, we provided a few tips on what to include in your LinkedIn summary as well as some LinkedIn summary examples for sales.

Tips for Creating a Great LinkedIn Summary
One glance at your profile allows users to read only the first 300 characters of your summary. 
So at this starting point, you have to get your readers hooked enough for them to read your full summary. Furthermore, once you attract their attention, you have to give them a reason to engage with you.
In order to stand out from other LinkedIn profiles and connect with your ideal prospects, answer the following questions first:
What are your main goals on LinkedIn? 

Whether you wish to reach new clients or create collaborations, answering this question will crystalize your purpose there. You will know what to focus on in order to attract new visitors.
What are you passionate about and why?

To create a relationship and be more trustworthy, show your prospects what you love to do and why you love your job.
What are your job role experiences and what have you accomplished?

By providing info on your results and accomplishments, you'll establish authority and show your prospects that they can count on you.
How can you help others reach their goals?

Show them the benefits of working with you and how you can help them. However, don't get too salesly.
After you answer these questions and get done with the main part, you're ready to go further through the process.
Make Your Summary More Attractive and Interesting to Readers
Here are some useful tips that will help you:
Start with a catchy statement that will hook the visitors to continue reading;

Write your summary in the first person;

Include some key search terms;

Add a context to your career;

Speak about your biggest accomplishments;

Let your summary be about the readers and their goals also;

Break up the content into short paragraphs;

Include a CTA message at the end.
Best LinkedIn Summary Examples for Sales
Here are a few LinkedIn summary examples for sales that you can use as inspiration for creating your own description.
We'll present different types of summaries, so it's up to you to decide which type works best for you.

LinkedIn Summary Example #1 – Show Your Personality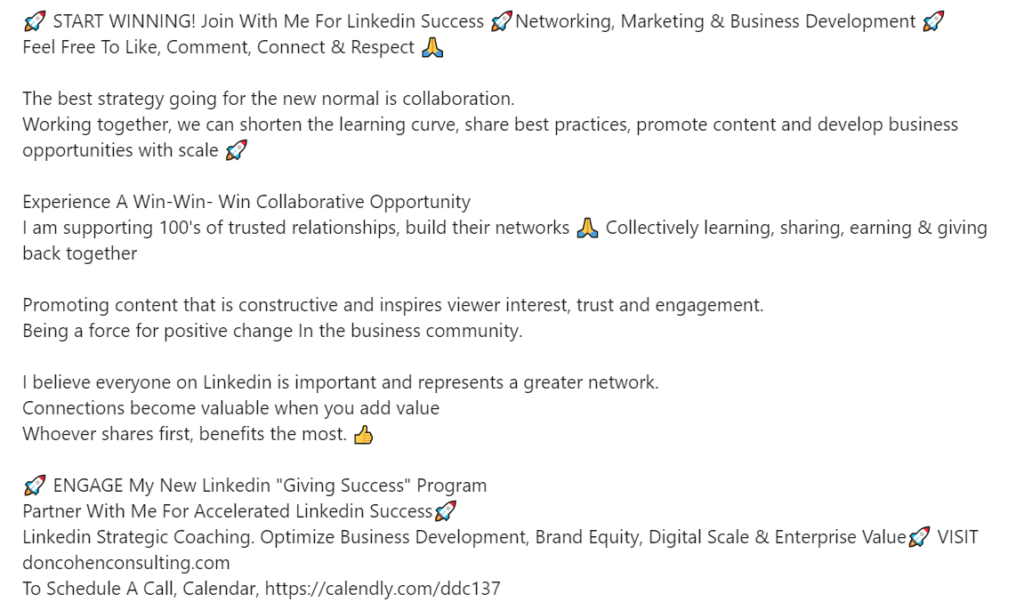 The great thing about this example is its expression of the author's personality and the willingness to help and inspire others.
In the beginning of it, there is a strong and catchy statement that is promising and instantly draws new readers.
Also, it shows how important collaboration and building trustworthy relationships are to this user which makes the reader feel welcome.
They included a few searchable keywords, which are great for getting more visits and they are also offering their "Giving Success" program.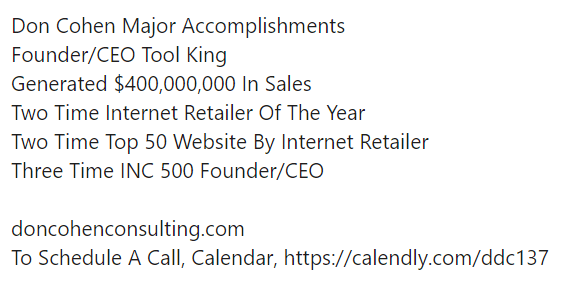 To strengthen their authority they expressed their accomplishments, and to make their summary earn more conversions of any kind, there are CTAs included.

LinkedIn Summary Example #2 – Show Accomplishments and Win Credibility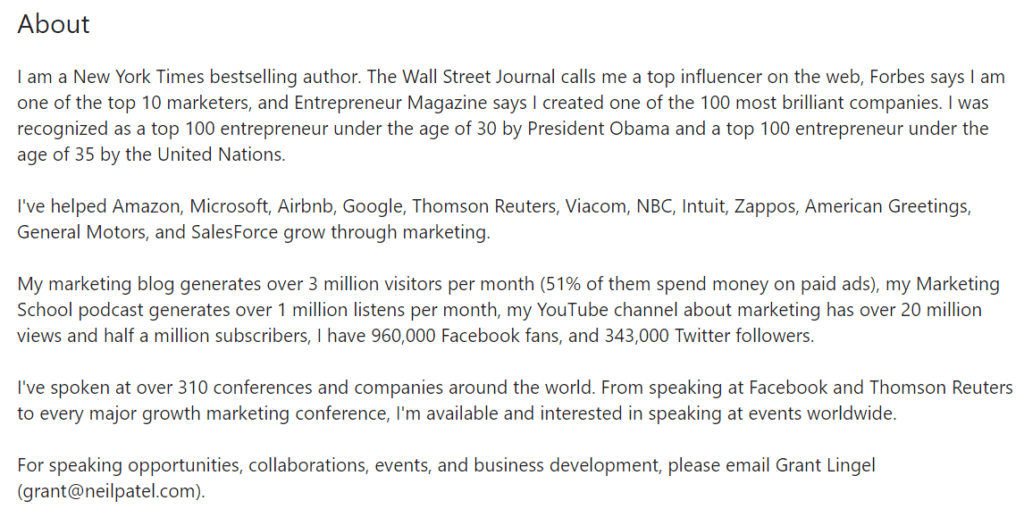 Neil's LinkedIn profile summary is a perfect example of a results-driven description.
Covering your business results and collaborations in your summary is a great way to increase conversions and get a lot of sales, especially if you include a real proof.
This example is good for LinkedIn profile users whose jobs are B2B-oriented because this summary attracts other businesses by providing instant credibility.
Here's another result-driven example for your summary.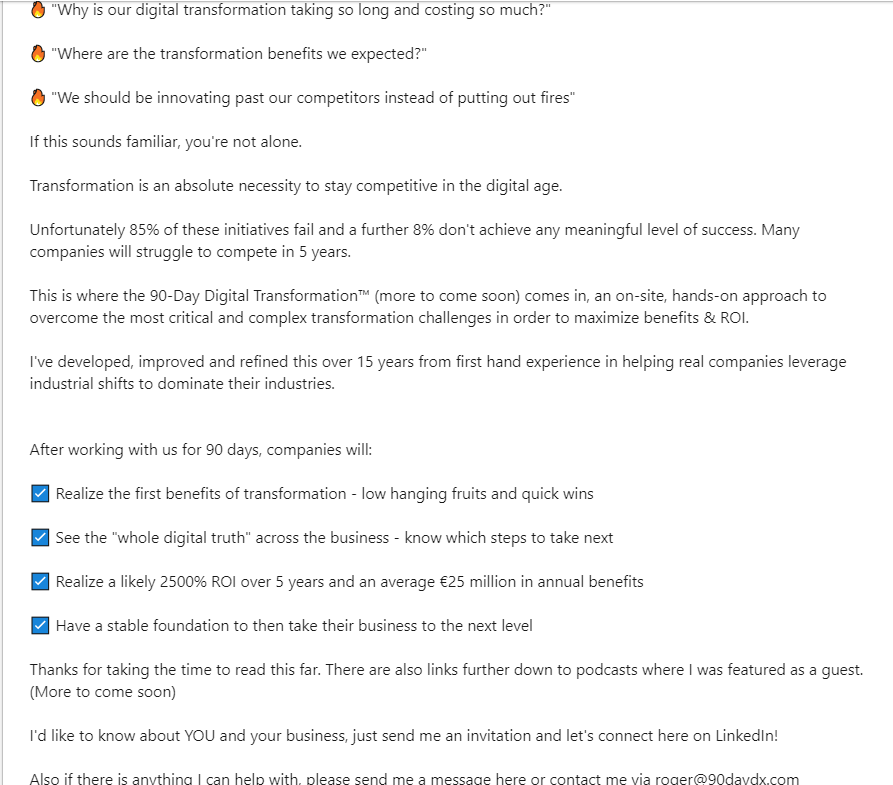 This is a good example that can be an inspiration to you if you are aiming to signify the benefits of using your services or products.
In order to get new sales, show what influence your product or service may have on other people's lives or businesses.


Example #3 – Passion Expression Summary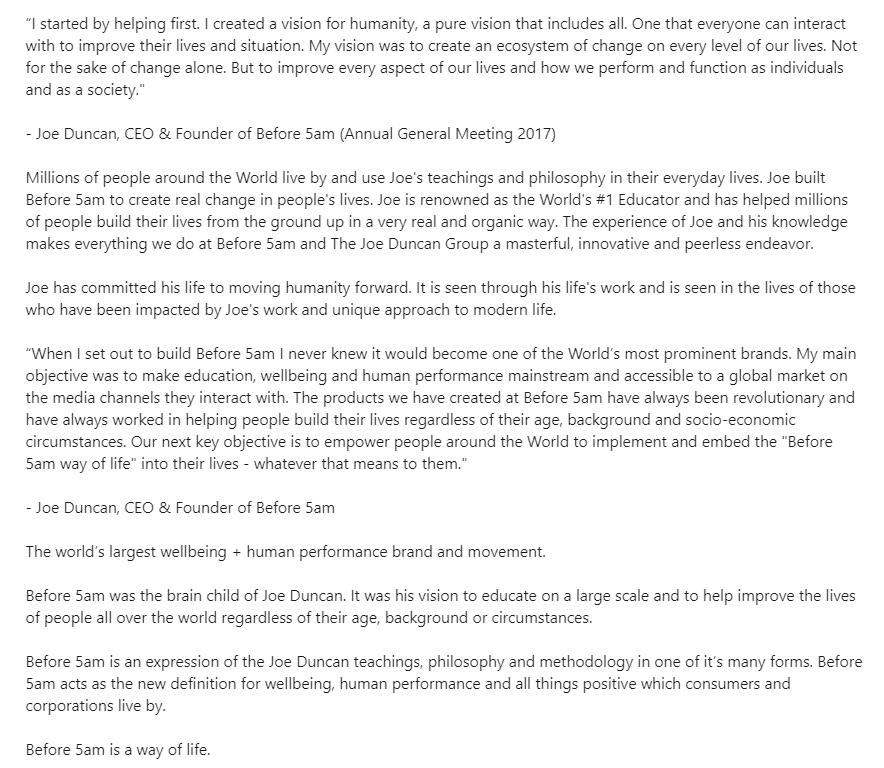 This is a great example of a LinkedIn summary for sales based on showing passion. 
Joe's primary mission is to truly help others by improving their lives.
You can present your good sides by letting other users know that you're there to learn about their needs and provide some value to them, not just sell.
You can describe the most satisfying aspects of your job, whether it's helping other businesses grow their ROI or develop their culture or making workers more efficient.


Example #4 – Experience and Keyword Rich Description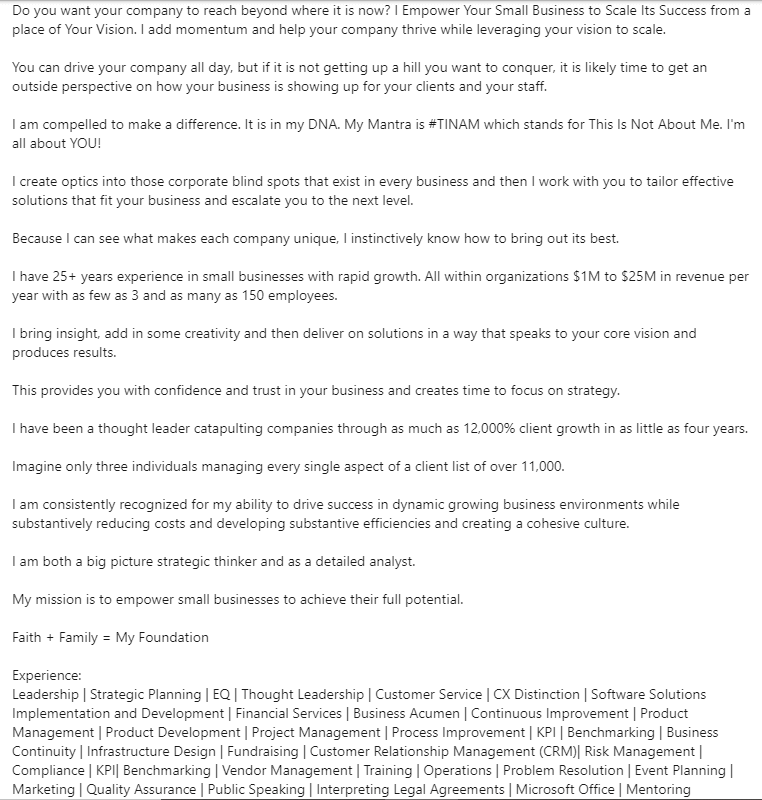 This summary includes direct questions to small business owners and it's great for attracting their attention.
Its "Yes" momentum drives the reader through the description and shows them how this user could contribute to their business.
With results included, this summary is also good because it's strengthening this profile's probability of appearing in people's search results by describing the author's vast experience.
This can be a good way to optimize your account not only by stuffing it with keywords but providing your real experience job roles.


Example #5 – Keep it Short and Niche-Focused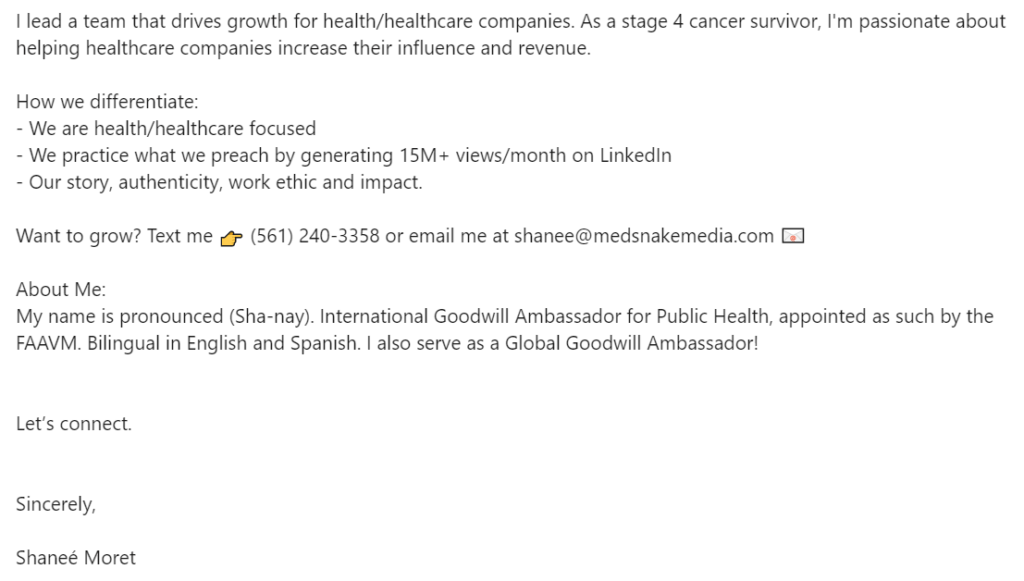 A lot of LinkedIn users don't have the whole day to read your summary, so you can also try with the shorter version.
This kind of self-presentation can be very unique and memorable description if it goes straight to the point without wasting a lot of the reader's time.
The short version of the summary can do a great job of growing your conversions especially if your business is narrowly focused.


Bonus Example
We've got one extra LinkedIn summary example that brings great results in practice, so you too could use it in your creative process.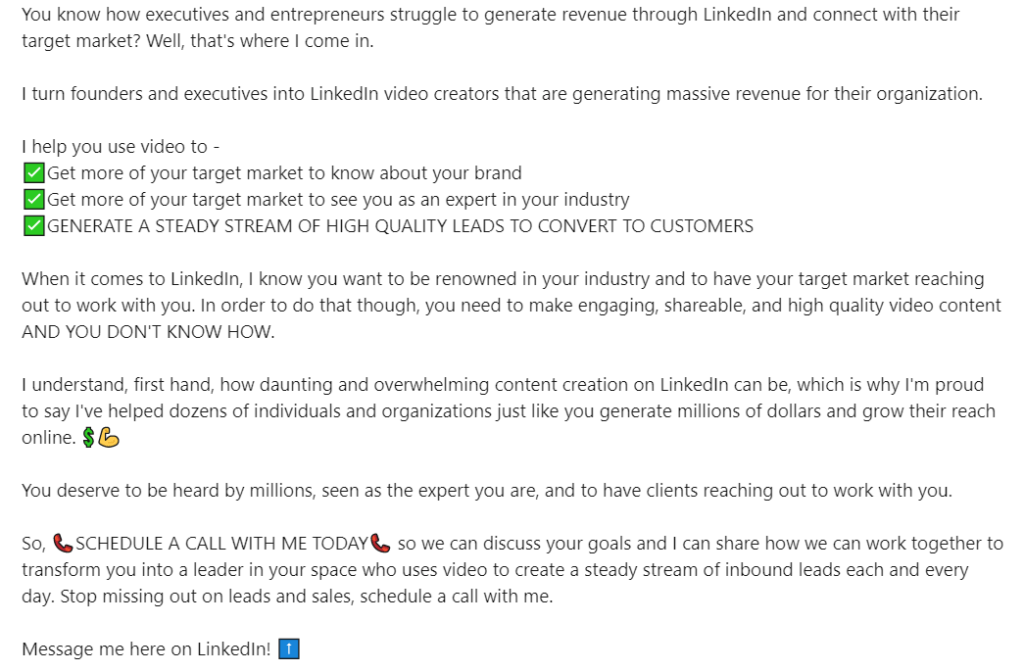 This example shows off entrepreneurial spirit by helping other entrepreneurs connect with the target market through creating videos.
It shows the benefits of video creating and inspires others to schedule a call and be heard by millions in order to create a successful brand.

Summary
Using any of these Linkedin Summary examples for sales should spark bunch of new ideas for your own description.
First, think about how you want to be seen on LinkedIn because the summary presents your personal brand and your company.
Also, include the tips mentioned in the beginning to build a better LinkedIn summary.
Use our advice to create a unique, personal, engaging, and results-oriented summary in order to maximize your success on LinkedIn.

5 Best LinkedIn Summary Examples for More Sales