15 tips to make your LinkedIn profile sell for you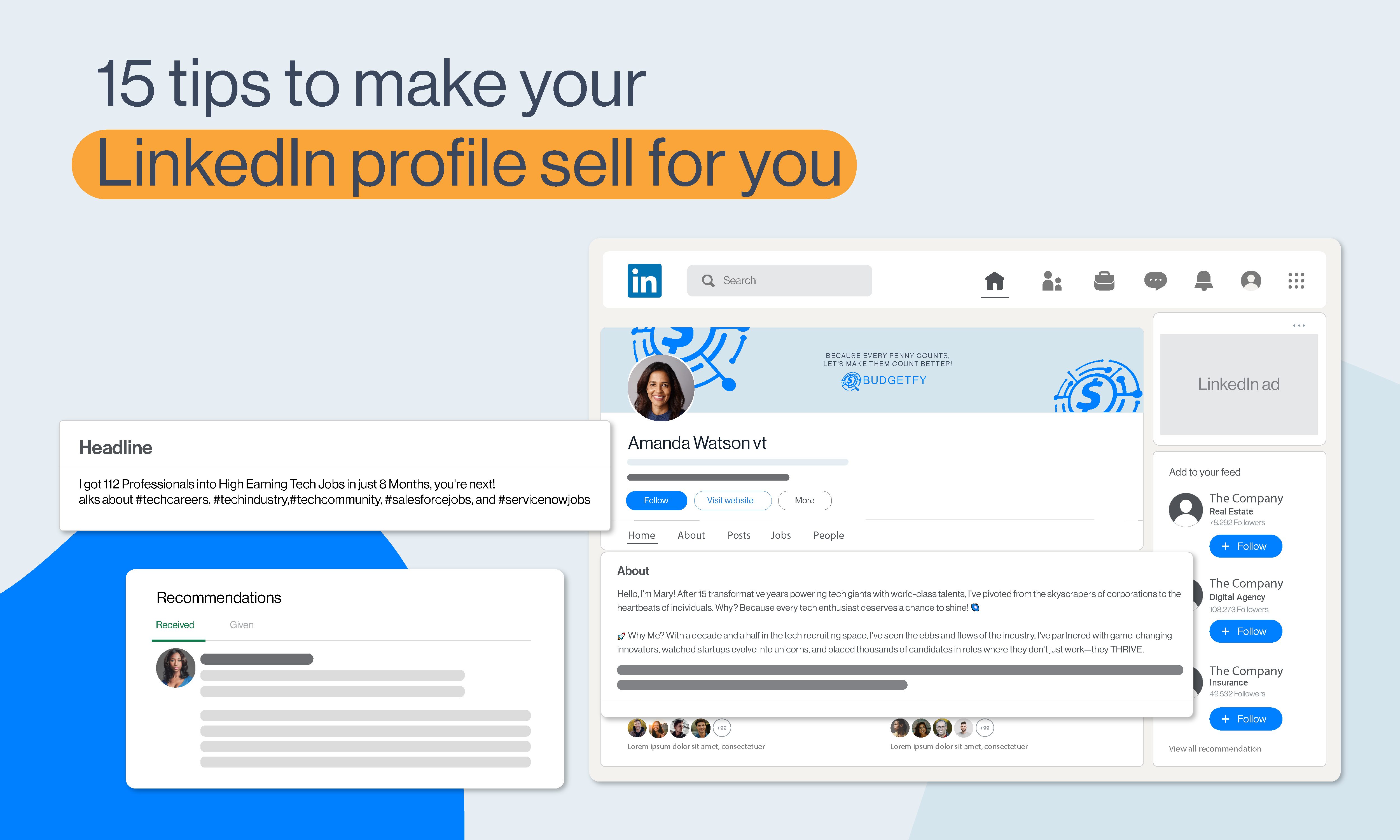 Making your LinkedIn profile an exceptional one is a job half done!
That's right. Your LinkedIn lead generation strategy or prospecting on LinkedIn might be impeccable. However, if your LinkedIn profile doesn't give out the right first impression, all your efforts will go down the drain.
Taking into consideration that 80% of social media leads for the majority of B2B marketers come from LinkedIn, you will agree that it is of utmost importance how you present yourself professionally.
You've probably heard many times that it only takes around 7 seconds to form the first impression.
The same applies to your LinkedIn profile.
Therefore, an optimized profile not only boosts your visibility in the search results but also helps other LinkedIn users form a first impression of you as a professional.
That's why we prepared 15 tips to make your LinkedIn profile more appealing to future leads and potential clients.
Your (profile) picture is worth a thousand words
The first thing people notice when they find you on LinkedIn is your profile picture, your name, and headline.
Your profile picture is your first chance to communicate that you are friendly, likable, and trustworthy, crucial attributes for people to engage with you.
Therefore, make sure that you look professional, yet approachable and open to networking.
However, keep in mind that LinkedIn is a professional network. Your profile is your brand.
Therefore, selfies, party pictures, and photos where you visibly had to cut someone else from it, as well as low-resolution photos, should not find their way to becoming your LinkedIn profile picture.
Examples:
Leah Knobler went for an approachable, yet professional profile picture. She seems comfortable and open to networking. There is nothing distracting about the picture, such as her being in an informal setting. Quite the contrary, the blurred background keeps the focus on the actual user of this LinkedIn profile.
You can never go wrong with an en-face profile photo. Furthermore, Ebony Banks took a picture in a professional outfit with a matte background.
It is pretty self-explanatory why these pictures are inappropriate. LinkedIn is a professional network, and as much as you want to seem approachable, putting a party picture will for sure give out a wrong impression. Furthermore, posting a picture where someone has been visibly cut off, let's be honest, doesn't look neat on any social network.
The same rules apply to pictures that are visibly from private (non-business-related) events such as weddings. As much as you want to post a picture in a suit, make sure that you have a professional background, and that you are preferably not wearing a flower.
Move with the times: Add a cover story
The LinkedIn mobile app gives you the chance to create a 30-sec video and add it to your profile picture.
Namely, your LinkedIn profile photo will still be visible to other users. However, if you put a cover story as well, an orange ring will appear around it. It will be a sign that if they click on it, they will have the chance to know a bit more about you.
A cover story is a great way to introduce yourself better to other users, articulate your career goals, provide a sneak peek into your personality, and showcase your communication skills.
Additionally, LinkedIn gives you the option of adding three hashtags that best describe your topic. This way, you will give a short insight into your professional story to those who visit your LinkedIn profile.
Your cover has your back
Don't underestimate the role of the cover photo in your LinkedIn profile aesthetics.
Data shows that humans only remember 20% of what they read, but 80% of what they see.
Having the logo of the company you work for or a creative yet connected to your professional background cover turned out to be making a major impact when connecting with other LinkedIn users.
Here are a few examples of highly creative, yet professional and industry-related cover photos.
Austin Belcak went for the cover that showcases his company name, all the industry-related prominent magazines where it appeared, as well as the picture of the city where they are located.
Aeron Cordova went for an "industry-related", creative way to draw attention to his profile while listing his profession, interests, values, experience, and aspirations.

On the contrary, leaving your cover blank or putting a photo that is not relevant to your field, might seem unprofessional. It could leave your users with the impression that you don't give much importance to your online resume.
For example, putting a picture of you doing yoga is acceptable only in case you work as a yoga instructor, or in that particular field. However, if you are a doctor or an engineer who does yoga as a hobby, this move might seem a bit awkward for those who are trying to connect with you on LinkedIn.
So, leave these choices for other, more casual, social media networks.
Win them over with your headline
Usually neglected and underused, the LinkedIn headline is the part of your profile that catches most of the attention.
"Content Marketing Consultant at Drift" is such a passé.
Therefore, be bold enough to go for more than just the default headline.
When deciding what you should write, think about:
The benefits that people get out of working with you;
The value that you bring to their businesses;
The specific niche of your expertise;
Including keywords that other users are likely to search.
For example:
Brent Morrell points out the benefits you can get out of working with him, such as growing your career.
Alexandra Sazonova highlights the value of her work in a particular area, such as healthcare.
If you would like to know more on how to write a good headline, check out our blog "13 LinkedIn headline examples with templates for lead generation". Get inspired!
Write an attention-grabbing summary
First of all, leaving the summary blank is a huge mistake!
With just a little bit of effort, you can write a great summary that draws the attention of your future leads, customers, or recruiters (depending on what your professional goals are at the moment).
When writing your summary section, have in mind that most users see only the first 300 characters (out of the total of 2000). Only if clicking on "Read more" will they get the full description.
Therefore:
Start Strong;
Use Keywords;
Mention your greatest accomplishments;
Point out your goals and ambitions;
Include your guiding principles.
Here's an example of an out-of-the-box, attention-grabbing summary.
Or of a strictly professional, yet effective one.
If you would like to know more about what makes the perfect summary, check out "top 5 summary examples to reach more sales".
Grow your network
The first thing you can do to grow your network is to import your list of contacts.
Once you set up your profile, LinkedIn will give you the opportunity to run an upload of your address book contacts.
In case you skipped that step, and would like to do it at another time, follow these instructions:
Click the My Network icon at the top of your LinkedIn homepage;
Choose Connections on the left rail;
Go for More options on the right rail;
Type your email address in the field provided, or choose a service provider from the list below the text box. If your email provider is not supported, you can still invite people to connect by email;
You'll be redirected to a list of your contacts who are already on LinkedIn. You can:
Check the boxes next to contacts you want to invite;
Click Add Connections to send invitations;
Click Skip if you don't want to invite anyone.
Of course, you can also add your connections manually through the search option at any time.
Show off your skills
The "Skills & Endorsements" section is one of the most important ones on your profile.
Did you know that people who have five or more skills listed are contacted up to 33 times more by recruiters and other LinkedIn members?

While you want to list a lot of skills, you also want to list the right skills.
Therefore, be honest with yourself and your profile visitors.

List the skills you truly possess and find relevant for your connections to know.
If you have difficulties specifying them, search for profiles with the same or similar job titles in your industry. See what skills these users have listed and check which ones apply to you and to what degree.
However, there is one catch. Once you delete a skill on LinkedIn, you cannot list it again. Be clever with what you choose and/or remove.
Endorse and you will be endorsed
Endorse others for their skills.
Not only is it polite to show some support to your 1st-degree connections, but they will also be more eager to endorse you.
The more endorsements you have, the more your LinkedIn profile will be appealing.
Furthermore, rumor has it that endorsements affect the algorithm. Namely, your profile is more likely to show up in searches if you have any. This is not confirmed, but even if it wasn't true, having plenty of endorsements positively influences your acceptance and response rates for sure.
Besides the visibility, it simply gives out the impression of you being a well-skilled, responsible individual. And that is what all LinkedIn users want, right?
Get recommended
A recommendation is a commendation written by a LinkedIn member to recognize your work.
You can ask for a recommendation from the 1st-degree connections you work with or have worked with, whether a client or a colleague.
Having one or more recommendations on your LinkedIn profile will significantly boost your chances of getting noticed and/or accepted.
This means that you are the type of person who makes an impact at the workplace. Your colleagues value your contribution and are willing to put their name behind yours. It's huge.
So if you think there are people who would gladly do that for you, go for it!
Include industry-related keywords
Whatever you are filling out at your LinkedIn profile, make sure to use the top keywords for your industry.
Before creating your online brand, think about which keywords are most sought for by your potential clients, co-workers, recruiters.
Once you have the list, use them wisely throughout your profile.
List your professional experience in a concise manner
Your LinkedIn profile is your online resume.

When you are sending your regular CV to employers or potential partners, it is not smart to list everything you've done so far. That is, only the most important jobs and projects find their place in your resume.
This should be the case with your LinkedIn profile as well.
List only those achievements that are relevant to your current professional field or to your future goals. Describe your duties and major accomplishments by using industry-related keywords while holding those positions.

This way you will give other LinkedIn users a significant insight into your professional experience without overwhelming them. Also, they will be more interested in reading your entire profile page. Seeing a bunch of unnecessary and incoherent information can just turn them down.
Fully complete your LinkedIn profile
Once you sign up for your profile the first time, LinkedIn will automatically guide you to fully complete it.
As you may see, LinkedIn will not only measure your profile strength but will also suggest (bottom right corner) what your profile is missing to be excellent.
LinkedIn wants you to prosper and expand your professional network. If you complete your profile, it will reward you with making you appear in search results up to 40 times more.
Get a custom URL
The majority of people use the URL that LinkedIn assigns automatically.
However, know that you can customize it and make it more appealing especially when posting it in your resume.
If you want to customize your LinkedIn profile URL:
Click the Me icon at the top of your LinkedIn homepage.
Opt for Edit public profile & URL on the right side.
You'll be redirected to the Public profile settings page.
Under Edit your custom URL on the right side, click the Edit icon next to your public profile URL.
It'll be an address that looks like www.linkedin.com/in/yourname.
Type the last part of your new custom URL in the text box.
Click Save.
Have in mind that your custom URL can be 3-100 characters long. Don't use spaces, symbols, or special characters. The customizable part of the URL is case insensitive. Whether you write christianwhite, Christianwhite, christianWhite, it will all point you out to the same profile.
You can change your URL up to 5 times within six months. Once you have changed your URL for the fifth time, you won't be able to change it for another six months. Despite having the chance to customize your URL so many times, keep in mind that it will be hard for people to find you if you change it too often.
Brag a bit in your featured section
If you click on the "Add section" you can choose "Featured", and write out or upload any posts, articles, links, or media that you find significant for your professional achievements.
This is a great place to highlight articles and blogs that you wrote, or in which you appeared. You can leave your company's or your personal website, Youtube videos, or any other media you think might contribute to your professional prestige.
Share what moves you
Birds of a feather flock together.
The LinkedIn "Interests Area" gives you the chance to show your audience that you have a life outside of work. Have in mind that people do business with people, not machines. Therefore, by listing your interests that can and not necessarily need to be career-related, you will seem more approachable, and other users might be more likely to do business with you.
Additionally, listing your interests will not only say a lot about you, but it will also be useful for the LinkedIn search engine. People might run into your profile by researching certain interests you share (or not).
Summary
Whether you are doing a LinkedIn outreach or you just appear in somebody's search results, your LinkedIn profile is a synonym for the powerful first impression. Or quite the opposite. 
Therefore, make sure it's on point.
Also, in case you are going for an automated outreach, Skylead might just be the right choice for you.
Schedule a demo call with our specialist and see how you can benefit from everything that Skylead has to offer. 
If you are already a user and have questions about improving your outreach, feel free to reach out to our customer care and success team via chat on our website! 
We are waiting for you.