10 email marketing tips to boost your sales with Skylead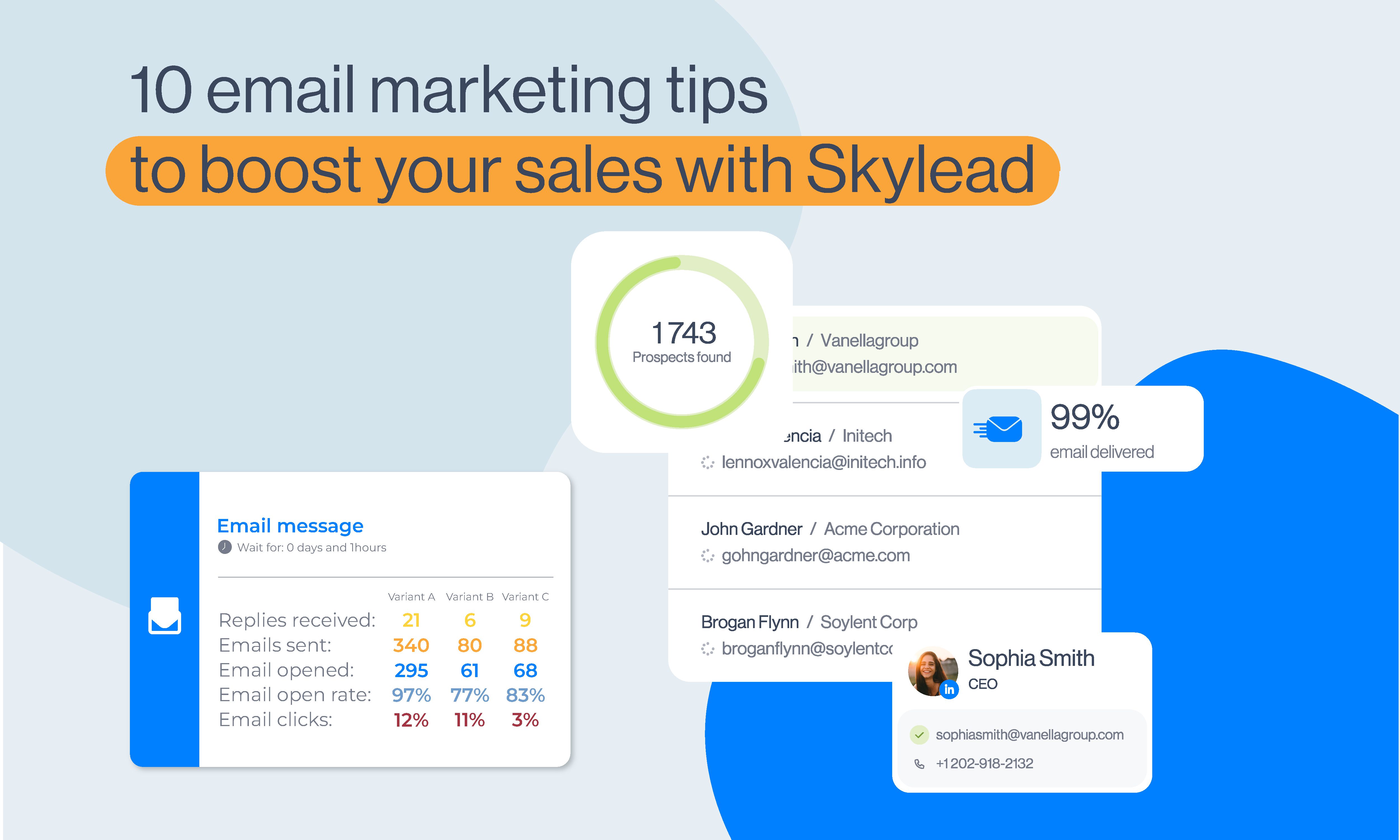 Email Marketing has maintained popularity over the years.
It is an efficient way to get new leads, nurture relationships and raise awareness about your business.
With the right strategies, you can gain new customers, as well as develop trust with current clients.
That is, it can become a trusted way to boost sales and grow your pipeline in no time or simply sustain good results long term.
Some businesses have not yet developed tactics for productive Email Marketing. That's why it is resulting in modest effects or no effects at all.
Disappointed by sparse returns, some have given up on the idea. Most likely they miseed out on perks provided by a good Cold Emailing strategy.
But were they right?
Why is Email Marketing important?
It's true that in order to grow your business through Email Marketing you need to know a few tips and tricks. However, keep in mind that learning them will be very rewarding.
Did you know that, according to several studies, campaigns that were implemented through email generated significantly more profit compared to ones run through Social Media Networks?
Fact check: A whopping 99% of consumers check their emails every single day. Therefore, the cold mailing is one of the most reliable ways for businesses to develop relationships and boost sales.
Investing a single dollar in Email Marketing brings a return on investment of 40 USD.
Check how much better it rates compared to other forms of Digital Marketing in the chart below.
Knowing just how profitable Email Marketing is, makes learning the right methods definitely worthwhile. Additionally, with the right tool, you are guided through the experience with the utmost care provided by our Customer Support Team and cutting-edge technology.
With Skylead, you can send up to 100 emails per day. However, we always recommend starting off with a lower number, so that your emails don't finish in a Spam folder.
Contacting leads through email is for sure the most sustainable way to reach more people over time.
So, how do you start Email Marketing or improve existing strategies?
We've prepared 10 tips and tricks to help you boost your sales via email and help you achieve the best results.
1. Understanding your audience
When starting out with Email Marketing, it's crucial for you to understand your target audience.
Who are they?
What do they like?
How can they benefit from your services or products?
After you answer these questions, it will be much easier for you to figure out the perfect way to reach out to them. You will be able to find the tone your audience will enjoy, one that will truly captivate their attention.
But, wait, that seems like a lot of work!
Don't worry. With Skylead's state-of-the-art tool, the process of targeting is eased to the extent that building your perfect customer pool will take less than 5 minutes.
With Sales Navigator filters, you can do the prospecting on LinkedIn, and find leads according to their location, employment, connection degree (1st, 2nd, or 3rd degree), position, used keywords, groups, and much more. In other words, you can narrow down your ideal audience to decision-makers who will benefit from your services big time.
And this is the part of LinkedIn Lead Generation done right.
Also, have in mind that writing a copy that will be relevant to your target market is now pretty simplified. It will for sure result in a higher response rate compared to generalized Email Strategies.
2. Expanding your mailing list
Many people make the mistake of thinking that putting a form on their website and hoping that visitors sign up will be enough to expand their Mailing list.
Unfortunately, it doesn't really work that way.
In order to really build an extensive network of potential clients, you'll either need some time and creativity to get more leads, or you can rely on our innovative Email Discovery feature. It will help you access the email addresses of the most important people related to your industry in just a few clicks. 
Skylead's Email Discovery feature brings the possibility of collecting personal email addresses, incorporated in a lead's profile, or even a business email.
The alternative is creating lead magnets that will help you receive email addresses. Give something for free in exchange for contact details. It can be a free ebook, a case study, or a product sample – really anything potential customers might find valuable enough to hand out their email address.
Ture, this can take quite some time and resources. But, if you've already managed to acquire a rich source of contacts, make sure you make the best use of it.
3. Nurture relationships
In order to reap the most benefits of your EM strategy, it will be necessary to build a relationship with people and companies from your contact list.
You can achieve this by sending out regular emails and follow-ups. These need to keep the interest of respective clients, which is crucial for boosting your sales efforts.
It's not easy to manually send emails to each contact on your list. We understand that you're already busy building your business and don't have enough time to allocate to that part.
That's why we in Skylead developed a tool that can help you save up to 7 hours a day. Skylead is there to send multiple emails, customize automated messages, and schedule your follow-ups. Furthermore, it is providing a well-organized dashboard and inbox, ensuring you never miss a single message.
4. Segment your mailing list
Not every offer will be equally interesting to your entire list. That's why segmenting the list is a very important step. It can help you keep your efforts engaging by only sending relevant information.
The sublime labeling option in Skylead's inbox allows you to best segment your recipient list using easy-to-use sticky notes, helping you provide a tailored experience for your subscribers.
Segmenting your lead list will help you speak directly to your consumer. You will be able to provide them with engaging content that will keep you out of the spam box.
5. Mix up your campaigns by using different outreach channels
You're used to having Skylead on your side with LinkedIn steps such as Connection Invites, Messages, View & Follow Options, and LinkedIn InMails, but we don't want you to stop there.
No, we want you to use the full potential of our Sales Engagement tool! It is here for your business to shine.
Email, as a powerful form of Direct Marketing, is now integrated into our platform, allowing you to set up a campaign with LinkedIn located steps but now also send your messages via email.
And the best thing is – you can mix emails with every other step there is.
6. Test, test, test
Skylead helps you run multiple campaigns where you can comfortably run A/B tests to figure out the most efficient approach for you.
Try it by pitching two campaigns A and B, to slightly different target groups, with slightly different messages and see how they will react. Track the outcome and find what works best for your business.
Also, there are target groups that are naturally more OPEN for InMails. Make sure to not forget that feature.
By combining all the features and options Skylead offers you, you'll be more than able to run a good test.
7. Ask for feedback
The best way to keep prospects from your Mailing list engaged is to ask them what they'd want.
Sounds too simple?
Well, people love to be included and appreciate the effort to accommodate their needs. Therefore, asking them about things they'd like to see in your newsletter or suggestions regarding your product/service will not only provide you with helpful information, it will also make your contacts feel appreciated.
That way, your contacts will be interested and invested, making it more likely that they'll reply or hopefully make a sale. As soon as they see you care about their opinion, they'll be twice as likely to engage with you.
8. Warm up your cold emailing
What better way to keep your audience engaged than to find a way to speak directly to them?
Just because you automated sending, it doesn't mean you should write them as if you're speaking to a large group, disregarding their personalities and needs.
Skylead is bringing you a great way of designing your messages so they seem as if every single email was aimed directly at that particular person.
Wondering how to do that? We got you covered!
Use tags in a message and include details such as first and last name, occupation, years of experience, education, and other relevant data to add warmth to your cold emailing.
Use behavioral data to craft emails that resonate with your contacts and potential clients.
9. Create a highly enjoyable customer experience
It's worth repeating that impersonal ads, promotions, and sales pitches in emails make a lousy customer experience.
How can you do better, you ask?
Put yourself in the shoes of the receiver. Would you be annoyed or entertained by the content?
Our technology will instantly pause the automation if someone replies. This will give you space to decide whether it's okay to continue the sequence. If so, you can get a lead back to the campaign.
That's how we nurture sequences based on leads' actions and prevent them from sending unwanted emails if they state they are not interested.
10. Add an extra something
Show your subscribers you care about them by including an extra token of affection.
Try Skylead's awesome Image Personalization feature that will add some color to plain text, making them even more appealing to potential customers.
Choose between our funny, or even corpo visuals if you like, and include details such as the recipient's name, occupation, workplace and more, to make a cool addition to brightening their day.
You can choose from a variety of templates we've prepared for you or simply import some of your images, to really stand out from the crowd and multiply your response rate.
One way to grab the attention of your audience is to also congratulate them on holidays for New Year by including your logo and recipient's name to a cool, personalized card – what better way to nurture your relationship with clients than send them a cool e-card and wish them good luck.
Read more about our new Email Automation & Image Personalization features here.
And, of course, if any questions arise you can always count on us to chat it through.
Thank you for reading and stay tuned for more blogs.