LinkedIn filters for better prospecting: A step-by-step guide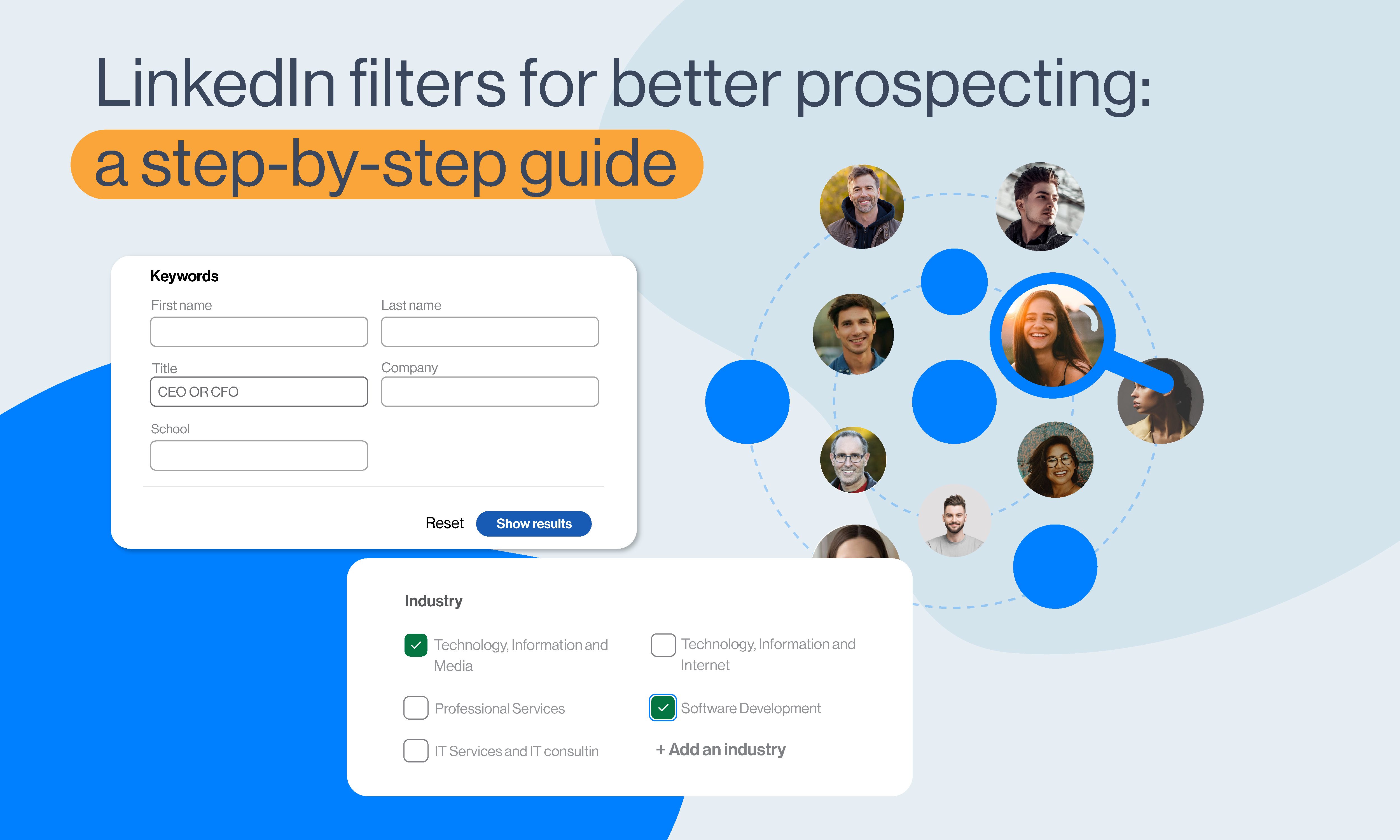 If you've ever wondered if switching from LinkedIn Basic to LinkedIn Premium Account would change your filtering options, the answer is no.
However, going for the LinkedIn Premium Account is highly recommended because of an Unlimited Profile Search and 5 InMails Credits per month. Not only. You also get to view and engage with a much greater number of profiles when having a Premium account, as you decrease the chances of getting jailed or restricted on LinkedIn.
However, if you want an ultimate filter experience, we recommend signing up for Sales Navigator. Of course, this implies learning how to use Sales Navigator Filters for better targeting.
In this blog, we will cover all the options you have for narrowing down your search results on LinkedIn Basic and Premium Accounts.
Let's get started!
Where can I see LinkedIn filters?
Type your keywords in your LinkedIn Search Engine or just hit "Enter" while leaving the Search Engine blank.
This action will lead you to the following choices that help you further narrow down your LinkedIn search.
People;
Jobs;
Courses;
Posts;
Schools;
Event;
Groups;
Companies;
Services.
You can also click the "All Filters" option and see them in one place.
In this blog, we will cover the three filter blocks that we recommend for better LinkedIn prospecting - "People", "Posts", and "Events", and reasons why we consider them quite convenient.
"People" filters on LinkedIn
Connections
The "Connections" filter allows you to filter leads based on the type of your LinkedIn relationships.
You can be somebody's 1st, 2nd, and 3rd-degree connection.
1st-degree connections are members that you are already connected with on LinkedIn.
2nd-degree connections are 1st-degree connections of your 1st-degree connections. They are available to be added through an Invite to Connect and are perfect for expanding your network.
3rd-degree connections are 1st-degree connections of your 2nd-degree connections. They are also excellent for expanding your network. The only difference is that LinkedIn doesn't recommend reaching out to them through Invite to Connect, rather getting in touch via LinkedIn InMails.

You can send paid InMails to anyone who is not your connection on LinkedIn while only those who set their profile to "Open to InMails" can be reached out via free InMail.

You can also check out our guide on 13 LinkedIn InMail examples to improve your response rate.
Connections of
Filter your leads by choosing only those that are 1st-degree connections of your 1st-degree connections.

You can put in more than one contact.
Locations
The "Locations" filter narrows down your leads based on the city, region, geographic area, and country.
Current company
Use this filter to narrow down leads based on the company they currently work at.
Past company
Filter your leads based on their past company.
School
You can filter your leads based on the school(s) they attended/are attending.
Industry
Track your leads based on the industry they listed on their profiles.
Industries are predefined.
Profile language
LinkedIn Profile is available in 24 different languages.
However, this filter offers only a 5-language search.
Open to
The "Open To" option filters your leads depending on whether they are open to "Pro Bono Consulting and Volunteering" and/or "Joining a Nonprofit Board".
Service categories
Service categories are also predefined.

You can go ahead and target your leads based on the services they offer listed on their profiles.
Keywords
You can use the following option to search your leads via keywords.
This filter supports the so-called "Boolean" search. That is, it gives you the option of combining keywords with modifiers such as AND, NOT, and OR to produce more relevant results. 
For ultimate targeting, consider using "Posts" and "Events" filters.
"Posts" filters on LinkedIn
"Posts" filters can be quite useful to gain insight into the latest industry trends and hot topics. You can also benefit from it to learn what kind of posts your ideal leads like to engage with and then use it for your outreach.
Targeting users who reacted to a certain post
There are two benefits of targeting users who reacted to a certain post.
The first benefit is that it implies that these users are active on Linkedin and most likely interested in that particular subject or have jobs in the same or adjacent industry.
The second benefit is that you can use their interest to ultimately personalize your outreach. Your pitch can be based on the fact that you both liked the same post and then develop your conversation from there.
This kind of approach increases the acceptance and response rates.
Automating post engagement campaigns
If you want to target prospects who reacted to a certain post but would also like to save time and reach out to as many of them as possible, automating this process could be the right decision!
Skylead offers the opportunity to automate targeting users who reacted to a certain post thanks to its "Post Engagement Campaign" options. Yes, there is a type of campaign dedicated exclusively to these types of leads!
To use a post as a source for generating leads all you have to do is click on the 3 dots at the top right corner of said post and choose the "Copy Link to Post" option.
Paste the generated URL to the Skylead dashboard.
From here, Skylead will take you to the Campaign Settings page. You will be able to adjust your campaign in a way that fits your business needs best.
Here is an example of a multichannel Skylead campaign.
As you may see, Skylead will not limit your Lead Generation to LinkedIn only. Thanks to its multichannel outreach and "if/then" condition, you are able to build as many possible paths to your lead.

For example, in case someone is not answering on LinkedIn, Skylead's Email discovery & verification feature will enable a business email outreach.

The above campaign is just one of many options at your disposal thanks to Skylead's Smart Sequences.
Also, the dashboard allows you to create the sequence and write out message copies all in one place.
Just by clicking on the step, you will have an option to insert your messages.
If you would like to see a step-by-step guide on how to create your first Skylead campaign and have an insight into all the steps/options, check out our blog "How to build your first campaign at Skylead".
Filters for posts
The following filters will allow you to narrow down countless posts on LinkedIn to the ones that are of high interest to your target audience.
Thanks to LinkedIn's filtering options, you will be able to find a post that your ideal prospects find relevant to their business and/or interests.
The most important filter is the keyword. It is your best bet for finding the industry's most relevant posts.
Then, you can further narrow them down by using:
Posted by
You can search posts depending on whether you posted it or someone from your network.
Date posted
You can search posts depending on the timeframe within which your leads posted them.
Sort by
Author industry
Search by the author's industry. You can add multiple industries.
Author company
Search by the author's current company. You can add multiple companies.
"Events" filter on LinkedIn
Just like with "Posts" filters on LinkedIn, reaching out to prospects attending a specific LinkedIn event can be beneficial for two reasons.

The first reason is that users attending a particular event on LinkedIn are most likely highly interested in the subject and therefore make a perfect target audience.
The second reason is that you can use the event reference to ultimately personalize your outreach and be more appealing to those to whom you reach out.
In case you would like to target a larger number of leads, Skylead has a solution for you!
Automate targeting leads attending a LinkedIn event
First, choose the event which leads you would like to target and click on "Attend Event".

You will not be able to see the list of leads attending the specific LinkedIn event unless you are one of the attendees.
Once you've signed up, you will see the list of people who attended or were planning on attending the event.
You can further narrow down your leads list by including other filters.
Once you are satisfied with your search result, copy - paste the URL to Skylead's Campaign Creator.
Check out our step-by-step guide on how to target leads attending a specific LinkedIn event and you will see all the options and tips when it comes to automating this outreach with Skylead. 
Use this reference to highly personalize your outreach.
This filter doesn't have options of being further narrowed down except using a specific keyword in the search engine.
Summary
Targeting is the first and most important step in your LinkedIn lead generation.

By taking the time to get to know LinkedIn or Sales Navigator filters, you will narrow down your audience to people who are most likely to be truly interested in your products and services. 
This will automatically affect your lead generation and conversion in the most positive way.
And if you ever decide to scale your business and opt for a Sales Engagement Tool, schedule a demo call with a Skylead representative and get to know the range of options available to you!