As a person who's responsible for your company's growth – you must be equipped with amazing tools that will help you reach your goals.
Your growth hacking won't be possible if you don't have the right tools for reaching massive goals in short periods or for scaling fast, and if you're not automating some of your tasks.
It seems that, since you're here looking for Zopto alternatives, that Zopto isn't satisfying your needs, or you're investigating other options.
We don't consider Zopto a bad tool. Actually, it's quite a good one, it just doesn't fit everyone's business.
Luckily, there are a lot of alternatives that can be a better fit than Zopto that will help you grow your company by shortening your time spent on tasks by automating them.
After reading this article, you'll have more options for choosing the best lead generation tool for your business, so you can achieve your goals faster.
In this article, we will cover 3 Zopto alternatives listed below, along with their advantages and shortcomings:
– Skylead
– Linked Helper
– Lead Connect
Here are the parameters we focused on while reviewing these tools:
Personalization level – how well it is designed for message personalization
UX/UI – how easy it is for using
Special features – what special features the tool possesses that other tools don't
Customer support – how effective and helpful it is
Price – what packages they offer, and whether the tool is overrated in the industry
Before we get into the analysis of these alternatives, let's take a look at Zopto's advantages and shortcomings.
Zopto
Zopto is a cloud-based automation tool for lead generation that helps startups and other small and medium companies automate their LinkedIn lead generation processes and generate more sales.
Zopto's advantages
It's specified search is good for finding potential leads using a filter such as location, industry, company, number of followers, the specific role, etc.
Automated features like connection invites, profile view generator, messages, and InMail sequences are the ones that make Zopto useful and well-known in the LinkedIn lead generation world.
It's simple to use – its intuitive user-friendly interface is easy for use, even if you're a beginner. It's easy to learn how to work in it, so you can never get lost.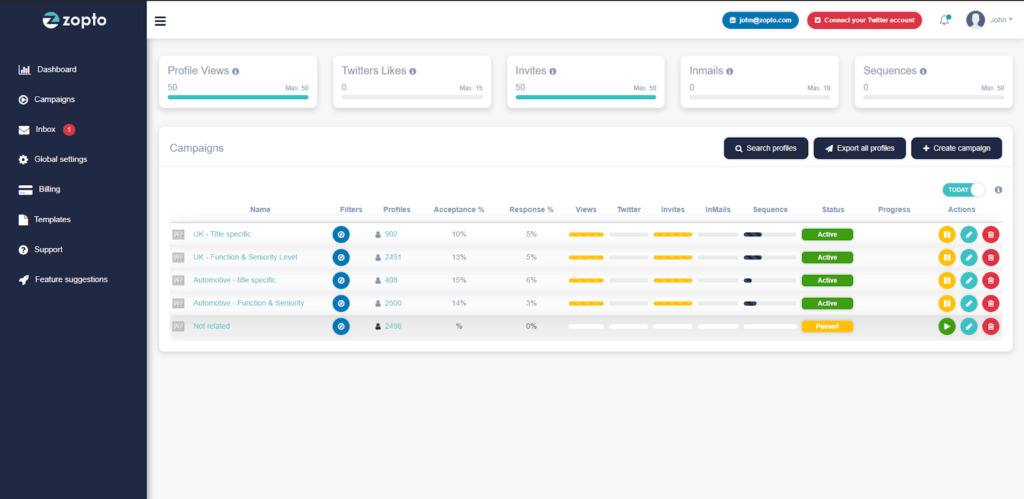 InMail templates – Its InMail templates option helps you in personalizing messages for your ideal customers and it runs on autopilot. When you're not inspired to write the messages yourself, you can simply use one of Zopto's templates
A/B testing – one of Zopto's special features that helps you decide which campaign is better in order to get hot leads. With it's A/B testing you can directly compare campaigns and continue with the ones that bring you better results.
By using Zapier, you can integrate your CRM and other channels with Zopto.
Zopto's shortcomings
No trial option – It does not offer a free trial, only the paid one, and that could be a problem for new users. They would probably want to try the tool before they decide to pay for it.
For now, there is a demo call instead of a free trial, so it's up to users to decide whether they'll use Zopto or not during that call.
No scraping options – a lot of LinkedIn users like tools that have scraping options. With Zopto, you can only interact with the users you got via filtering in LinkedIn Premium or Sales Navigator.
It's a little bit expensive – In comparison with other tools with similar functions, Zopto's monthly paid packages are a bit expensive. Here is its pricing list on a monthly base:
Things are a bit better with it's quarterly based packages: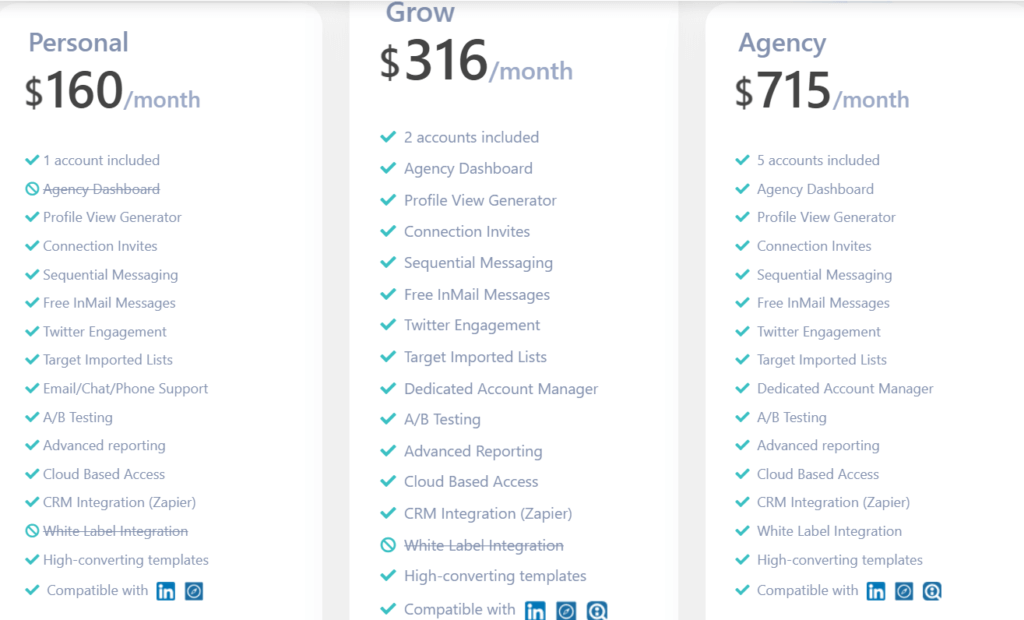 Zopto's ratings
For a better understanding of our comparisons we've prepared a scoreboard for every tool: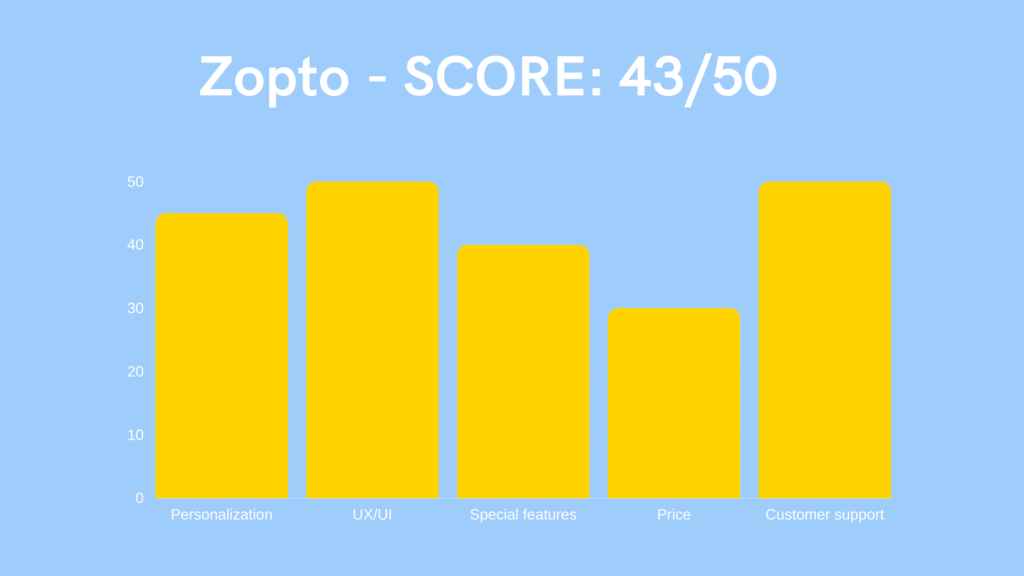 In case you're not satisfied with Zopto, or you're thinking about other options, then maybe some of these Zopto alternatives will be fit for you and your business.
With all of this in mind, we'll discuss 3 best Zopto alternatives that will help you automate your LinkedIn processes and grow your lead generation activities and sales.
Just a little sidenote: Skylead, one of the Zopto alternatives, is our tool. What we'll try is to review some of the tools of our competitors and our own objectively and without taking sides.
We'll show the advantages and shortcomings of Skylead honestly, as well as those of other tools.
Skylead
Skylead is a cloud-based LinkedIn lead generation and outreach tool for generating new leads that can save you up to 6 hours a day by putting tasks on autopilot.
There are a lot of useful things on Skylead, but we'll cover the most important ones.
Skylead's advantages
Advanced personalization – With Skylead's features, you can customize messages on a whole new level by implementing variables for better personalization. Using its personalization feature will increase your response rate significantly.
Lots of ways to generate leads – next to filtering your ideal prospects using Skylead's targeting options, you can import your own .csv file, and scrape LinkedIn post engagements. There is also the option to use the Sales Navigator Leads list.
Easy to use – with the easy flow of Skylead, you can create a campaign in a few minutes and manage every campaign straight from there. We always hear from our clients that it has the cleanest UI of all the automation tools that they worked with.
Smart Inbox feature – Using its smart inbox feature, you can group messages by the campaign so they're easier for you to handle. Also, you can reply to your messages straight from Skylead, without the need to visit LinkedIn, and you can also leave notes next to the conversation.
Skylead's shortcomings
No free trial – In the first version of our tool, we don't have a free trial, only a demo call. While some potential clients maybe didn't like it at first, we did it because it was easier for them if we got them through the tool for their better understanding.
In our defense, our demo call is free, and after our users got through it they approved of our decision to use the short demo calls instead of a free trial.
Skylead's pricing
Maybe you're thinking that we presented a lot of advantages in order to justify the expensive price.
But no, all these features of our tool can be used by paying our Full package, which is now not $200 as usual. Check out the new pricing offer below: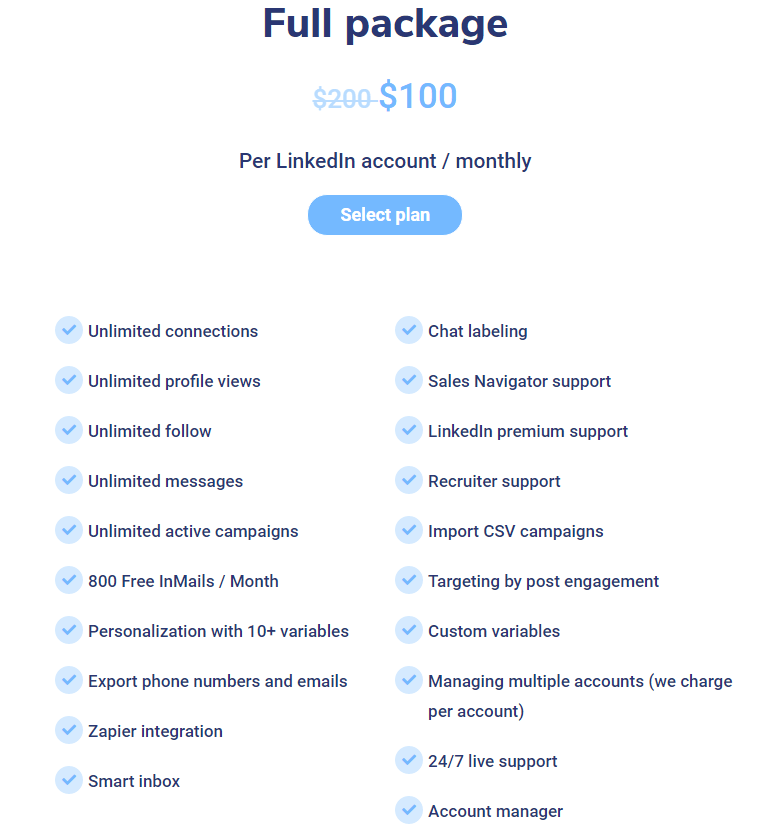 Skylead's ratings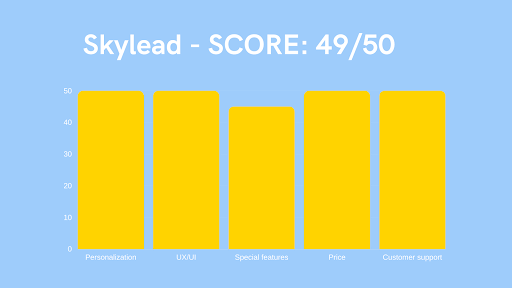 Linked Helper
Linked Helper is a popular LinkedIn tool for automating your lead generation processes and outreach.
This Zopto alternative is one of the extensions used by a lot of LinkedIn users.
Linked Helper advantages
Easy to use – Even if it doesn't have a particularly beautiful user interface, it's user experience is quite simple. You can set all your campaigns on a single page and let it all work on autopilot.
Group messaging – With Linked Helper, you can send personalized messages to members from any group you're in. This feature can be really useful when you're generating new leads from a group full of potential customers.
Companies extractor – If you need information about any company from LinkedIn, you can get it through Linked Helper. Just target them via regular search or Sales Navigator, and your .csv file with information will soon be ready.
Linked Helper shortcomings
Risk of getting banned – LinkedIn started to ban the users of some extensions, including Linked Helper, and they removed it from the Chrome Webstore.
It can be a little spammy – If you're not controlling your automation, this tool can send thousands of connection requests and messages, which LinkedIn detects as spam.
Even though it's a popular tool, at the same time, it's risky if you don't use it appropriately.
Linked Helper's pricing
When it comes to Linked Helper's pricing, you're paying your package not per LinkedIn account, but per number of browsers. Take a look.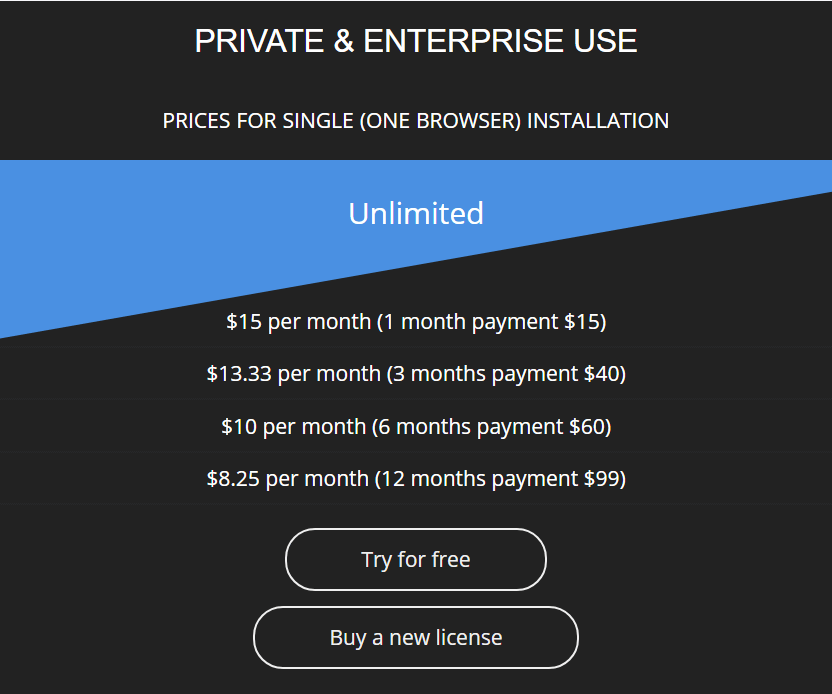 Linked Helper's ratings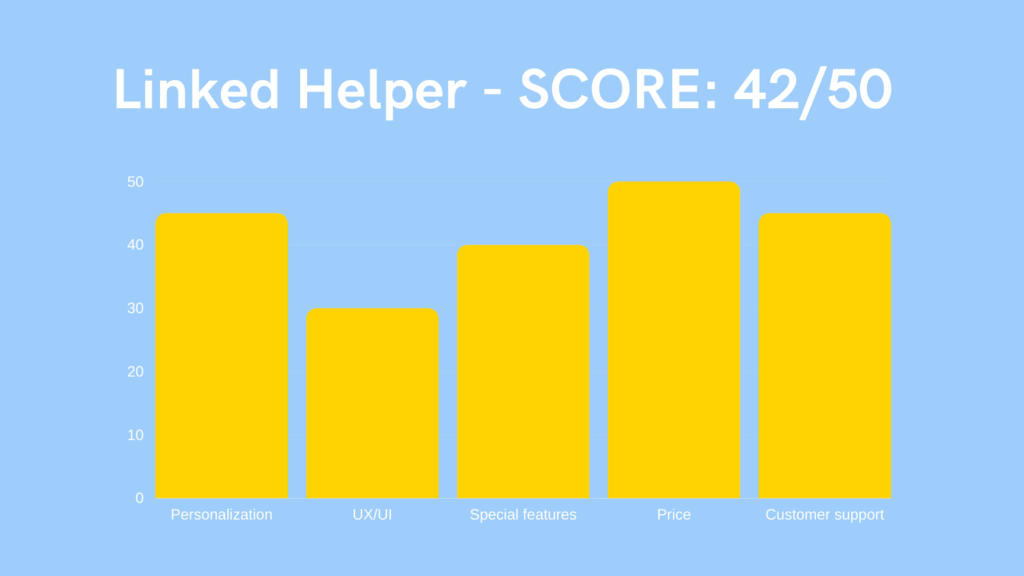 Lead Connect
Lead Connect is a LinkedIn outreach automation tool for lowering your efforts in reaching new clients.
This Zopto alternative is designed for sending multiple personalized follow-ups in order to increase your acceptance, response, and conversion rate.
Lead Connect advantages
Reply detection – There are some of the tools whose sequences work no matter what. Some of them can't detect replies and they break off the follow-ups so the user can get confused. With Lead Connect your follow-ups will stop after you get a reply in order to personalize your answer.
Free trial version – Before you try some of the paid versions of Lead Connect, you can test it and see if it fits your business goals.
Message templates – When you're not in the mood to create specific messages for your outreach campaigns, there are Lead Connect's templates to cover for you. You can use any of those templates depending on the package and modify them for your purpose.
Find business emails – With this Zopto alternative, you're able to find the emails of other businesses by integrating it with email finder tools like Findthatlead, Hunter.io, anymailfinder, etc.
Lead Connect shortcomings
Limited service – For the paid packages, users should get the number of messages and connection requests defined in advance for each package, but that's not always the case. Its users can become unsatisfied when Lead Connect breaks off unfinished campaigns for that day, which could be annoying sometimes.
Lead Connect's pricing

Lead Connect's ratings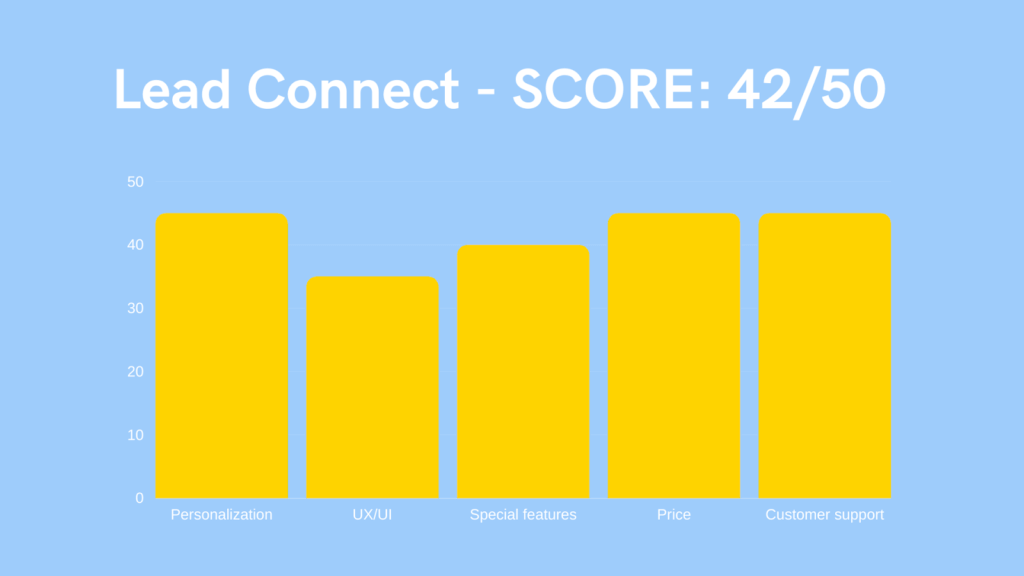 Zopto alternatives comparison table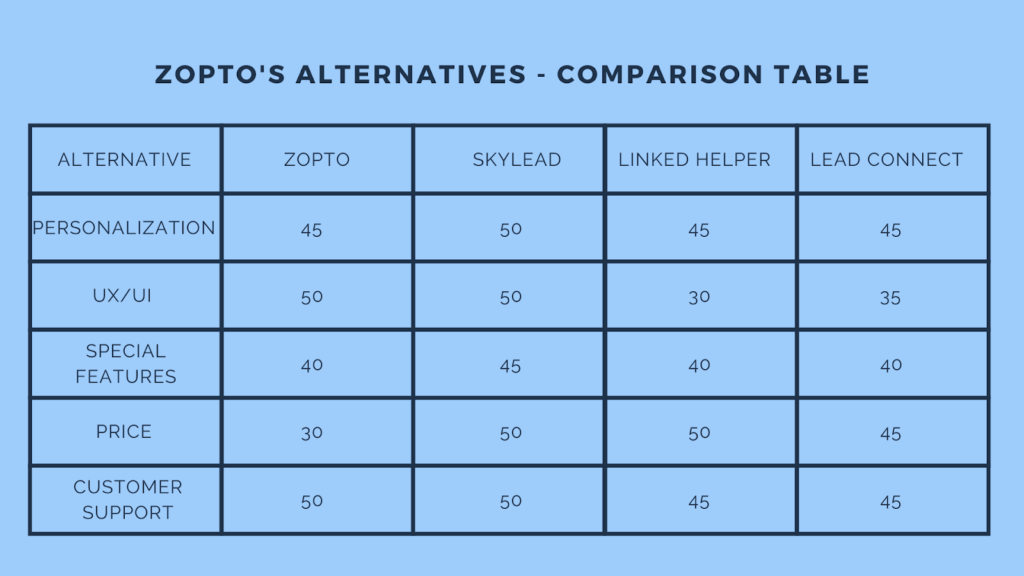 What's the Best Zopto Alternative for You?
If you're looking for a Zopto alternative, we hope that this in-depth review helped you explore some of your options in order to choose the better solution for your business.
Also, you can see the ratings based on 5 factors, and define what kind of tool you're looking for.
Looking at the advantages and shortcomings of each tool can help you decide which one you're gonna try, depending on what you're looking for from the tool.
If you're looking for an efficient outreach tool with a great user interface that will shorten up your time spent on creating campaigns and increase your number of leads on autopilot, then we suggest using Skylead.
Its advanced personalization will significantly improve your acceptance, replies, and conversion rate, and you can schedule your demo call right now and see if it fits you.
We've Tried 3 Best Zopto Alternatives, Here's Our Feedback