No matter if your company is B2B, B2C, or any other type, LinkedIn is a great platform for generating new leads and growing your business.
As you're probably aware, investing resources into LinkedIn automation tools can bring you a lot of benefits.
From saving time by simplifying manual processes to increasing conversions, automating LinkedIn using the right tools will make your business grow faster.
Since we tested several Dux-Soup alternatives, and we got a lot of insights using to share, we will help you decide which one is best for you by giving you our in-depth feedback.
In this article, we're going to explore 3 best Dux-Soup alternatives, their uses, what features they offer, and how to use them.
You'll probably find that almost every tool could fit nicely with your marketing and sales strategy, so it's up to you to decide which one could serve you best.
We'll cover the following tools:
– Dux-Soup
– Skylead
– PhantomBuster
– TexAu
Dux-Soup
Dux-Soup is a Google Chrome extension based on A.I. that helps you find your prospects and generate new leads.
With Dux-Soup it's easier to engage with prospects and automate particular processes to get more conversions.
Dux-Soup Features
The most useful features of Dux-Soup that you have access to are the following:

– Searching for new prospects
– Auto-viewing prospect profiles
– Auto-connecting with prospects
– Endorsing connections
– Automating personalized messages
– Follow-up messages
– Automating InMail messages
– Receiving your LinkedIn messages in Hubspot or Zapier
Using this tool will allow you to integrate it with Hubspot, Zapier, Mailchimp, and many other apps for improving your LinkedIn marketing efforts.
How to use Dux-Soup
Before you get started with specific actions, you have to plan and set up your campaigns.
In order to set up your campaign, you have to prepare specific actions that you want to apply.

With only a few clicks in the Actions dashboard, your campaign will be ready for launching.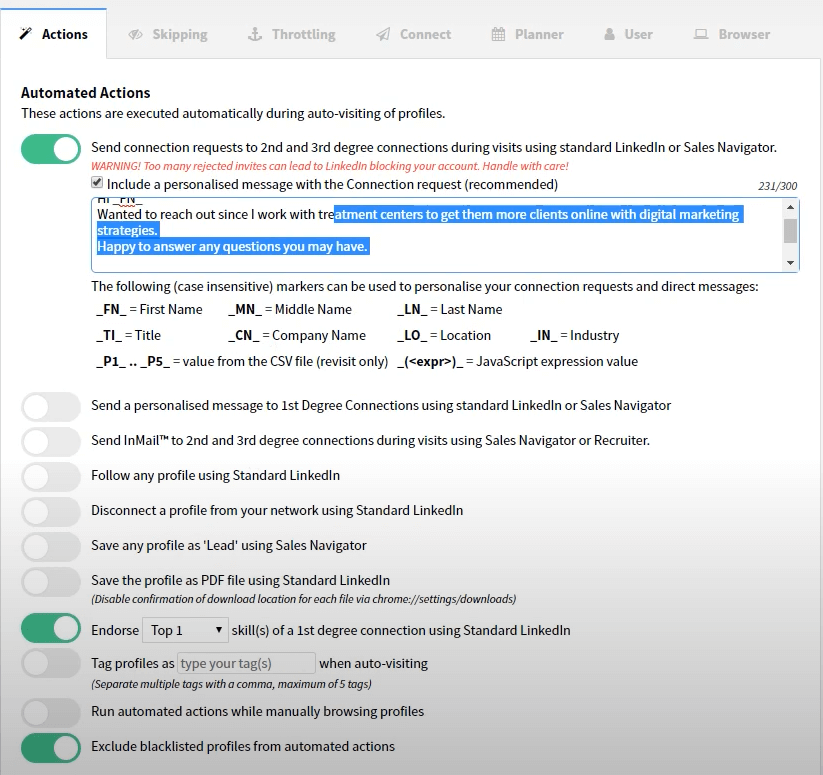 Whether you wish to send personalized messages to your connections, endorse their skills, or save profiles as "Leads" using the Sales Navigator, you can specify that in your campaign.
Dux-Soup's interface is simple and it's a tool easy to work with.
In case you want to exclude the profiles of users who are non-premium subscribers or those who are not job seekers or filter out users using any of the criteria in the picture below, you can do it in the Skipping tab.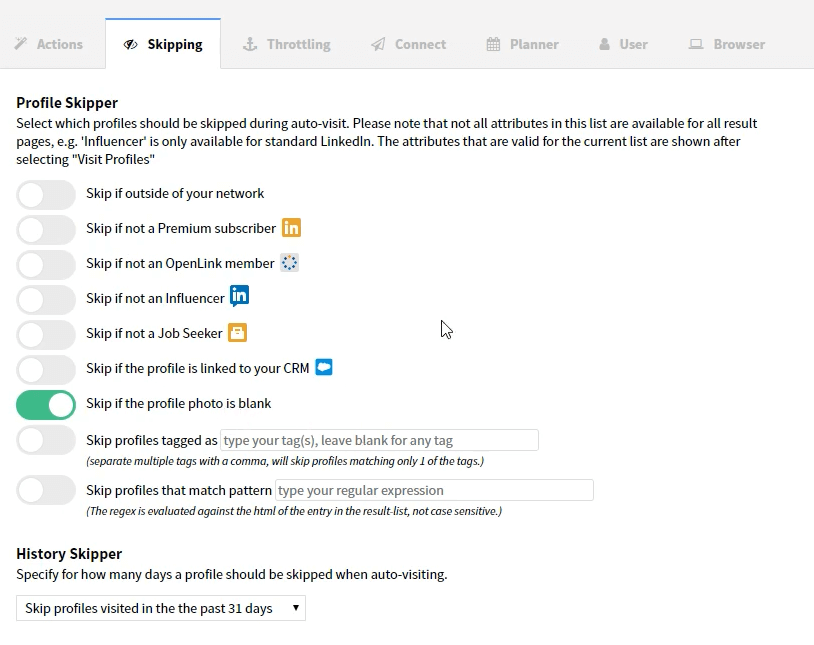 Keep in mind you have to set up the daily number of profile visits, connection requests, and other actions to stay within normal limits and not get banned. Throttling is a tab for those actions.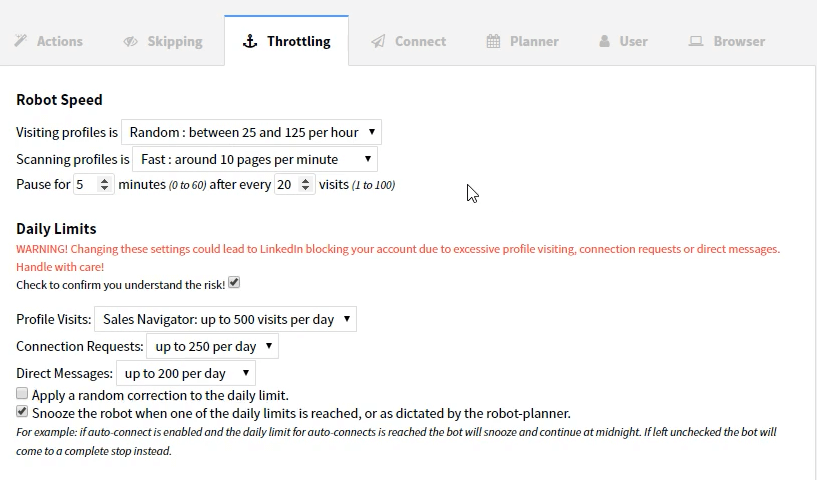 After you're done with your setup, the next step is to find who you wish to outreach and add them to your Dux-Soup records.
When you collect your records, choose which actions you want to apply to engage with other users.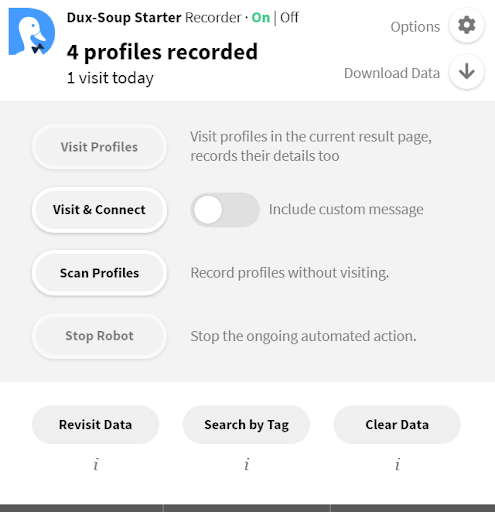 You can save the recorded data of the profiles in your campaign, and use it later for your future actions.


Pricing
Dux-Soup offers a free plan for new users, but also the Professional and Turbo plan for paying users.
For annual payment, the price list is the one below:





If you're testing, and you're not prepared to pay the full-year price, these are the monthly ones:

Skylead
Skylead is a LinkedIn outreach and lead generation tool that saves up to 30 hours a week while generating 10 times more leads for your business.
When using Skylead as one of the Dux-Soup alternatives, it's easy to filter prospects with its advanced targeting options.
It's safe for using and a great solution for agencies, companies, or individuals who manage more than one account.
With Skylead you are able to check all your LinkedIn conversations without leaving the app and you can sort all your messages per campaign.
Skylead Features
Skylead's features are focused on scaling your outreach strategy and increasing your conversions. Those features are:

– Automating multiple actions through sequences
– The outreach of any post engages
– Personalized messages
– Auto-following, viewing or connecting options
– In-mail messages
– SmartChat, for easier message organizing by campaign
How to Use Skylead
You can manage many LinkedIn accounts after you create your Skylead account.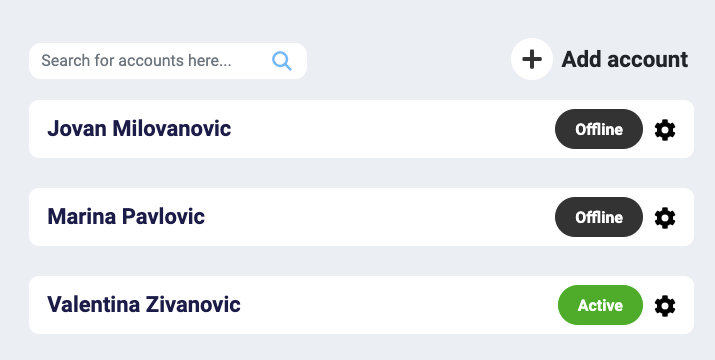 It takes only a few clicks for you to set up your whole campaign, connect with your leads, engage with them, and call them to action.
One of Skylead's best options is that you can add multiple steps in the campaign and create automated sequences that will do all the necessary work instead of you doing it manually.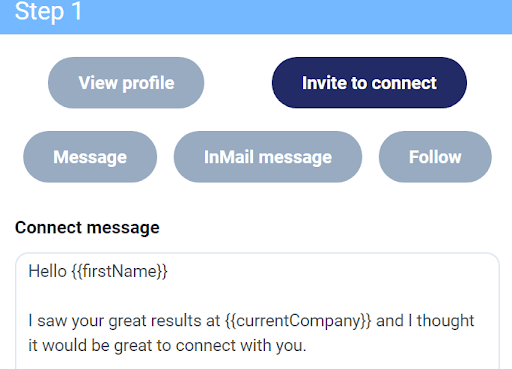 In case you want to view someone's profile, send them a connection request, and also message the users that have accepted your request, you can do it all in a single campaign.
Just set up the details of every single action and launch it.
For example, if your first step was a connection request, the logical move would be to send a warm message to every single new connection.
Just use the Add additional step option and easily add another action into the campaign to automate everything.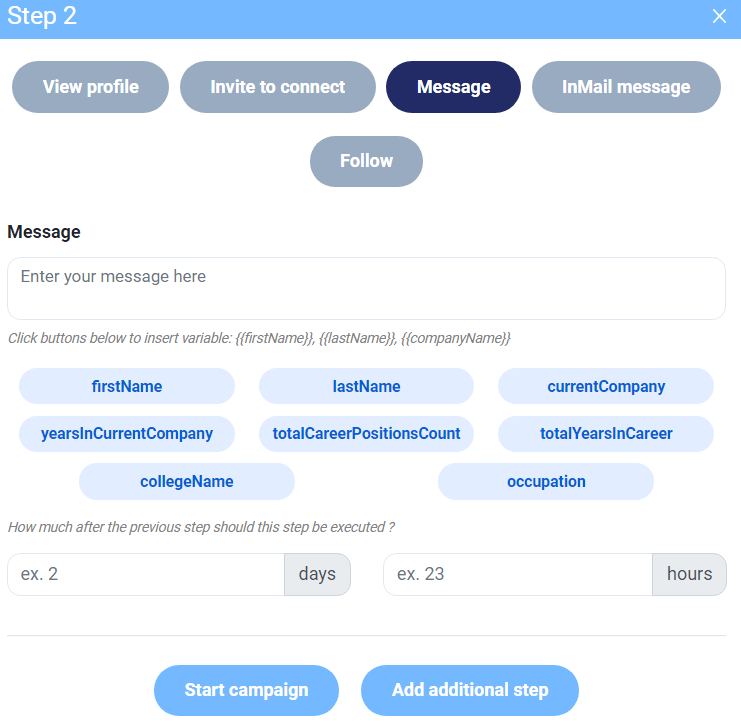 With Skylead's sequence methods, it's easier to build a relationship with your prospects, so you can later convert them more successfully.
You can also include InMail messages and use Skylead's variables to make it more personalized.
Skylead's intuitive interface is easy to work with, so you don't have to spend time trying to find the options that you may need.
Running and tracking campaigns using Skylead is a simple process and you can monitor your campaigns to see what brings the best results to your business.


Pricing
There is only a full package option and it costs only $100 on a monthly level.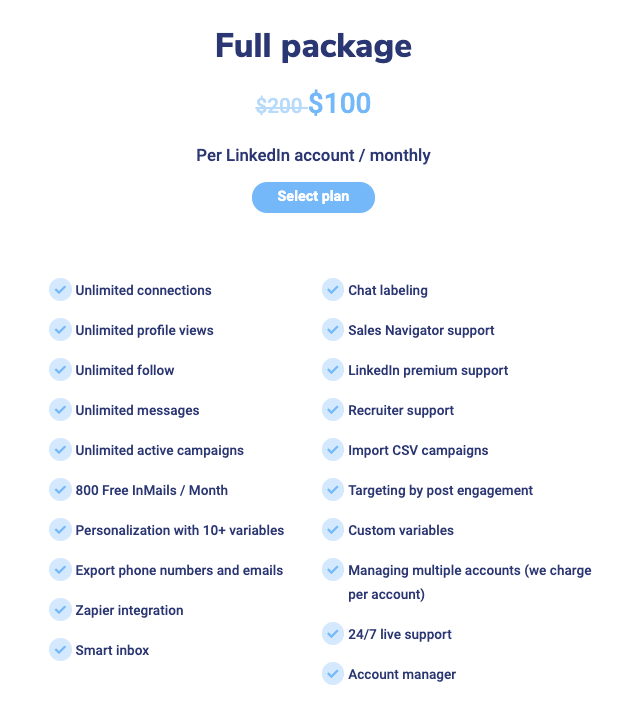 PhantomBuster
PhantomBuster is one of the Dux-Soup alternatives designed for simplifying marketing processes, scraping data, and generating leads.
Its numerous automation features allow users to apply many different actions on social media platforms including LinkedIn.
PhantomBuster is a great tool that lets you automate almost every specific action on LinkedIn, and there are 29 different activities covered.
Those specific PhantomBuster actions are called Phantoms.
PhantomBuster Features
Some of the Phantoms are:

– LinkedIn Network booster for automating new connections
– LinkedIn profile scraper
– LinkedIn companies info scraper
– Auto comments
– Auto-like and auto-post
– Inbox scraper
and many more.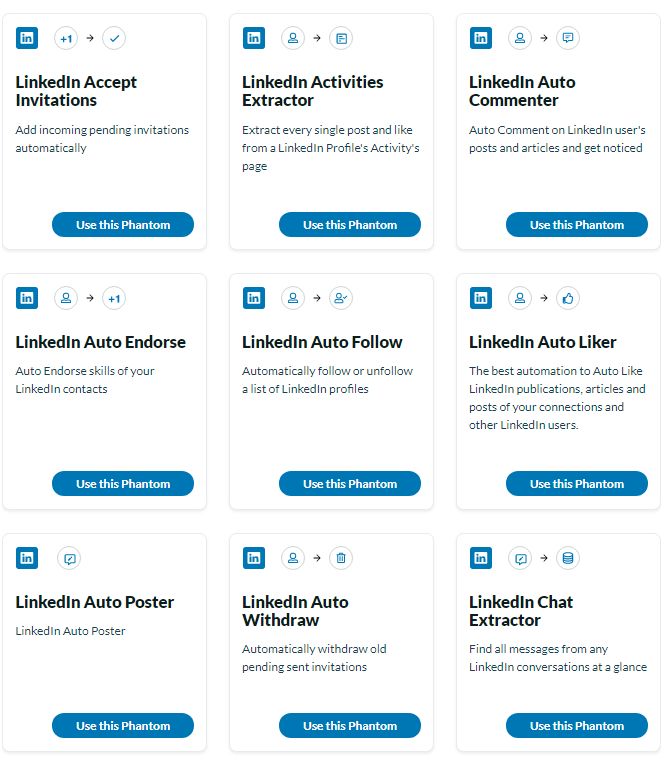 All these specific Phantoms used together can bring your business a lot of benefits and save you a lot of time.
How to Use PhantomBuster
After you install the PhantomBuster Chrome extension, you can choose which Phantom you want to activate for your campaign.
Whether you wish to scrape the data from individual profiles, another company's information it's all possible with PhantomBuster.
But before you do that, you have to connect your LinkedIn account with PhantomBuster by clicking on Connect to LinkedIn.
The other Input information depends on the Phantom that you previously chose. For example, if you want to scrape information about members of a LinkedIn group, your Input tab will look like this: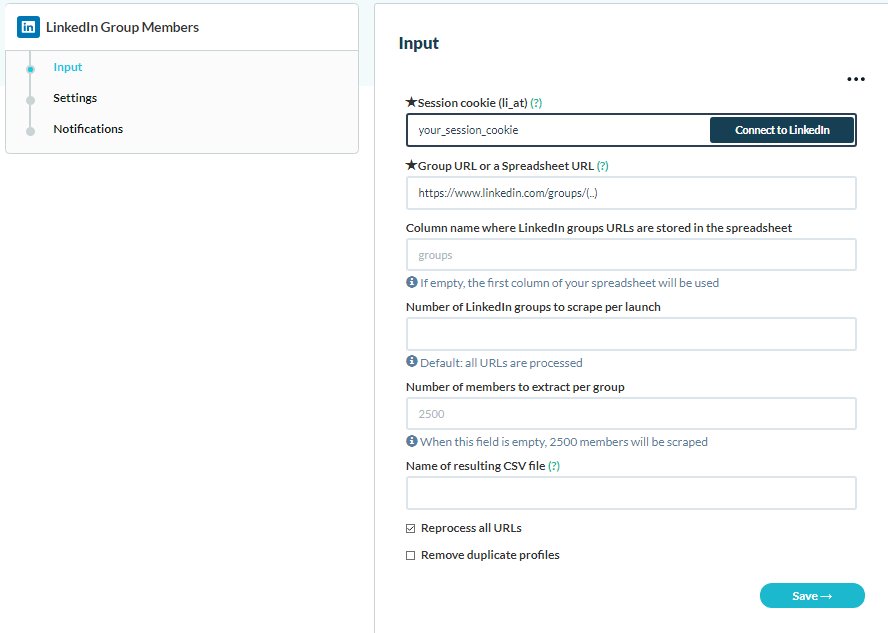 After you set up all the information required for your campaign, you can move on to the next step.
In order to scrape data from several groups, you have to upload the spreadsheet which contains all those LinkedIn group's links.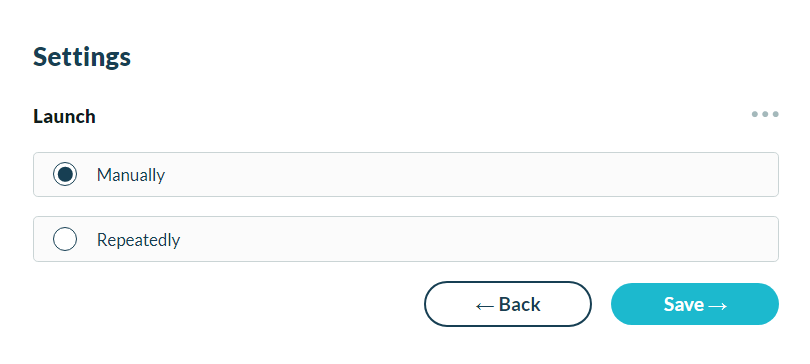 In the Settings tab, choose if you want to launch a campaign manually or automate it.
Also, you can choose to receive notifications about campaign updates according to case types.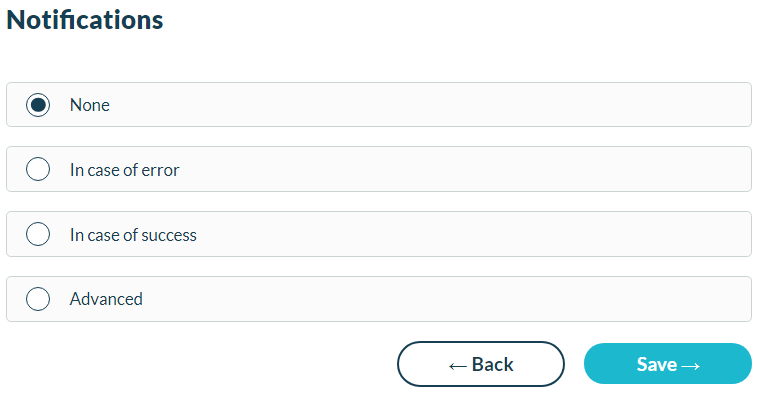 When the process of scraping data is done, and it takes only a few minutes, you can save the gathered information as a CSV or .json file and use it for outreach later.
These PhantomBuster's functions can save a lot of your time by automating many processes and letting you redirect your efforts to building relationships.
Pricing
PhantomBuster offers a lifetime free account for using one phantom only 10 minutes a day.
Also, there are 4 more paying offers included:



PhantomBuster features enable you to simplify and automate many processes, increase your effectiveness and sales conversions.
TexAu
TexAu is one of Dux-Soup's alternatives for generating leads by automating many processes and engaging prospects quickly and effortlessly.
Whether your leads left a comment on a post, work for a specific company you're interested in, or you just found them by searching, using TexAu makes it easy to connect and engage with them.
With TexAu's sequence workflows you can combine multiple different actions in your every campaign.
TexAu Features
TaxAu offers 33 types of actions for LinkedIn users, such as:

– LinkedIn job details scraper
– Finding emails using LinkedIn profiles
– Extracting group members and information about companies
– Extracting the activities of LinkedIn users
– Auto-liking, commenting and following options
and many other company and content extractions.
How to Use TexAu
First, install the TexAu Cookie Extension which is used for creating campaigns.
Before you launch a campaign, you need to create or choose TexAu's recipe which you want to use.
TexAu recipes are fully designed procedures that implemented in campaigns, whether it's data scraping, connecting or a number of options combined.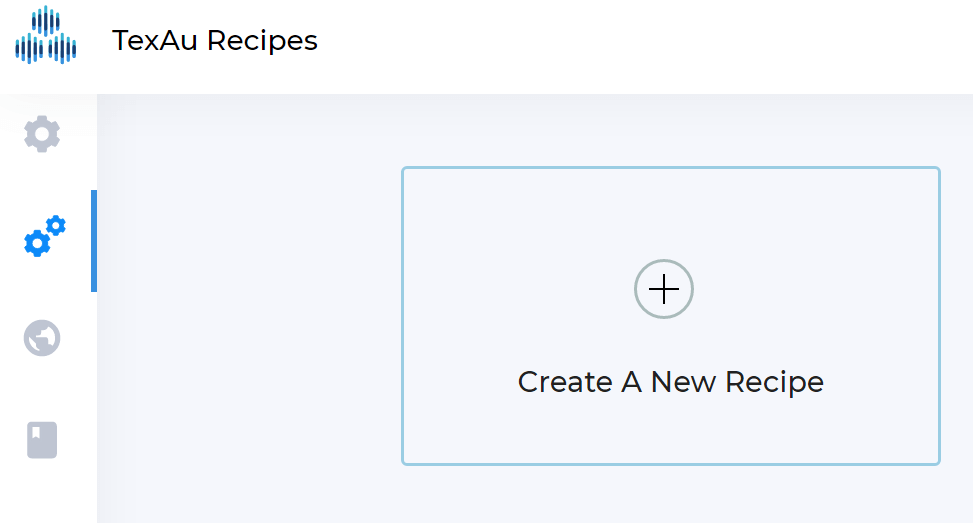 To define your own recipes, you need to select which platform you want to create a recipe for, and also which spice you want to use in it.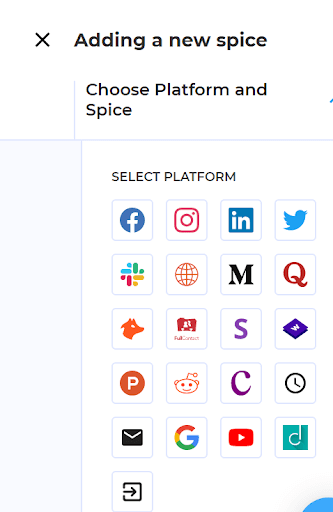 Spices are specific actions that you want to include in your recipe. Among the numerous options, there is, for example, the group members scraping.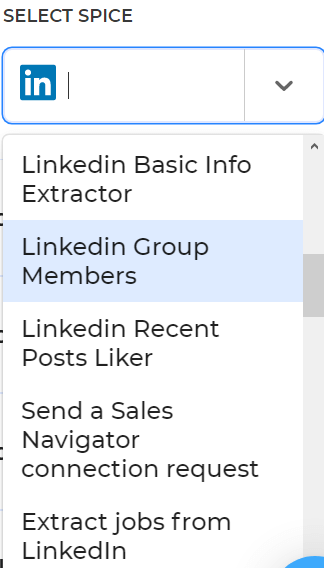 There are public recipes created by other users available for use as well.
The next thing you have to do is fill the Add inputs tab. Depending on the recipe that you've created or chosen, the fields will vary.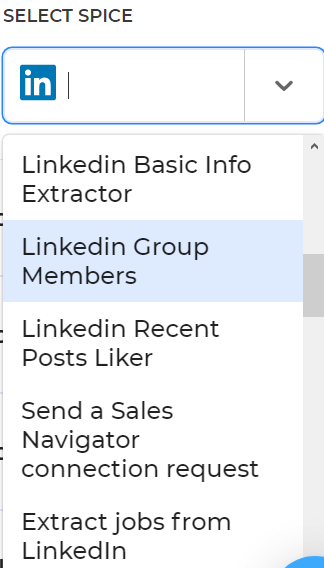 If you haven't previously installed the TexAu Extension you can do it by clicking Get Cookie Extension.
When on LinkedIn, click on the TexAu Extension in the upper right corner and paste the cookie code into the Inputs tab.
After you fill all the fields, you can turn on filters if you need them. If not, just launch your campaign.
When your campaign is done, you'll be able to analyze its results. You can also download those results as a CSV file.





TexAu allows integrations with Google Sheets, Lemlist, and many other apps, which can simplify some of your processes.
Pricing
TexAu has a free account for newbies along with different paid upgrades:



Summary
Skylead, PhantomBuster, and TexAu are the three best Dux-Soup alternatives that could work for your business, and using them will help you receive excellent results on LinkedIn.
If this is the first time for you to hear about these tools, we hope this article helped you understand them.
However, if you're confused about which tool will be the best for you, we suggest writing down what features you need for your business.
After that, compare your requirements to the offerings of these tools and it should be easy to choose between them.
In case you chose Skylead, start using it now for a lower price and get your business to level up.
We Tried 3 Best Dux-Soup Alternatives – Here's Our In-depth Feedback