Did you know that LinkedIn's lead conversion rates are 3x higher than those of on any other major ad platform?
That information only makes LinkedIn one of the greatest platforms for generating tons of new leads that convert successfully.
The best part is that you can reach a bunch of people belonging to your target audience without paying any ads.
All you need to do is to make something valuable for them and distribute quality content consistently.
It doesn't matter if you're targeting Santa Claus or CEOs – LinkedIn knows about all of them.
If you're having problems with generating high-quality leads, then this complete LinkedIn lead generation guide is for you.
We'll give you a complete step by step guide to the process that will make your LinkedIn lead generation explode just after implementing these actions.
In this article, we're going to present:
– Why is LinkedIn great for lead generation
– 3 best LinkedIn lead generation strategies for
– Improving your conversion rates by having a unique LinkedIn Profile
– Content Distribution Post Format for 100.000+ views
– Building a relationship with your potential leads through LinkedIn outreach


Why is LinkedIn a great for lead generation?
Lead generation is undoubtedly one of the key aspects of any online or offline business.
With nearly 800 million monthly active users, LinkedIn is the goldmine for lead generation.
Are you spending a lot of time doing an unsuccessful LinkedIn lead generation?
You're recording a bunch of videos and posting a lot of content with no results?
Let me say that I've been there as well.
But don't worry, We're here to help you!
Posts with poor reach and results will be your past!
It's time to prosper!
Do you have your own LinkedIn lead generation strategy?
If your answer to that question is no, We will give you a strong reason why you should create one immediately.
According to Forbes, LinkedIn is the no.1 social media platform for generating new business leads.
You can see the advantage that LinkedIn has over other social media platforms in the picture below.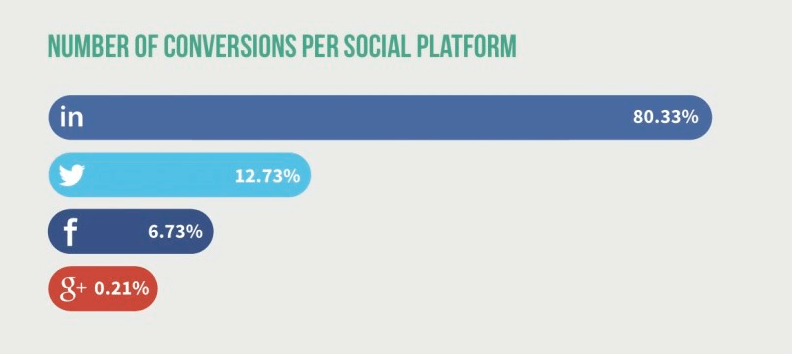 Yes – it possesses great potential.
According to the previous Forbes research, while everyone is trying to catch leads on Instagram or Facebook, over 80% of generated leads are actually coming from LinkedIn.
But despite LinkedIn's tremendous potential for generating tons of leads, many businesses don't seem to be making good use of it.
People spend months or years posting on different social media platforms almost every day and trying to connect with others.
The final result?
They are converting a miserable number of leads.
The reason behind such an outcome is a poor strategy.
With LinkedIn's focus on business people, it's one of the most effective platforms for gaining the attention of other companies.
Using the right lead generation strategies can get your conversions to improve significantly.

Are you ready to find out 3 best LinkedIn lead generation strategies?


3 best LinkedIn lead generation strategies for conversion improvement
The strategies we will look into will improve your business and make it stand out, while your conversions will be more successful in every aspect.


Improve your conversion rate by having a unique LinkedIn Profile
Before you start with any distribution of content or your LinkedIn lead generation to work, you must improve your LinkedIn profile and optimize it for conversions.
By fully optimizing your profile, it will stand out from other profiles and will attract more people to visit it.
More visits will result in a lot more connection requests and engagements as well.
People will be more likely to send you a connection request if they like your profile.
On the other hand, they will also accept your requests more frequently.
Your success in generating new leads, acquiring new users, and even selling will be increased significantly.
By setting up your profile properly, you can improve the conversion rate.
Let's take a look at the ways to do this.


The eye-catching profile photo will engage with your leads
Your profile picture is the first thing that people see when they search for someone, or when they visit someone's profile. It's the first step towards successful LinkedIn lead generation.
It can also affect the amount of time visitors will spend on your profile.
To show you how this works in practice, let me give you a quick test.
See which profile picture catches your attention first when looking at the photo below.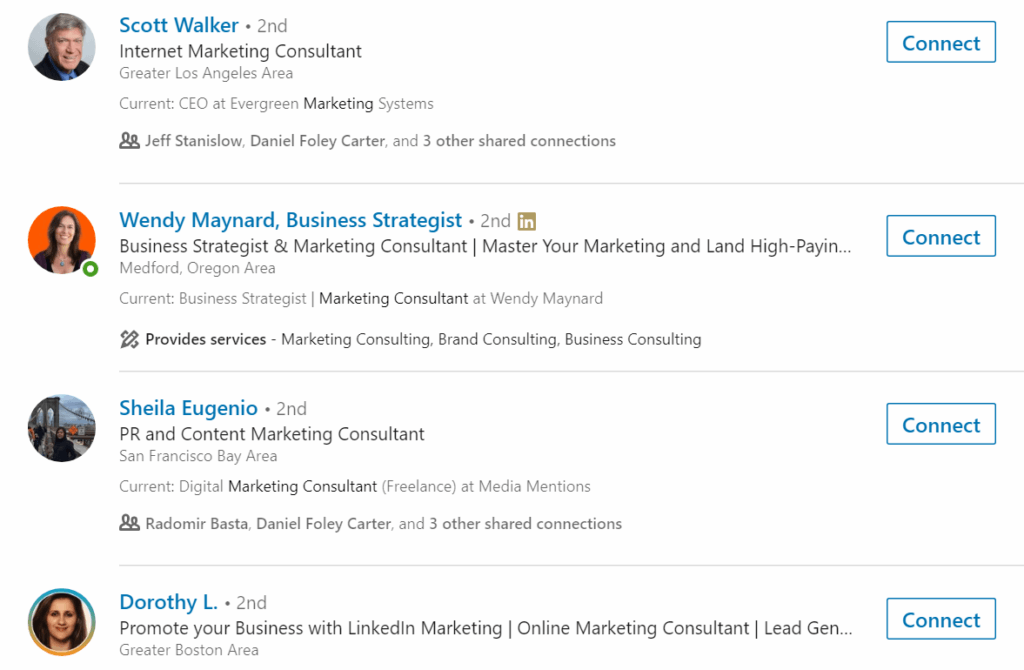 Our guess would be that your answer is the lady with the orange background.
The reason why she got your attention is that she implemented some easy steps which more than 80% of LinkedIn users don't.
Here's what you should avoid when choosing your profile picture:
– Using someone else's photos
– Low-quality images
– Animations
– Using images with confusing backgrounds
– Pictures of faces expressing negative emotions
What you should do instead:
– Use high-resolution images
– Consider having a one-color background – preferably dark to point out your face, or a bright one to attract attention
– Use pictures with smiling, happy faces – people love it
– Make your photo unique
Let's take a look at one useful example that could inspire you to choose a unique picture for yourself and improve your profile: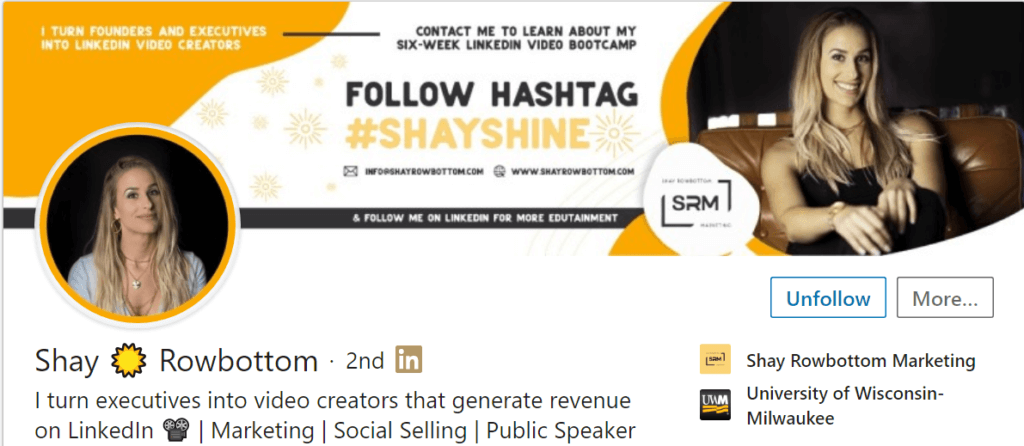 The reason I like Shay's profile picture is that:
– She looks cheerful in it
– The focus is on her face because of the black background
– Her photo is professional and in high resolution
– Even the yellow frame looks interesting and attracts clicks
After we've chosen a remarkable profile photo, the next step is to make your cover photo equally effective.


Make a converting cover photo
The cover photo should be saying a little bit more about you (where you work, what you're doing), and it should serve as an invitation for your visitors to cooperate with you.
If you make it look good, it'll work in your favor.
Take a look at Scott's cover photo as an example: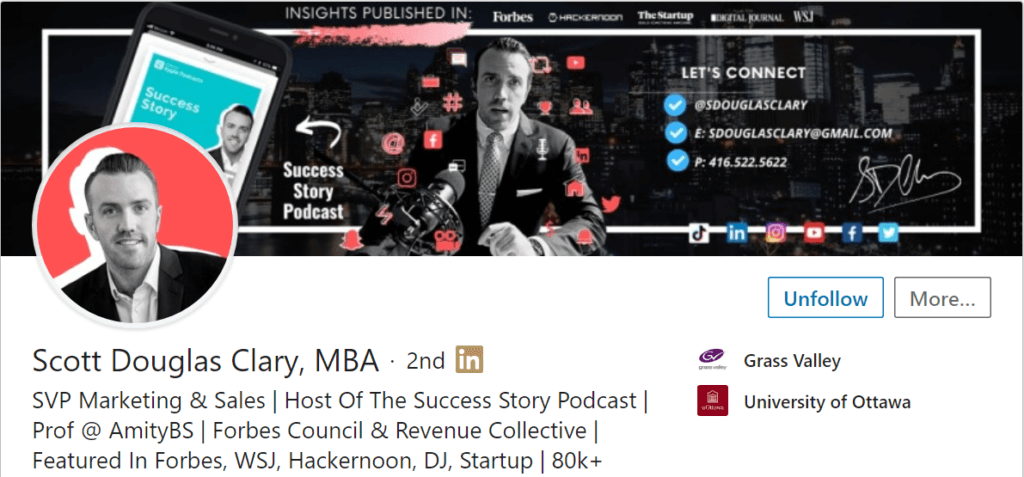 As you can see, this great cover includes social proof of his publishments, it features Scott's Success Story Podcast, and it invites you to connect with him.
Here are the things you should pay attention to:
– Use your cover photo to introduce basic info about yourself
– How you can help visitors by putting CTA
– Including social proof of your work


Make your Headline memorable
The headline is the segment of a LinkedIn account that almost everyone uses only to list their position and their current company's name, which is a mistake.
Even if it's your profile, not everything should be about you.
People don't come to your profile because of you, but because of their own needs. That's why you should make it about them.
Let them know you are offering exactly what they need.
Don't just describe what you do, let them know what benefit they could get by connecting with you.
Also, make use of those keywords that others might type into the search box when looking for your services.
Let me show you one great example of a perfect headline: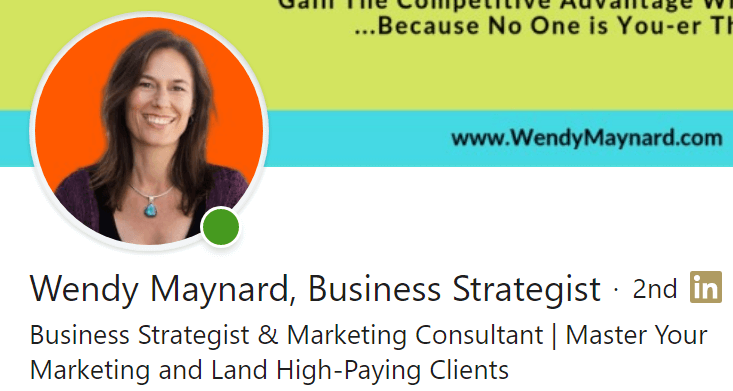 Wendy's introduction didn't end with naming her position.
Instead, she gave you a good reason to stay and connect because there's something for you in it: you could master your marketing and learn how to get high-paying clients


Write a summary that creates a connection with visitors
Depending on the goal of your profile, your LinkedIn summary should include a description of:
– What your expertise and mission are
– Who you work with
– How you can help visitors reach their goals
– How much experience you have
– What your skills are
When your profile reaches the top 5% of professionally-looking profiles, it's time to create some super valuable content for the audience.


Content Distribution Post Format for 100.000+ views
In a nutshell – this LinkedIn lead generation strategy will help you to become influential in your market and get tons of leads through your posts.
The best hook for any business is offering valuable content to your visitors, especially when you have social proof of its actionable results.
By offering a lot of valuable content, you're earning people's trust and building the image of an expert in your field.
You could also try to be proactively engaged with many clients which will generate new leads and increase the success of your campaigns.
But how could you bring value to someone?
Try offering them actionable steps to implement in their business.
Those steps should relate to your experience in improving your own or someone else's business.
You could share stories about the tools and strategies you used to get to incredible results and let your post go viral.
Here's the perfect example: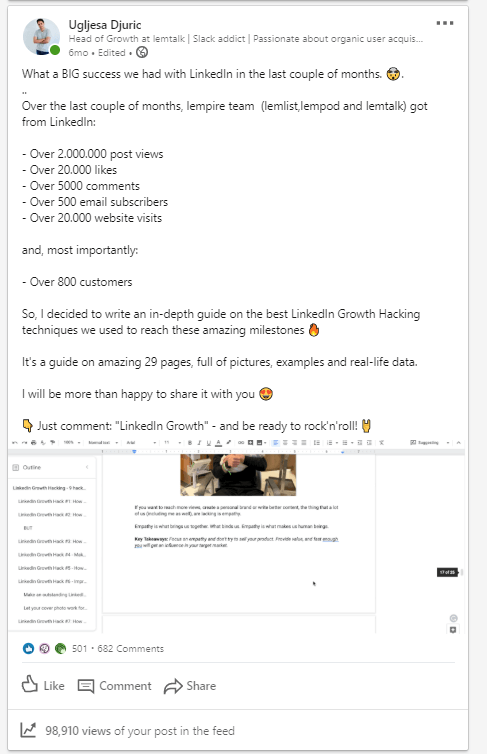 Let us break down Uglješa's post:

– The first line of it promises a lot and engages the readers in discovering more about the story

– It shows the readers the results that post brought to the author of it, and what it could bring to anyone who follows the same steps
– By explaining how it could help them, and what's in it for them, he created a desire for his special receipt
– In the end, there is only effective CTA left to be included, but not ordinary LinkedIn CTA with the link in the first comment
The last sentence plays an important role in increasing this post's tremendous reach (98,910 people).
Why?
Because it's taking advantage of the LinkedIn algorithm.
When you publish a post, this is what the LinkedIn algorithm does:

– First, it shows your post to a small group of people called a test group
– If the test group engages with your post, LinkedIn starts showing your post to all your first connections and to their friends
– If the 2nd or 3rd connections engage with it, it will appear in their network also
That's how a large number of viewers are able to see this post and engage with it.
What Ugljesa did is that he asked for people who wanted the guide to become engaged with the post by commenting on it.
That's why the post became viral.
And not only did the post become viral, but more importantly, this allowed for tons of new connections and leads to be created.
After doing that, you'll be able to build a relationship with each new connection and get them into the funnel.


Build relationships with your target audience
The way to build a relationship with your target audience is to reach out to them.
It's a simple process if you have the right tools to get it done.
Using Skylead in this case, we will show you how you can get it done easily and quickly.
Before we start creating campaigns, we should customize our settings, define the limits of our profile visits, follows, messages.
After we do that, we can start the campaign. Take a look at what the Skylead campaign dashboard looks like:




You should click on "Create new campaign" to get started with it. The next screen you'll see will look like this: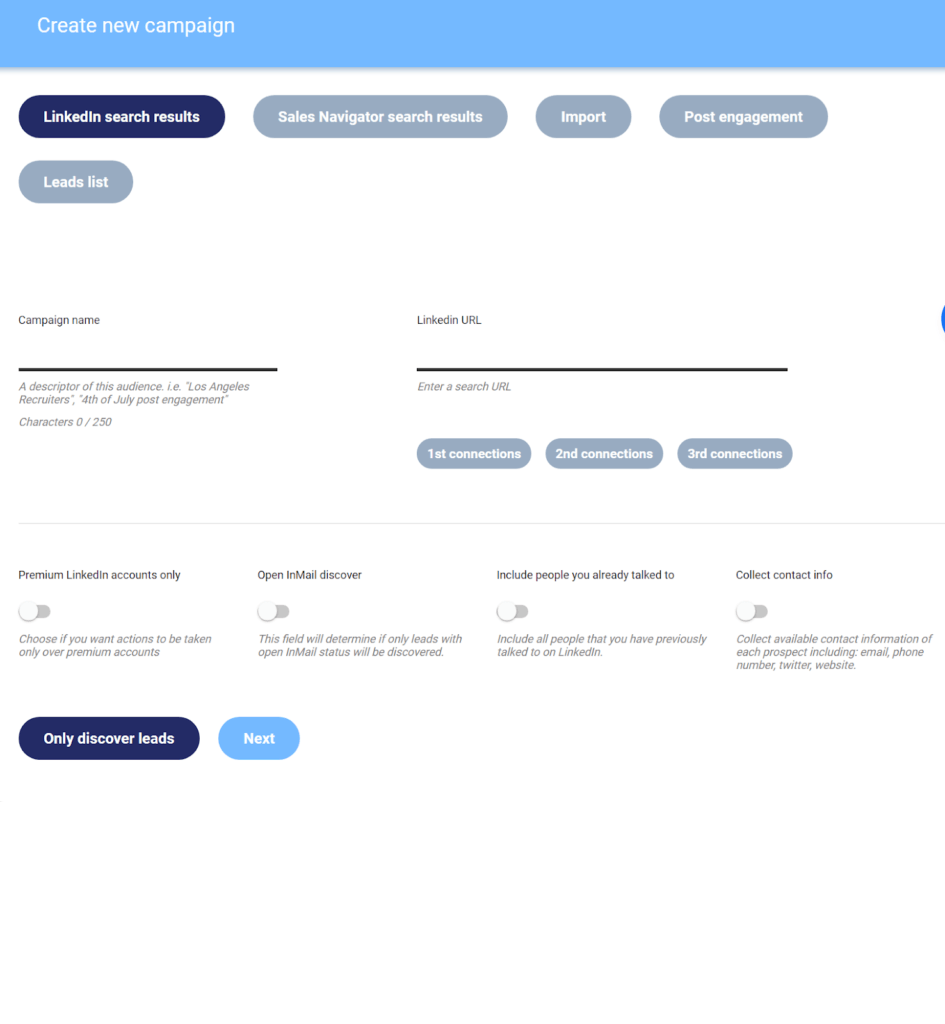 By using Skylead campaigns you'll be able to:
– scrape people from search results (LinkedIn Search Results)
– scrape the ones from Sales Navigator Search results
– Import your own database
– scrape the people who engaged with some particular posts
– Create your leads list
For this purpose, in case there's a great engagement with our post, we will use the cool feature called "Post Engagement".
After you choose this option and fill the name of the campaign, you should paste the link of the post you want to take out engagements from.
It looks like this: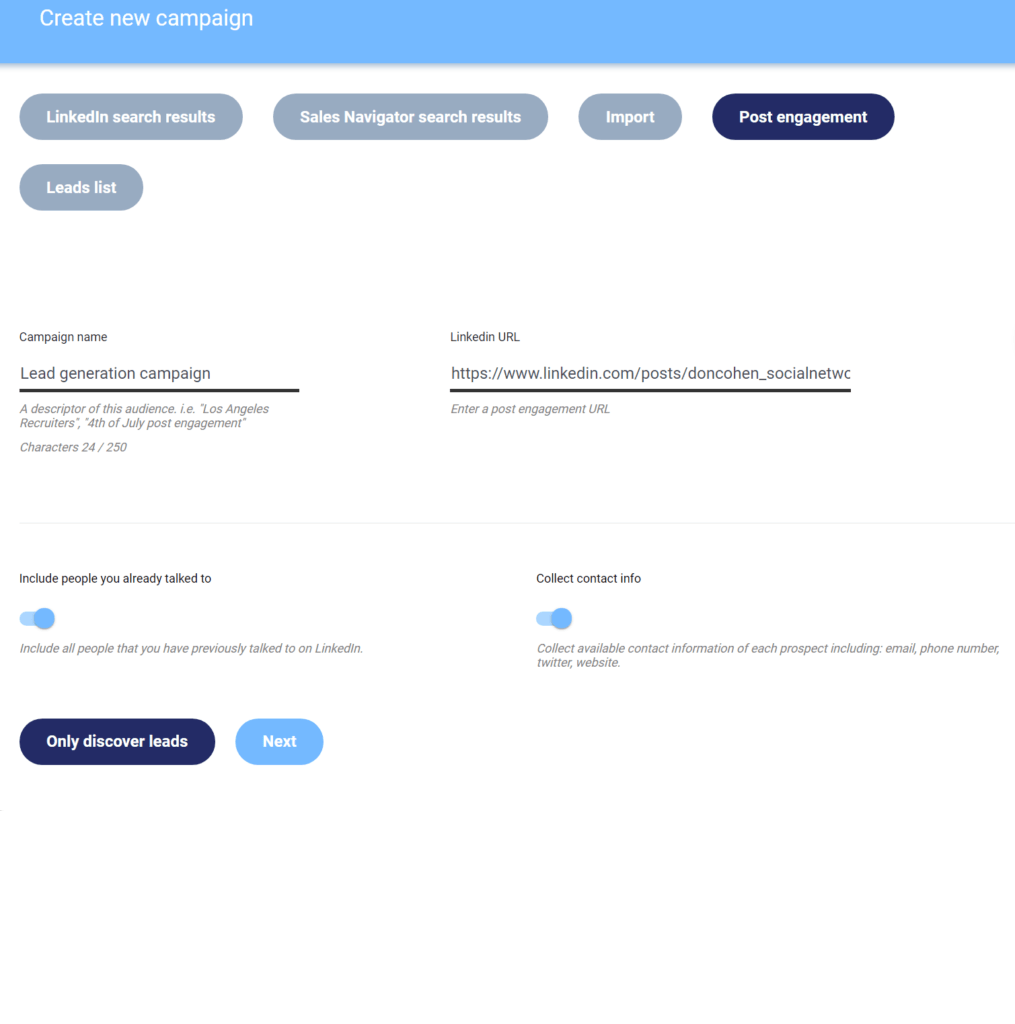 Now click "next" when you finish.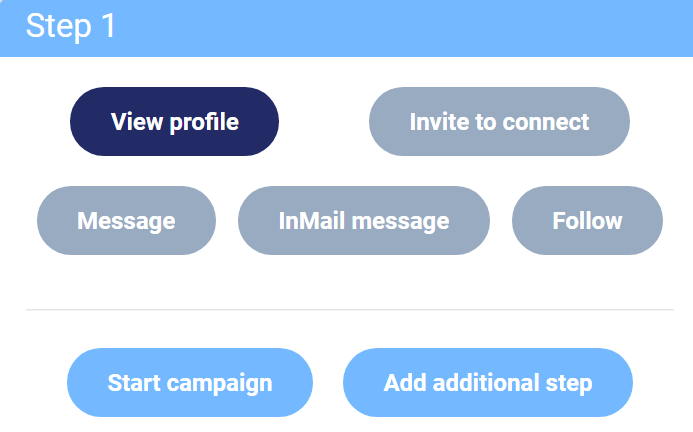 Here, we need to choose what action we want to start the campaign.
We can choose the options given in the picture above, and in case we choose an InMail message or Invite to connect, a window for the text of the message opens.
Let's say we want to connect with someone we will need to click on "Invite to connect" and the following screen should appear: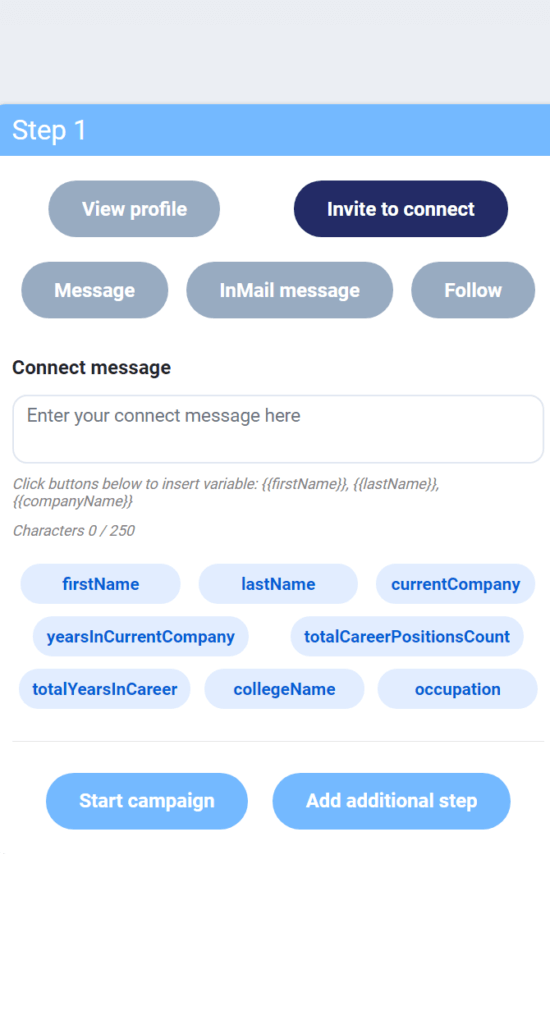 After we fill our message, we can finalize the process by clicking on "Start campaign" and your campaign is ready. Easy peasy.
Summary
LinkedIn is the number one place to generate new leads by creating valuable content and reaching out to new connections.
Before you get started with leads generation, you need to make sure that your profile is optimized properly.
It must represent your business as a unique one.
When that's done, your next steps are:
– Creating actionable content that brings value to other people and businesses
– Making connections and building relationships – Skylead can make this step a lot easier for you.
Set up your profile, implement our advice and let us know about your improvements.
Go and make your business skyrocket!
Complete Guide for LinkedIn Lead Generation