In 2020 LinkedIn has become the best business platform for lead generation, marketing, and sales.
It's not an oversaturated place like many other platforms, and still, you can use it to your advantage.
With its great potential and the lesser-known benefits of its algorithm, you're able to reach a bigger audience easily.
You could spend days working on LinkedIn campaigns manually, or you can choose to shorten that time and work only 30 minutes to one hour a day by using some of LinkedIn automation tools.
There are various tools with great features on the market that can save you a lot of time if you use those tools properly.
However, these tools could be your hero or a nightmare.
In the last few years, some of the tools that are trying to manipulate LinkedIn have been banned.
Using those tools could lead you to have your account simply blocked by LinkedIn.

There are a lot of tools forbidden by LinkedIn and those include Linked Helper.
Nevertheless, there are Linked Helper alternatives that LinkedIn can't detect and won't ban you for using them.
Those LinkedIn tools are doing a great job and will help you reach more people, get new leads, and improve your sales.
In this article, we will cover 3 safe Linked Helper alternatives and those are:
– Skylead, for LinkedIn outreach
– PhantomBuster, for process automation and scraping
– Dux-Soup, for outreach


Skylead – Tool for LinkedIn Outreach and Creating Sequences
Skylead is one of the cloud-based Linked Helper alternatives designed for LinkedIn outreach and generating leads by connecting with them.
Skylead enables you to customize messages and to create sequences for your campaign actions.
You can set up filters for finding ideal prospects using Skylead's targeting options, and you can run and track multiple campaigns at once in order to better understand what works best for you.
Using Skylead could save even up to 6 or 7 hours of your day while generating tons of new leads, without risking your account's safety.
This outreach automation method can help you easily build a strong relationship with your leads, and increase your chances of converting them.
It takes a couple of minutes to create a campaign, and the rest gets done on autopilot.
It is a useful tool for anyone who manages more than one account, like, for example, agencies.
The important advantage is that there is no limit to the number of accounts, so you can manage multiple accounts using just one tool. .
Skylead's Smart Inbox feature will help you manage all conversations without the need to leave the app.
You can filter all your messages by campaigns in order to get better insights into how those campaigns are doing, and create notes that might come in handy later.


Creating sequences
In case you want to view the prospect's profile, Invite the prospect to connect, and send them a message, you can do it all within one campaign.
It's one of Skylead's greatest benefits because you're able to add multiple steps in a single campaign, create sequences of actions, and get a lot of work done at once.
For example, find and choose any of yours or somebody else's posts where your potential customers are engaging, and reach out to all of them.
To do it easily, all you need is to copy the URL of this post and paste it into Skylead's Post engagement tab.





Clicking Next will get you to the point of choosing which action you want to implement in your campaign.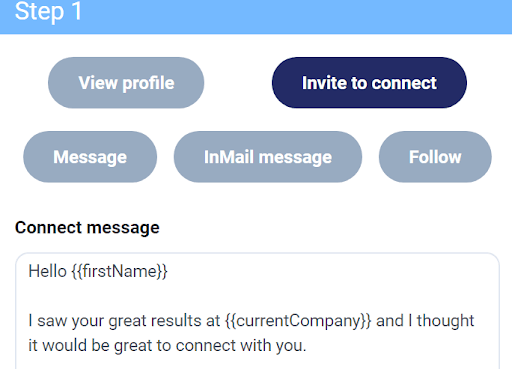 As an example, we could choose the Invite to connect option, and when we're done we can click on Add additional step to add another action to the campaign.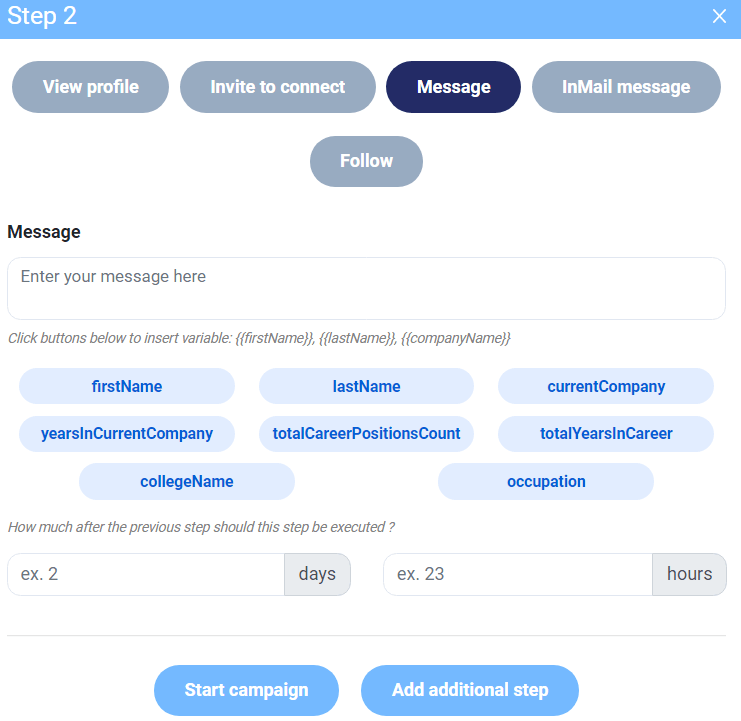 You can include InMail messages into your campaign, or wait till your prospect accepts your connection request.
You can also choose to send a regular message after prospects accept your request. as part of the same campaign.
After you create your campaigns and get them started, you can track and monitor all of them.
Using Skylead also allows you to communicate with your leads from the app directly.
Skylead's intuitive interface is adapted to the needs of users and it's easy to work with it.
A single Skylead package used to cost $200 on a monthly basis, but at this moment it is available for $100 only.


PhantomBuster – Linked Helper Alternative for Automation and Scraping
PhantomBuster is an automation tool for growing sales and simplifying your marketing processes. This Linked Helper alternative is the marketplace of APIs.
There are various functions available on PhantomBuster for automation, scraping data on LinkedIn, and building advanced workflows.
It allows you to do many different things on social media platforms. You can choose and set up an exact action that you want to perform with PhantomBuster.
PhantomBuster offers a number of very different LinkedIn automation options, some of them listed in the picture below.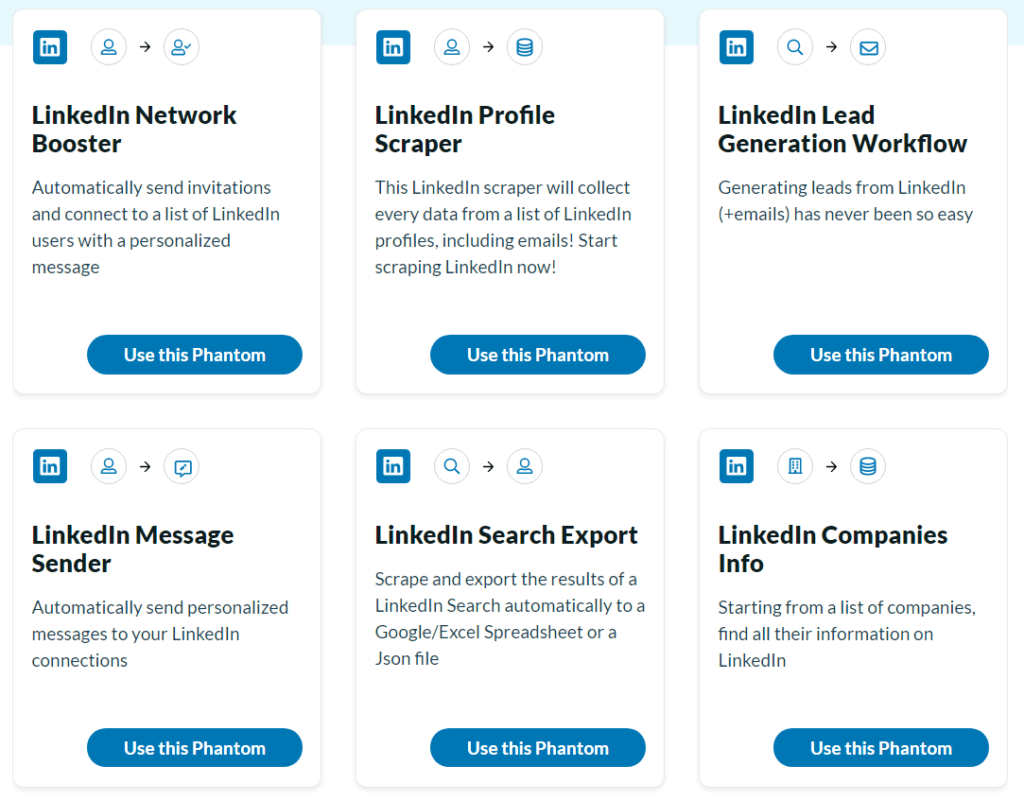 All of these actions are aimed at something specific and can bring your business a lot of benefits.
PhantomBuster has a lifetime free account, but only if you use one Phantom for 10 minutes a day.
If you plan to use more than one phantom and run it for longer, there are 4 more packages that are included in the offer:



This is one of the Linked Helper alternatives that are most valued among LinkedIn automation tools, and using it could help you grow your business in many ways.
To set up your campaign, the first what you have to do is to create your account and install the necessary extension.
After that, you can create your campaign and select its action in the Phantoms tab.
Whether you wish to scrape data from individual profiles or other companies, with PhantomBuster it's easy to get your work done.





Connect PhantomBuster to your LinkedIn account first, and then put the LinkedIn URL of the profile or company whose data you want to get.
You can also scrape data from multiple profiles by inserting the URL of the spreadsheet that contains the URLs of companies or individual profiles you're aiming for.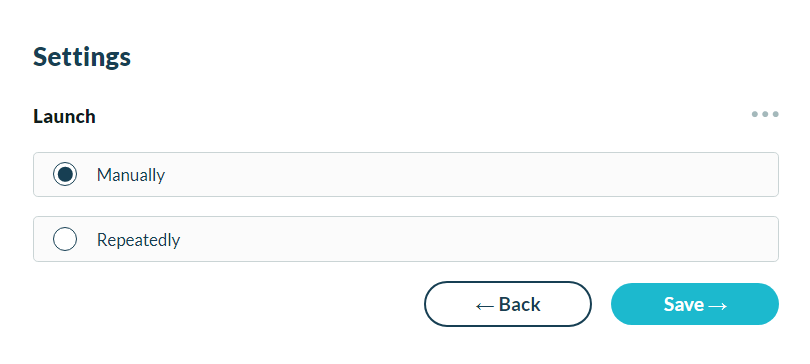 Launch a campaign automatically or manually by choosing the option you prefer, and if you want to get updates and notifications about the campaign, check that option as well.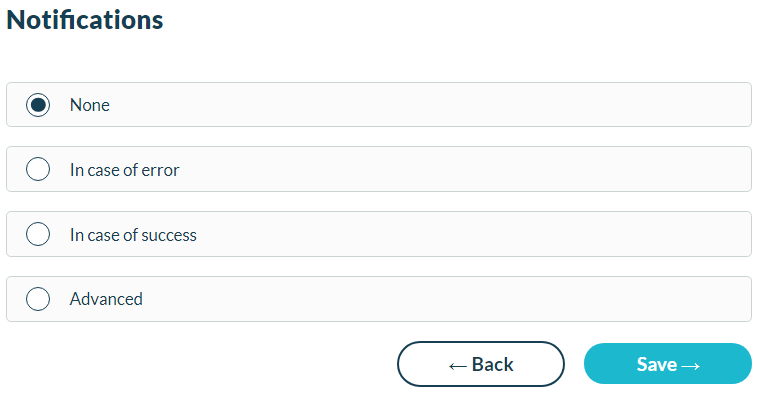 Click Save and Launch your scraping process.



It needs a few seconds to scrape all the data, depending on the amount, and when it's done, you can download data as a .json or CSV file.
With all that information, you're can begin to outreach your best prospects.
Using PhantomBuster and its diverse features allows you to automate your processes, save a lot of time, and increase your sales.


Dux-Soup – Linked Helper Alternative for LinkedIn Outreach
Dux-Soup is one of the Linked Helper alternatives that offer almost the exact same options as Linked Helper.
Dux-Soup is an extension for lead generation that is nurturing prospects through the sales process.
Using this tool, you can automatically:

– View your prospects' profiles
– Endorse someone's skills
– Connect with your prospects
– Send personalized messages
– Make follow-up campaigns
– Save notes
Dux-Soup has nearly the same features as Skylead, except for sequence automation.
It has a free plan for newbies, and it offers Professional and Turbo plans:

– Professional Plan costs $11,25 per month if you pay it annually and $14,99 per month if you pay monthly

– Turbo Plan costs $41.25 per month if you pay it annually, and $55,00 per month if you pay monthly
The Professional Plan is very similar to Linked Helper.
The Turbo Plan offers integrations with Zapier and Hubspot for automating LinkedIn marketing efforts and it offers several automatic follow-up features.
In the Dux-Soup Actions dashboard, you can choose which actions you want to implement in your campaign.
In a few clicks, you can set up your campaign details and let it roll.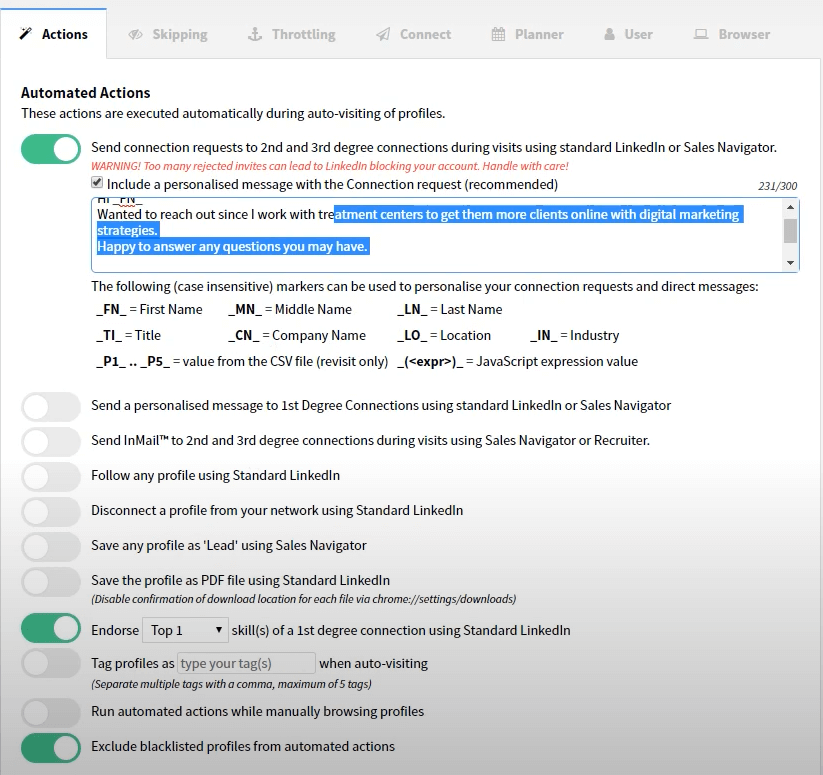 Even without an innovative interface, it's practical and easy to work with.
In the Skipping tab, you can check whether you want to skip the profiles without photos, non-premium subscribers, or any other options from the picture below.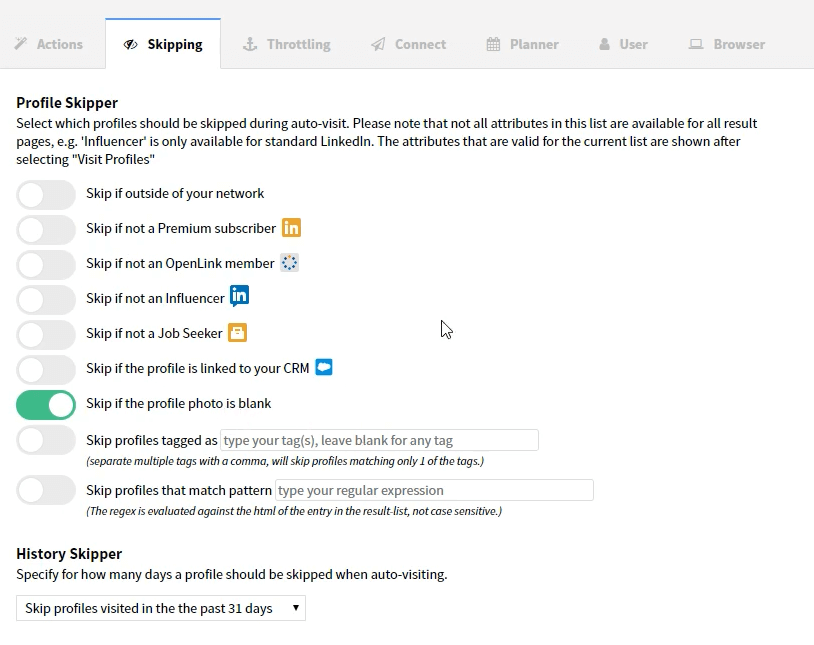 You can set up the speed of your actions and their number in order to reach your prospects.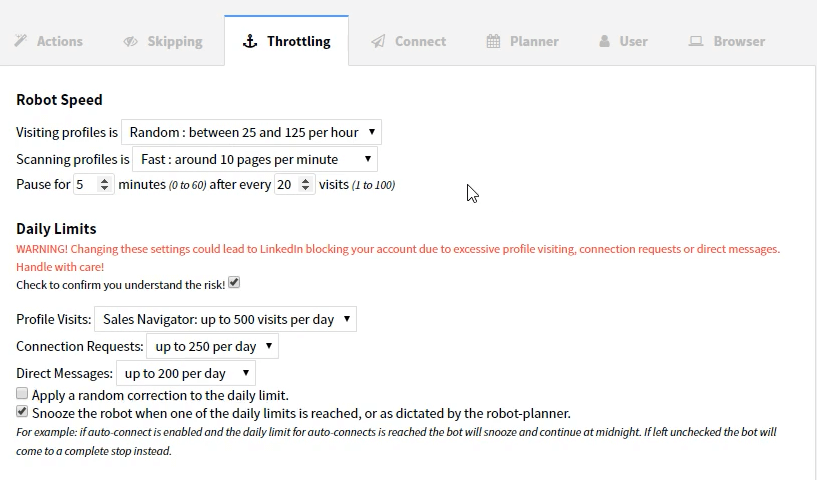 It's important to have in mind that if you set speed as too high, your account can get banned.
After you finish your set up and find who you want to outreach, just click on the extension icon in the upper right corner and start with your campaign.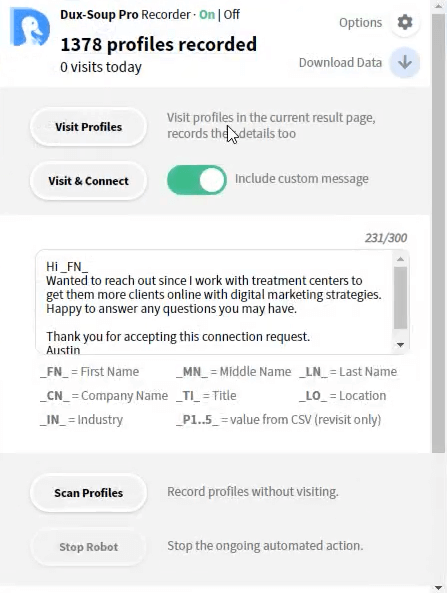 You can download the data of the profiles you recorded in your campaign, and save it for later.


Summary
Choosing the right Linked Helper alternative will bring your marketing to another level, and you will be able to reach thousands of people on autopilot.
These are the tools that could help you scrape, connect, and engage with your prospects in order to make new strong partnerships.
As you can see, using these tools is safe and your account is not at risk.
All you have to do is to use them properly in order to automate your processes and get a bunch of new leads and deals.
3 Safe and Useful Linked Helper Alternatives