Did you know that there are more than 660 million professionals currently registered on LinkedIn?
LinkedIn is definitely the world's greatest network for connecting business professionals from more than 200 countries worldwide.
With its immense networking capabilities, LinkedIn has placed itself as the best not only for job hunters and seekers but also for companies that are looking for new leads and customers.
If you want to establish new partnerships, create brand awareness, and grow your business through LinkedIn, there are LinkedIn automation tools that could help you reach those goals.
However, not all tools are safe for use. You don't want to get banned by LinkedIn.
In the process of choosing the right tool for your business, you must keep in mind that the tool should:

– be a good option for reaching your goals
– have all the features that you need
– be safe for use
– be within your budget limit


Which Is the Best LinkedIn Automation Tool?
There is no automation tool that's fit for all – the best choice of LinkedIn automation tool varies depending on your requirements and needs.
When you define your needs and goals, you will know what tool options you can consider using.
In this article, we're going to present 3 LinkedIn automation tools that can help you boost your sales quickly and safely.
We'll cover the following tools:

Skylead – an automation tool for outreach
Lempod – tool for boosting engagement
PhantomBuster – tool for scraping and process automation


Skylead – LinkedIn Automation Tool for Outreach
Skylead is one of LinkedIn automation tools based on the cloud and it's used for generating new leads, outreaching them, and improving sales.
Using its features enables you to customize your messages on a whole new level and to improve your success rate with personalized messages.
It possesses chat features that will help you organize your leads, identify them, and close new business deals without losing any message details in the process.
You'll be able to filter your prospects by choosing one of Skylead's targeting options, and deciding which one fits you better.
With Skylead you can easily run and track multiple campaigns at once in order to understand what works best for your business and what brings results.
It is a useful tool for everyone who needs to manage more than one account, especially for agencies.
The great thing about it is that there is no limit to the number of accounts that you can switch between.
By using its Smart Inbox feature, you can separate messages per campaign, reply to them straight from the Skylead app, and leave notes next to your conversations.


How to Use Skylead
After creating your account, you can manage multiple LinkedIn accounts just by clicking on Add account to add the new ones.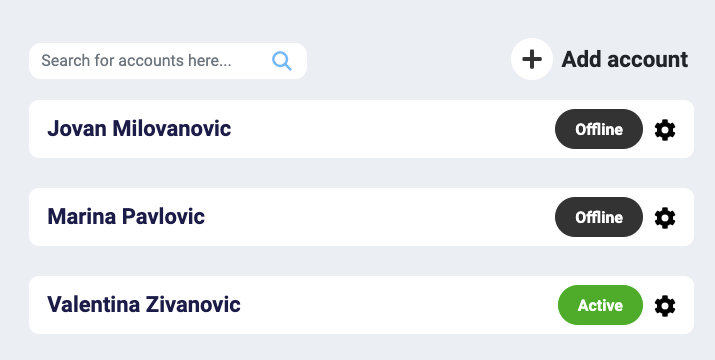 To create a new campaign, click on Create new campaign in your main Campaign dashboard.





Then you can choose what type of source you want to use in your campaign.
Whether you wish to connect with leads/people that pop up in your search results, or with those from an imported list, or maybe the ones that have engaged with your post, you only need a few clicks to set it up.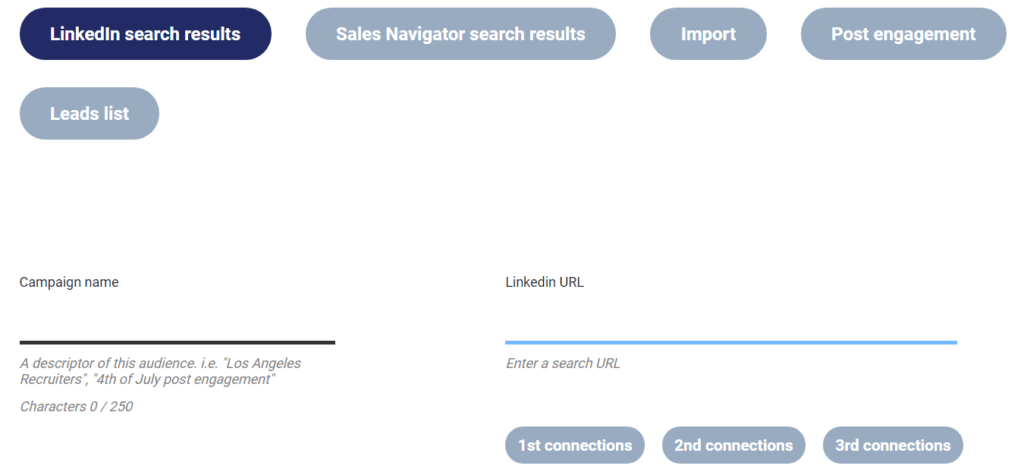 After that, choose what type of action you want to start, set it up, and your campaign is ready to rock.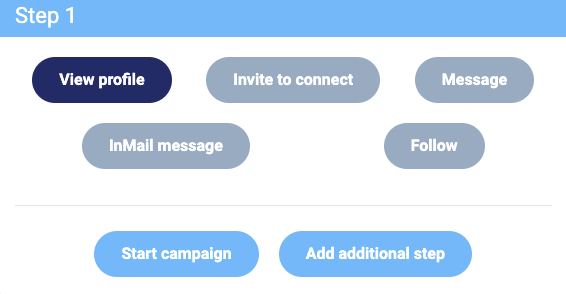 One of Skylead's perks is that you can add additional action steps in a single campaign.
So if you want to view someone's profile, Invite him or her to connect, and send them a message, you can easily do it in one campaign.
After you've created a number of campaigns, you can track and monitor all of them, and to communicate with leads from Skylead directly.
There is no need to use LinkedIn messages. Also, you can filter your messages by campaigns for better insights.
Price per LinkedIn account on a monthly basis was $200, but at the moment you can get it for a discounted price, $100 only.


Lempod – LinkedIn Automation Tool for Growing Engagement
Lempod is a LinkedIn marketing automation tool for boosting your posts and getting people to engage with them more.
It is an extension tool that helps you get up to 20 times more views on LinkedIn posts thanks to the comments and likes of other LinkedIn users.
After publishing your post on LinkedIn, the more engagement it gets in the first hour, the greater the reach of the post overall.
You probably know that pods are a type of group where members engage with each other's posts.
The problem with regular pods is that you are usually faced with a low engagement rate on your posts because most pod members don't care about other people's content.
One of Lempod's advantages is that it's based on automated segmented pods.
How?
At the moment you post, every member of the pod automatically likes and comments on your posts.
That means that every post you share using Lempod will be seen by many people and not some people.
You'll be able to find pods with likeminded people from the same industry, or an industry that is interested in your product or service.
The thing about Lempod is to choose the right pods, in order to provide more value to members and, more importantly, to get much more engagement.


How to Use Lempod
After you've created your account, each pod you decide to use Lempod with requires paying for a $5 subscription. There is also a company subscription plan for $2 per user.
With an individual $5 subscription, you can post once in 24 hours.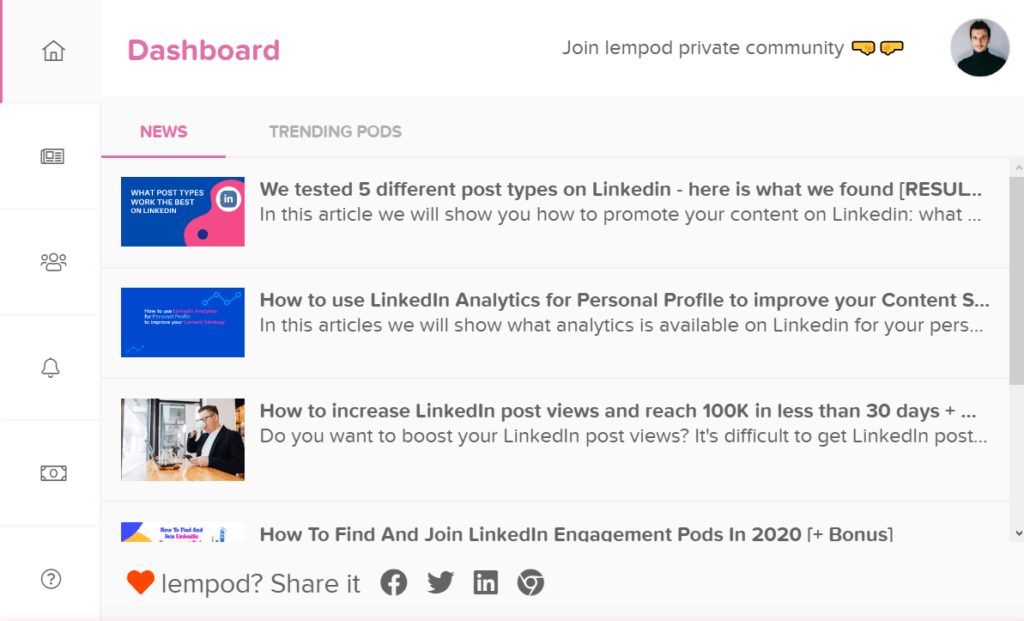 To find appropriate pods for your industry, you can search for them using keywords and tags.
No matter the type of service you offer and the content you provide – there are various pods on Lempod and you'll be able to find one suitable for your goals.
For example, if you're looking for SaaS-oriented pods, just type "SaaS" in the search bar and choose the appropriate pod that fits you.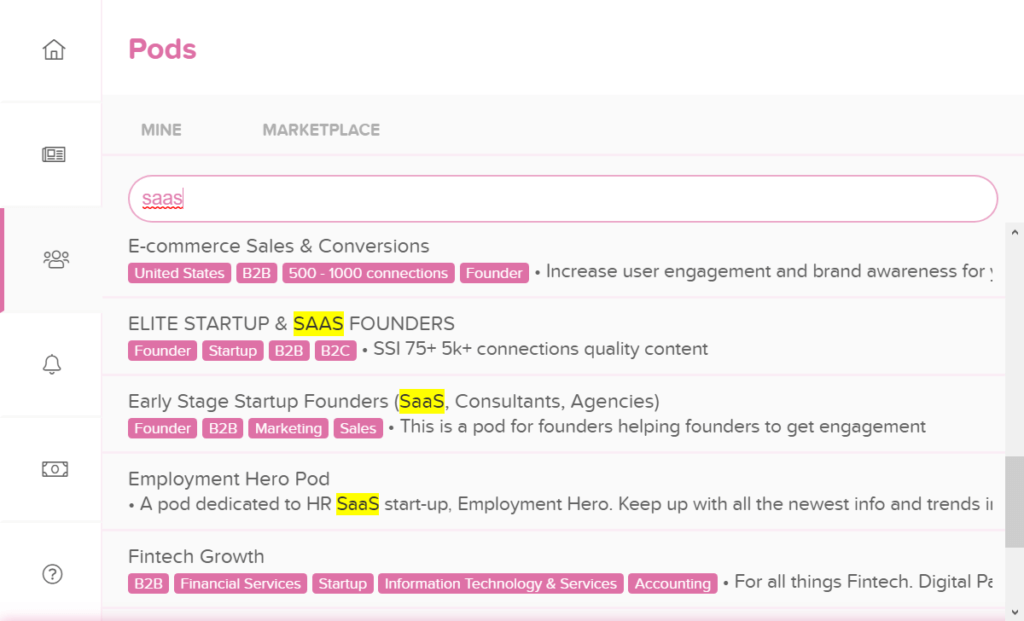 Once you join a pod, you get to share your posts with other Lempoders. In order to do that:

– Copy the link of the new post
– Go to Lempod and choose the pod where you want to get engagement
– Paste the link to Add post
– Write custom comments that you want other Lempoders to leave automatically (make those comments relevant to your content)
– Hit the Engage This Post button

The result will be a great impact on your LinkedIn post views and gaining tons of leads if your post provides value.


PhantomBuster – LinkedIn Automation Tool for Scraping
PhantomBuster is a tool for growing your business by automating processes and it's used for multiple social media platforms including LinkedIn.
It possesses numerous features such as LinkedIn search scraping, building advanced workflows, and automating many other processes.
PhantomBuster is the marketplace of APIs. You have the option to choose and set up an action that you want PhantomBuster to do.
It's a great tool that lets you do almost everything.
For LinkedIn in particular, there are 28 types of actions that you could use on PhantomBuster.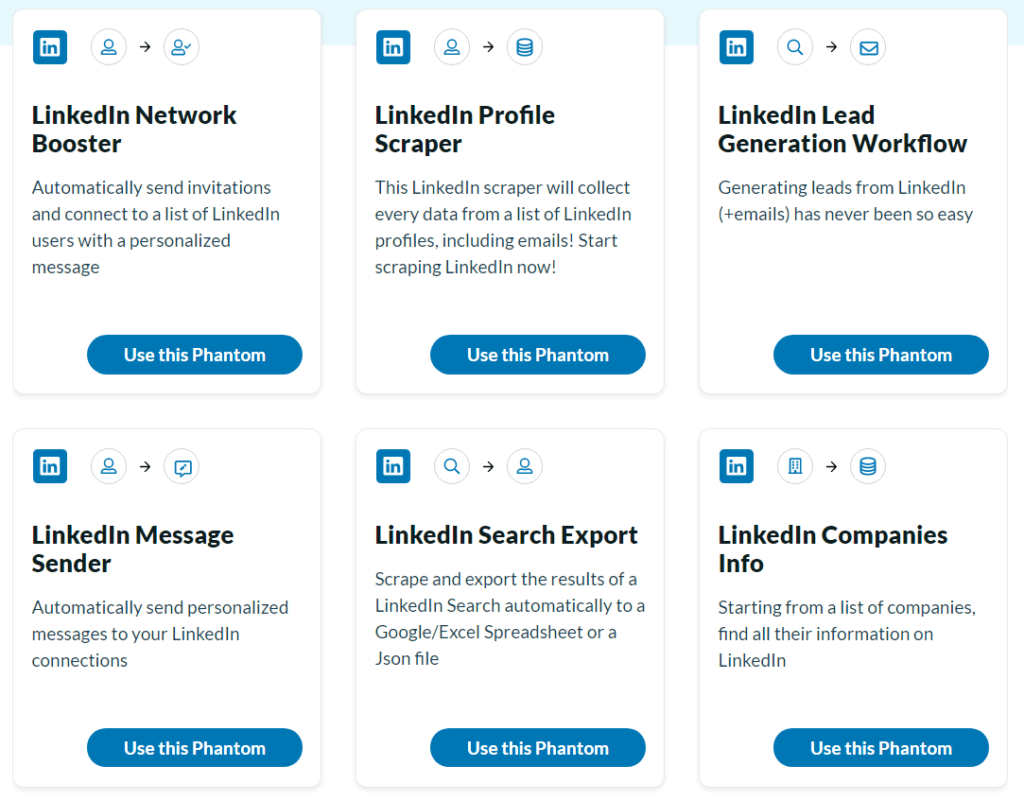 All those actions have something special to them and can get us a lot of benefits.
PhantomBuster offers a lifetime free account, but only if you use one Phantom for 10 minutes a day.
If your needs are more complex, it offers you 4 extra packages shown below:





It's one of the most appreciated LinkedIn automation tools that could help you grow your business.
After you create your account and install the necessary extension you can start your campaign by clicking Phantoms and choosing which action you want to launch.
You can scrape everything, starting from individual profiles to information about other companies on LinkedIn. Let's choose the latter option as an example.





After you connect PhantomBuster to your LinkedIn account and put the LinkedIn URL of the company whose info you want to scrape, click Save.
You can also scrape more companies by inserting/uploading the URL of the spreadsheet which contains the URLs of those companies' LinkedIn pages.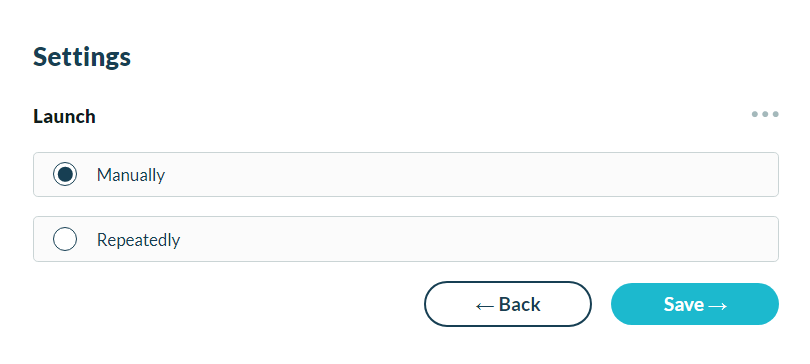 In the Settings tab, choose whether you wish to launch a campaign manually or automatically, and choose if you want to get notifications about campaign updates.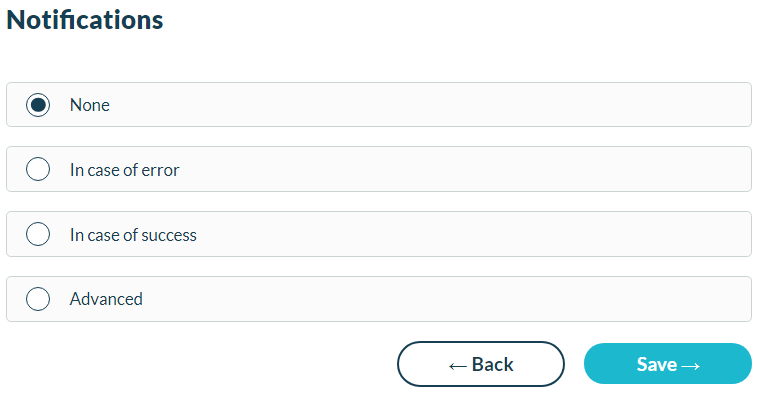 Click Save, then Launch.





It takes a few moments to scrape data, and after the process is done, you can download it as a CSV or .json file and use that information for outreaching those companies or people in it.
Using PhantomBuster and its numerous features can help you automate a lot of processes, save your time, and help you boost your sales.


Conclusion
The above mentioned LinkedIn automation tools can upgrade your business if you make good use of them.
There are a lot of processes that are made easier once these tools are implemented, and that's the path for growing your business rapidly.
These innovative growth vehicles can save you a lot of precious time and effort, and they allow you to invest all that effort into something else.
Allow yourself to focus on building new relationships and building your brand awareness and let these tools work on your repetitive tasks.
3 Best LinkedIn Automation Tools to Boost your Sales