Did you know that the LinkedIn headline is one of the most important and visible sections of your LinkedIn profile?
Along with your name and profile photo, the headline is the section that captures the attention of the searchers and creates first impressions about you.
You only have a few seconds to attract the attention of the user checking your profile. So why wouldn't you maximize those chances with a great headline?
With an effective and optimized headline created for your audience, your profile views could increase significantly.
More profile views mean more connections. More connections mean more opportunities and sales. Simple as that.
Despite those simple improvements which are not hard to implement, there are a lot of LinkedIn profiles which headline serves no purpose.
Those poor headline profiles miss a lot of chances to capture someone's attention. And, further on, this causes losing a lot of sales.
You don't want to let yourself pay for this mistake.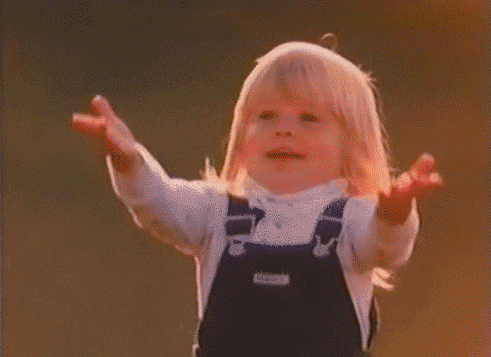 That's why you are here, to prevent that from happening in the future.
In this article, we'll point out the characteristics of bad LinkedIn headlines.
We will also get through what makes a great headline and present the 10 best LinkedIn headline examples for improving sales.
But before that, let's solve some myths about LinkedIn headlines.
The Headline is Not Visible on Your Profile Only
To realize what the benefits of having a specific headline are, first, you have to be aware of where the headline is shown on LinkedIn.
Most LinkedIn users perceive LinkedIn headlines as a simple short description that visitors see only when they get to the user's profile.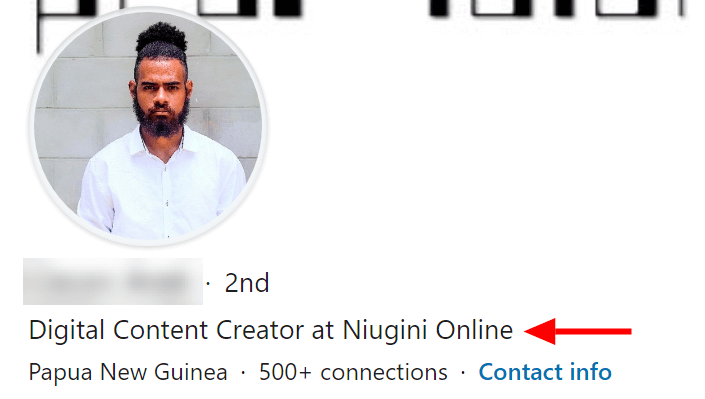 That's an understatement and a big mistake.
The LinkedIn headlines appear in multiple places. Many users aren't even aware of it.
Besides the headline that appears below your name at the top of your LinkedIn profile, it also appears:
1. In your posts and shares
Every time you share or post something on LinkedIn, whether it's text, a video, or a photo, your headline will show up above it.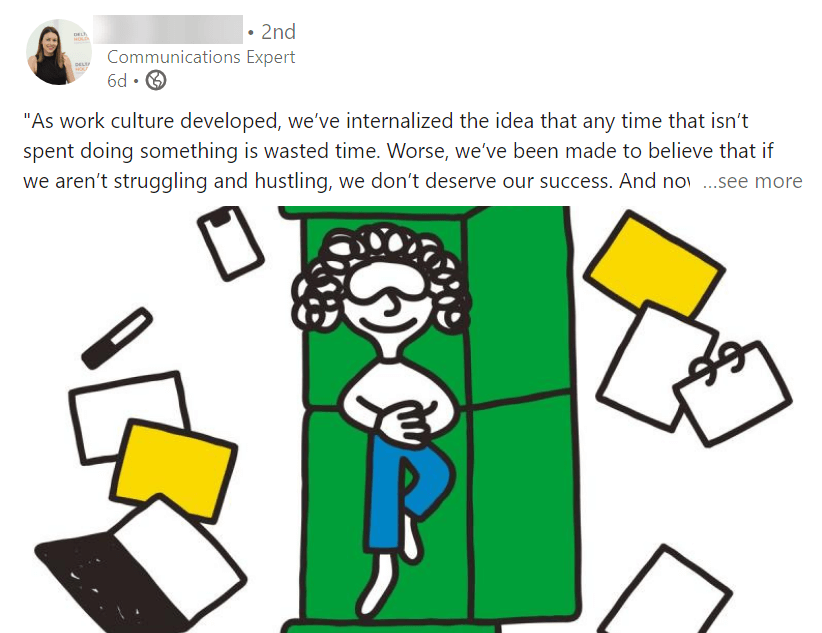 Having a great headline can make a difference whenever other users engage with your post.
2. In your articles
After you post a new article, all your connections are getting a notification about it.
In case that article is valuable to them, and they engage with it, their direct connections will get notified about it as well.
At the moment your 2nd connections check your article, you have the opportunity to make a good first impression with your headline in the author section.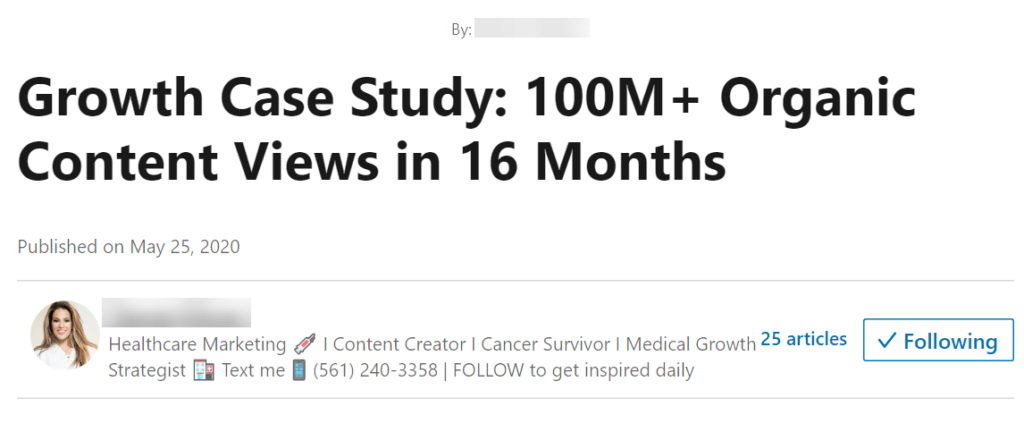 3. At the activity feed
If users are exploring your activity when trying to find a specific post of yours, your headline will show up on their left sidebar.

It's one more place where it shows what you can do for other users.
4. Tagging popup window
For the users that are tagged, hovering your mouse over the name will show that user's headline.

In case someone tags you, you can attract many visitors with your headline and make them connect with you.
Common Mistakes in LinkedIn Headlines
There are a lot of mistakes made with LinkedIn headlines. Can you imagine that only 2% of headlines are high-quality?
Let's go through the mistakes that the other 98% usually make.
Default Headlines are Boring
One of the common mistakes that users make is leaving their headlines as default.
With that setup, your headline is just showing your current job title and company.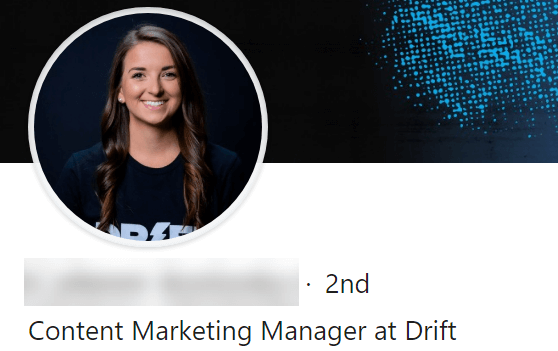 Since that is included in your Experience section, by repeating information you're simply wasting the opportunity for your profile to stand out.
Why would you waste your chances for a new connection?
Having an Undefined Headline
This is a type of headline that currently unemployed users frequently implement.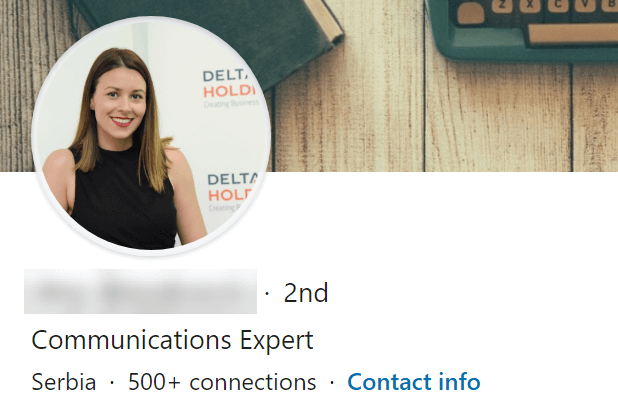 It's a generic headline that doesn't get noticed by others unless someone's looking for a user that has the same name as you.
What Makes a Great LinkedIn Headline
Whether your contact or a recruiter is visiting your profile, your LinkedIn headline is one of the factors that affects the first impression and tells what you have to offer.
In order to stand out from users who have the same job title and keywords as you, your headline must explain what benefits people get out from working with you.
However, keywords play a big role in the LinkedIn search algorithm.
Use the keywords that members will search for on LinkedIn. Those keywords must relate to you and your offer.
Get into the shoes of the users that want to search for your profile. What words would they use when targeting you as their prospect?
Write down all those keywords in one place. Choose the ones that are most related to you, your skills, and your offer.
Also, avoid those generic self-descriptions like dedicated, hard-working, best, etc.
Your headline should not be about you. It should be about the people reading it.
We'll present 10 LinkedIn headline examples for sales below and get through all of them to see what makes them unique.
Best LinkedIn Headline Examples for Sales Growth
There is no explicit rule for what you should put in your headline.
The examples below will show you what works in practice and maybe they'll inspire you to create your unique headline.
LinkedIn Headline Example #1
Reading this brief headline only, allows you to find out a lot about this person.
While it's specifically showing how she helps businesses, the headline also includes her company, job role, and keyword that is used for finding her profile.
This is a great method for encouraging users to take a look at the rest of your profile and connect with you.
LinkedIn Headline Example #2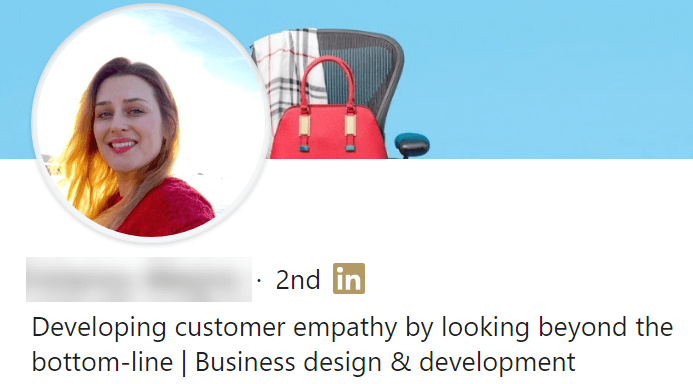 This is an example of a well-packed headline with searchable keywords and a warm message included.
It stands out from the other profiles with its uniqueness. It shows her approach to the job and how she brings value to customers.
Headline Example #3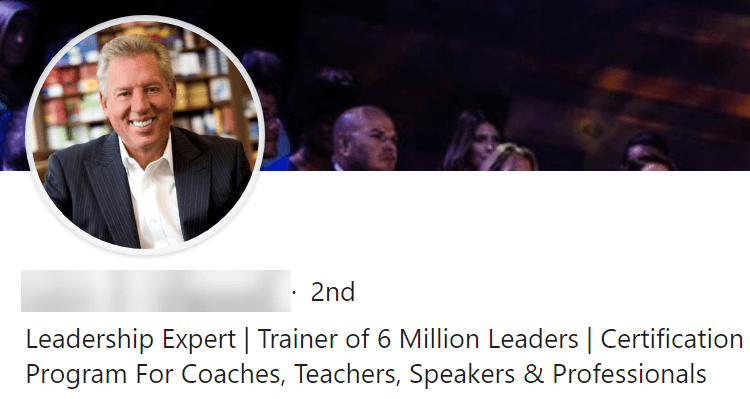 This example is great for showing authority and building brand awareness while it also includes keywords for LinkedIn SEO.
It delivers an instant view of what this user offers, what his expertise is, and the results he made in the past.
This headline can bring a lot of conversions after you connect with prospects.
Example #4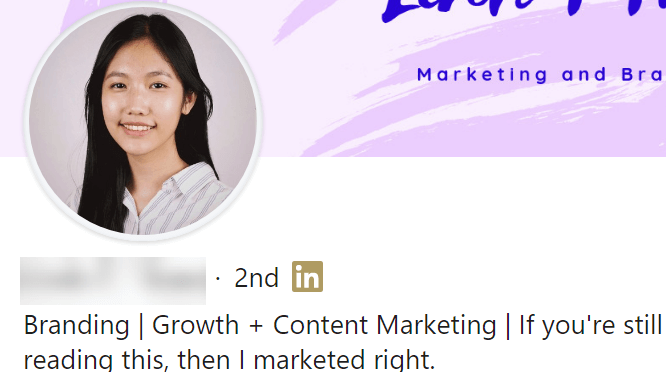 Using humor in your LinkedIn headline is a great way to grab attention. It also makes your profile unique and memorable.
It allows you to show your personality and friendliness.
This playful headline that includes specific keywords probably offers great visibility in the search results.
Its unique and fun description shows her creativity in content creation. It also probably makes a lot of visitors explore this profile in detail.
Example #5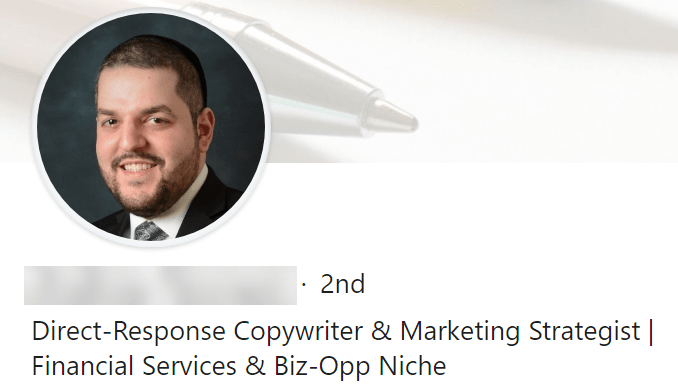 This LinkedIn headline is an example of an optimized profile that includes specific niches of his expertise.
For the users that are in those niches, this profile could be interesting and easy to find, and it is great for generating new sales.
Example #6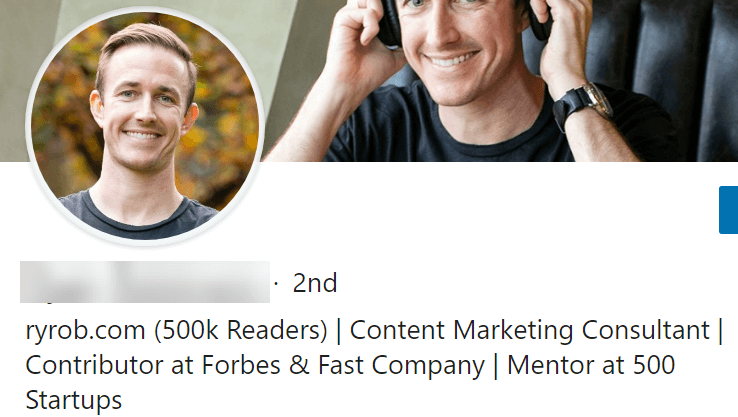 This LinkedIn Headline establishes the credibility and authority of the user by mentioning its projects and results. It includes keywords for the ones who search for content marketing consultants.
It's a great way to present your results and what visitors can expect from you in case they connect with you.
Example #7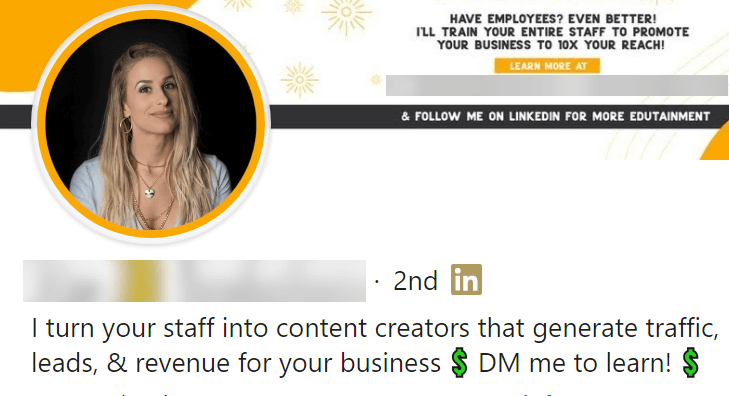 The good thing about this example is its clear value – she turns your staff into content creators that will increase your revenue.
It also includes a call to action – always recommended to be included if possible.
That will drive more of the visitors to convert.
Example #8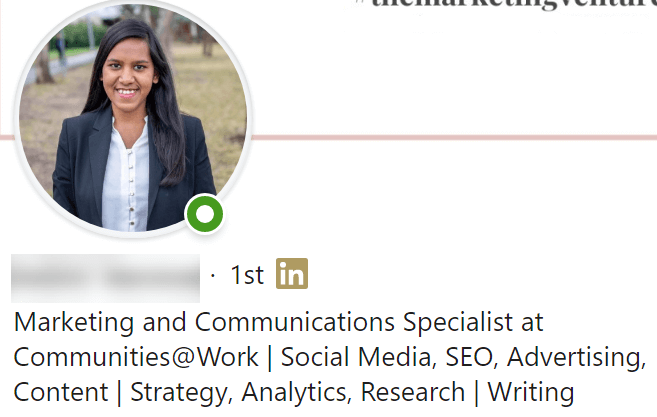 This profile shows a lot of information in the headline, from the job title to the keywords associated with the user's role.
It has a lot of searchable keywords so it would probably not be hard to find this profile in search.
LinkedIn Headline Example #9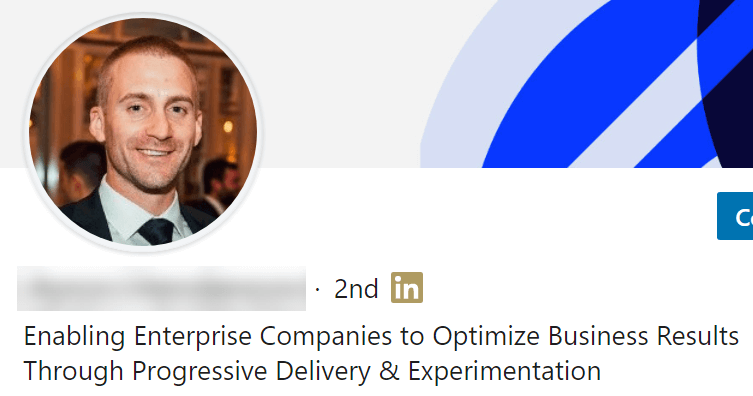 The great thing about this profile is that it shows specifically the things that users could expect if they choose to work with him.
It's a great LinkedIn headline example for sales that directly shows the benefits of service, and could bring you a lot of quality conversions.
LinkedIn Headline Example #10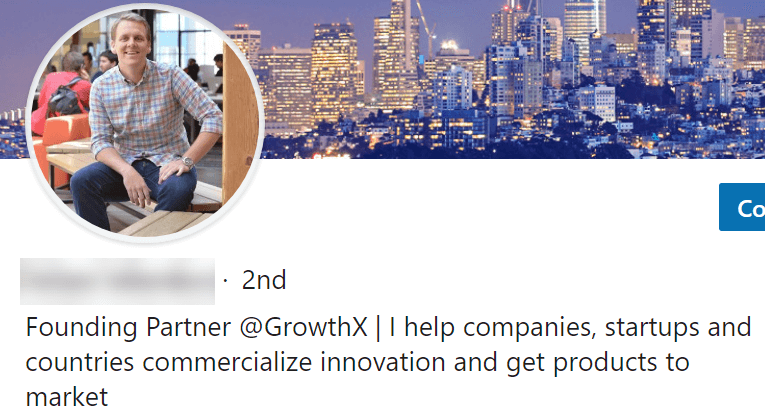 Here's a great example of a LinkedIn headline that is focused on innovations and product placements.
It shows exactly what he could help with and bring to the visitors.
To sum up
Due to the fact that LinkedIn headlines are one of the most visible sections of your profile, in order to get more connections and sales, optimize it wisely.
It's not so easy to stand out from the crowd with your headline, but your efforts will pay off.
After reading this article, you should have a clear understanding of what makes a LinkedIn headline look great and what you should think about when creating yours.
We hope that our advice and LinkedIn headline examples will help you create your unique headline and increase your sales quickly.

10 Best LinkedIn Headline Examples to Boost Your Sales